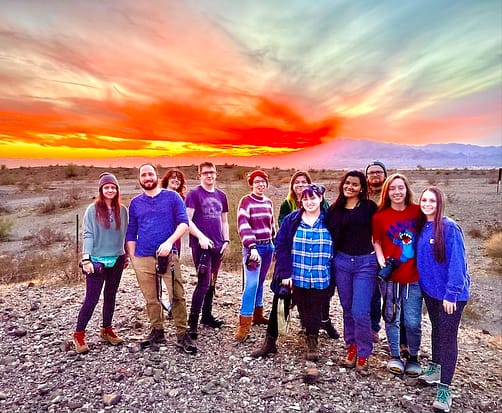 Jump Links: The Trip | Gallery of Images | Student Experiences
In the Fall 2021 semester, a group of Nossi photography students and faculty members hopped in cars to travel out west to capture the American countryside and see important national parks and landmarks along the way. Travel Photography is an advanced course taken in your senior year of college before graduation. In the class, Nossi instructors use Nashville and surrounding areas in Tennessee to prepare students when they travel locally, regionally, or internationally.

To complete the experience, Nossi College plans an itinerary and books a location for 10-15 students to travel and practice using their newly acquired skills learned from class. We visited international locations before the COVID-19 pandemic. Our first adventure was in Ecuador and we followed that up with a trip to Ireland. When the pandemic hit in 2020, this class was unable to enjoy the full travel photography experience. Being safe and cautious in 2021 helped revive this tradition with a trip to New Orleans and now a trip out West. We cannot wait to see where the class gets to travel next.

Below hear from Lisbeth Norton, our Travel Photography Instructor, as well as some students from the Travel Photograph class and their experiences over Moodle Week, a digital week where students can travel and see family without missing class (all classes move from in-person to online for one week each semester called Moodle Week). Follow Lisbeth on Instagram.
A Photographer's dream setting
Over Moodle week, Nossi's Travel Photography class traveled west to visit Las Vegas, Hoover Dam, The Grand Canyon National Park, Arches National Park, and Bryce National Park over the course of a week.

Wooooooooooooow!
We photographed the beautiful terrain, people, food, architecture, flora, and the furry friends we met along the way.
The warm hues during sunset grazing the canyons and rock formations are one of the most beautiful pools of lights we have ever encountered.
We hiked to a viewpoint at the Grand Canyon in the wee hours of the morning and watched as the moon sank below the horizon and the sun rose to greet us. Its rays of soft, diffused light illuminated the various tones and layers of the canyons in such a celestial way.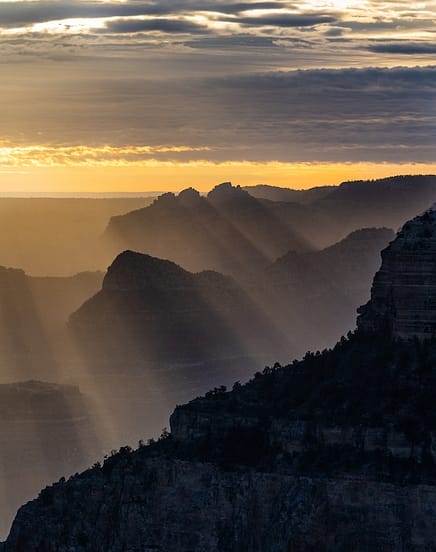 We then went on to watch the sunset and moonrise at Arches National Park. We photographed the lovely dark night sky with the rock formations in the foreground. There were so many bright, tiny stars in the sky it felt as if you could reach out and grab a handful of them. We were in constant awe of all of the natural beauty and its splendor that surrounded us.
"My favorite photo is without a doubt the star trails we shot at the Arches in Moab. Star trails are what got me into photography and one of my favorite things to photograph. Getting the opportunity to do it at a place like that has been on my bucket list since I first taught myself how to do it."

Tylor Hutcheson, Nossi Photography Student
From Navajo Country to visiting the massive Hoover Dam, these incredible experiences are some of the most fascinating that we have ever witnessed.
"My favorite photo from the trip is this image of these reservation dogs chasing a motorcycle in the Navajo lands. I had zero time to prepare for it but was able to get this incredible shot.

Also, as a photographer, I learned that you need to keep your eyes and your mind open to all the possibilities. Preparation is important, however it's good to be open to the unaccounted for."

Rachel Moore, Nossi Photography Student
The architecture, food, and the fun in Las Vegas did not disappoint, and then our five-day adventure sadly had to come to an end. We can't wait for the next one, and we have included a few images from our trip. Enjoy!
The West in Photos
Photography Student Experience in Quotes
Discover more from each student by selecting on their name to see their Instagram account.
"I loved everything about the trip, but my favorite part was gaining closer relationships with Liz, Tom, and the students. My favorite photo is from the Grand Canyon because of how beautiful the sunrise was with the intentional lens flare." – McKayla England
"My favorite photo that I took on the trip was the black and white photo at Delicate Arch. I like the story behind it. I woke up at 4 am to get everything ready for the shot. Lisbeth, Tylor, Lela, and I all hiked two miles to get to the location. Once we got there, I noticed a little hole in the rock so I climbed up there and got to see sunrise with the arch in the foreground. It was so peaceful and I can't wait to have more moments like this." – Jackson Carr
"I learned to always be prepared to pull out your camera to capture anything. Whether it is food, people, or landscapes. Traveling made me feel free while doing what I am passionate about, and I could not be more thankful and blessed to be able to attend this trip." – Kaitlin Olson
"Just SHOOT SHOOT SHOOT! A tripod is very important and making sure your f-stop isn't too low so you can get detail in the depth. Even though we might have all been in the same place, taking pictures of the same thing, all our images are different based on our own style." – Lela Hunt
"I learned to take advantage of every opportunity to shoot regardless of how little sleep I got or how miserable I felt. I realized that pushing through those rough moments made the experiences much more rewarding and worth it." – Tylor Hutcheson
"I learned to plan for more time than you think you will need. The drive was absolutely amazing, and we stopped whenever we wanted to." – Nick Fantasia
"Something that I knew but was reinforced on this trip was to improvise and adapt on the fly. There were many occasions where plans changed or things went momentarily sideways, but being able to go with change and come up with solutions on the spot was critical." – Tylor Hutcheson
Learn About Nossi's Photography Program
Meet Nossi's Photography Teachers