Happy Valentines Day from Nossi College of Art! We wanted to share a Valentine's Day gift for you, directly from Nossi's own Chef Anthony Mandroita from our Culinary Arts Department. Chef Anthony pulled two favorite recipes out of his book to share in hopes that we can help make dinner plans a bit easier tonight – Pasta e Fagioli and Fudge Brownies.

Go ahead, get your digital shopping cart ready, although you might have a majority of these ingredients already at home!
Chef Anthony's Pasta e Fagioli | Serves 6
Supplies
1 large saucepan

Ingredients
1 tablespoon olive oil
1lb Italian sausage (sweet or hot), ground
2 stalks celery, diced
1 medium yellow onion, diced
1 medium carrot, diced
3 cloves garlic, minced
1 tablespoon dried basil
1 teaspoon dried oregano – optional
1/4 teaspoon crushed red pepper flakes
salt and black pepper to taste
16 oz chicken stock
2 medium tomatoes, peeled, seeded, chopped
8 oz tomato puree
1 cup dried Ditalini pasta
1 (15 oz) can cannellini beans with liquid

Steps
1. Heat olive oil in a large saucepan over medium heat. Sauté ground sausage until browned
2. Add celery, carrot, onion, basil, red pepper, and salt. Sauté until onion is translucent (about 5 minutes)
3. Add Garlic and sauté for one minute.
4. Stir in chicken stock, tomatoes, and tomato puree. Simmer on low for 15 minutes.
5. Add ditalini pasta, and cook 10 minutes or until pasta is tender (add more stock if needed)
6. Add undrained can of beans and mix well. Heat throughout
7. Serve with grated Parmesan cheese, sprinkled on top

Chef Anthony made this delicious dish for us at our For the Love of Nossi Valentine's party on February 10 called For the Love of Nossi. It's hearty enough to get you through this cold February. In addition to the grated parmesan cheese, Chef also served it alongside toasted French bread, which we highly recommend. Pasta e Fagioli is a classic Italian dish that just seemed perfect for Valentine's dinner. Chef Anthony said it's one of the dishes he's been cooking the longest; it always has an air of nostalgia for him.

We hope it becomes a classic for you and your family as well!

No Valentine's dinner is complete without a serious serving of chocolate! Don't worry, Chef Anthony also shared a dessert recipe from his curriculum, Fudge Brownies.
Chef Anthony's Fudge Brownies | Yield, 2 dozen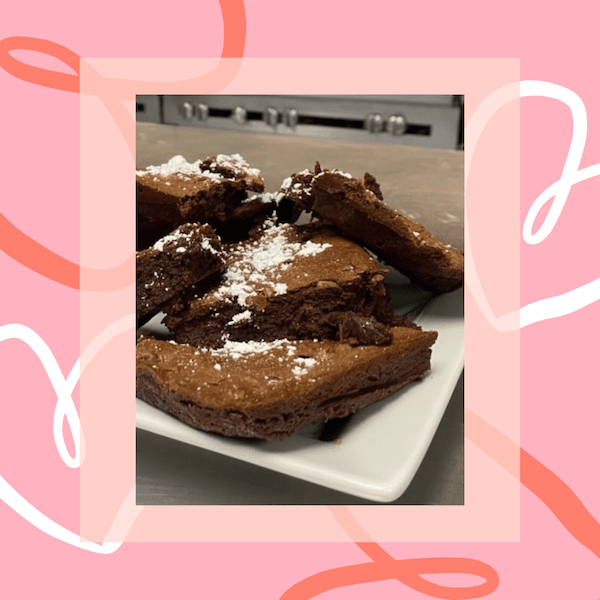 Supplies
1 square pan, 9 inches.
1 double boiler
1 electric mixer, paddle attachment
1 sifter (optional – sifting flour helps remove clumps, making for more accurate measurements and easier mixing)

Ingredients
9 oz unsalted butter, room temperature
8 oz unsweetened chocolate
5 eggs
1 lb 4 oz granulated sugar
1/2 teaspoon salt
1/2 fl oz vanilla extract
1/4 fl oz coffee extract – optional
8 oz pastry or all-purpose flour
4 oz pecan pieces
1/2 cup powdered sugar – optional

Steps
1. Melt the butter and chocolate over a double boiler to 120°F (49°C). Hold the chocolate at this temperature.
2. While the chocolate is melting, beat the eggs and granulated sugar in the bowl of a mixer fitted with the paddle attachment on medium speed for 10 minutes. Add the salt and extracts. Scrape down the bowl, then add the melted chocolate, blending until well combined. Add the flour and mix until combined. Fold in the nuts.
3. Spread the batter evenly onto a paper-lined quarter sheet pan. The pan will be very full. Bake at 325°F (160°C) until the center is set, approximately 40 minutes.
4. Cool completely before cutting.
Chef's Tip: Refrigerating or freezing brownies before cutting ensures a clean edge. Consider using a sifter to dust the brownies with powdered sugar.

These brownies are sure to be the hot fudge on top of your Valentine's Day! We hope you enjoy this gift from Nossi's Culinary Department and Chef Anthony Mandroita!

We want to see what you made! Please send us photos if you make any of these recipes for your dinner tonight (or any other night!).

If you can't get enough of Chef Anthony's recipes remember our Culinary Department is enrolling for the May or September 2022 semesters right now. We are only accepting 48 students total, and we'd love to see you cooking with us.

Happy Valentines Day from Nossi College of Art!