Nossi Clubs and Organizations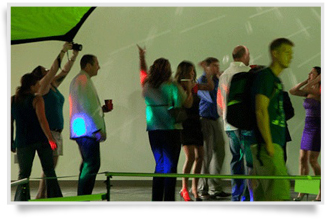 Getting involved with All Access is just the start of your experience at Nossi College. Students have implemented groups allowing them to pursue their passions beyond the classroom. Want a deeper level of professional development or a chance to strengthen your network? Want to improve your academic and leadership capabilities or cultivate additional interests and hobbies? Nossi College expects involvement from students now to ensure success in their career later.
Kappa Pi unites artists all over the globe who care about art and the role it plays in their life. Meeting like-minded individuals builds a bond and gives talent a voice. Joining Kappa Pi means maintaining an academic standard and strengthening leadership and communication skills. From campus events to volunteer opportunities in the community, involvement in Kappa Pi will introduce students to Nashville's creative elite.
Nossi MICs | Nossi's Music Industry Club
Because of Nossi College's success in capturing CMA Fest in the summer, the County Music Association has asked Nossi College to be an education creative partner. We have also connected with local radio station, Lightning 100 to capture concerts and connect with local artists across Music City. Are you interested in designing concert collateral, illustrating cd cover art, photographing concerts or creating music videos? Discover what it takes to break into the Music Industry and meet some of Nashville's hottest music industry professionals.
Nashville Fashion Alliance
Nashville is a rapidly growing hub for the fashion industry. Projected to grow by billions of dollars, the fashion industry is making a profound impact on Nashville. Nossi's student group connects creative students with the Nashville Fashion Alliance to build projects, create connections and allow up-and-coming businesses to work with up-and-coming creative professionals!
Nossi Veteran's
Nossi understands a veteran student can have a vastly different experience than a traditional student. We have created a group for veterans to connect with each other and veteran-related businesses in Nashville to help with your unique needs. Discover funding, scholarships and other opportunities available exclusively for veterans and their family members.
Student Ambassadors
We are always looking for active students who want to represent Nossi College and our student body by welcoming, educating and informing prospective students about art college. We also look for students who want to be a role model for future students. Ambassadors will attend events both on campus and in the Nashville community. To be considered for this program, a student must maintain their GPA and attendance record for the semester.
Mentorship
Each Nossi student has been gifted with a talent in the arts. Because of this great talent, we encourage our students to give back to the Nashville community by becoming a mentor with organizations like Stronger Than My Father, Pencil Foundation, Martha O'Bryan Center or Casa Azafran. These non-profits focus on educating and improving the lives of young students who tend to live at or below the poverty line. Nossi mentors introduce middle and high school students to the arts and talk about careers within the artistic community, informing them they can do something they love for a living! Read more about Shahid Muhammad, a Nossi student who is also a student mentor.