Looking into the latest technologies in the creative economy, the TN Department of Education invited CTE (Career Technical Education) Teachers from across the state to tour our campus' facilities, learn about our curriculum, and attend workshops facilitated by our program leaders. We discussed emerging trends and technologies in the creative industry, held demonstrations, and highlighted successful alumni.
When the TN Department of Education selected Nossi College of Art as a location of interest to learn about Tennessee's creative economy, we were excited to show how we are helping to educate the next generation of creative professionals in Nashville.
Crystal Applewhite, Program Manager at the Department of Education, oversees the Arts, Audio/Visual Technology & Communications, Education & Training, Information Technology, and STEM programs. She helped coordinate the tour and gathered approximately 20 educators from across the state for this special visit.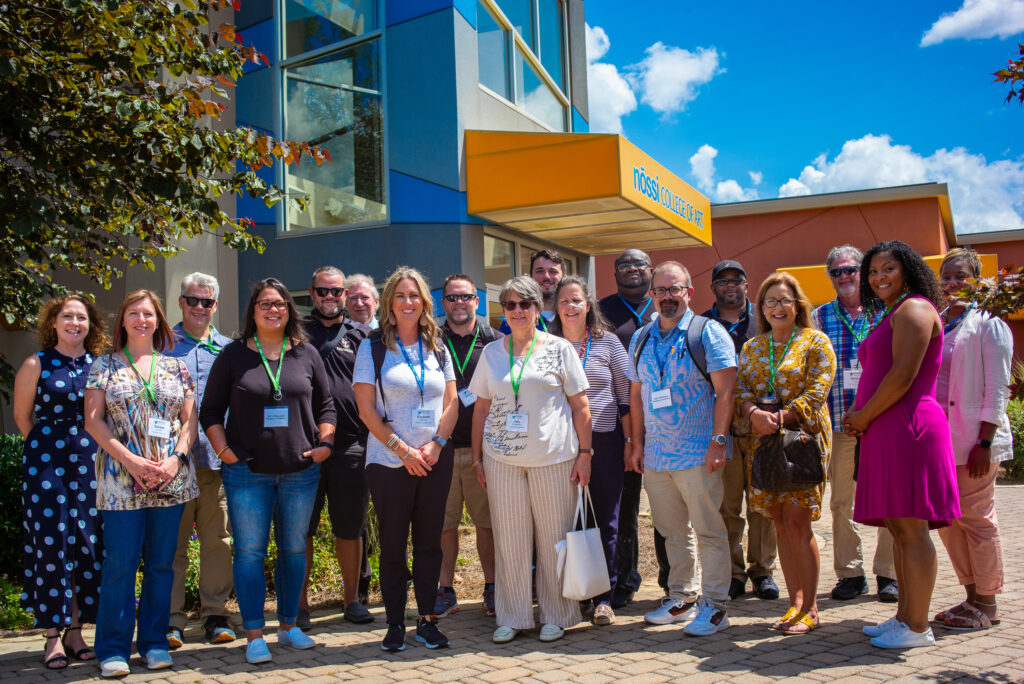 Highlighting Creative Needs
During our presentation to the TN Department of Education, we emphasized the value of a well-rounded arts education, stressing the importance of teaching a combination of hard skills and soft skills to help an artist be truly successful. Nossi encourages students to know their creative talents and have confidence in their abilities. But our emphasis on business, marketing, and social media classes helps distinguish Nossi and our graduates from other art colleges, programs, and creatives.

During the tour, we highlighted our partnerships with the music, entertainment, nonprofit, and fashion industries to help engage our students.
"Getting a well-rounded education is extremely important for our students," said Cyrus Vatandoost, Nossi College's Executive Vice President. "However, it is our engagement with the Nashville community and pairing our students with creative professionals and brands to provide true hands-on experiences. It is that engagement that really helps a student set their expectations for their professional life."
Photos provided by Nossi College
We also discussed the latest trends in our creative programs – Graphic Design, Commercial Illustration, Photography, and Video & Film. Employability is important for our graduates. We discussed how we work with advisory boards in each program to help fill gaps in their creative teams while adding, changing, or improving courses within our curriculum.

Our college can pivot quickly when it comes to updating curriculum, a unique attribute of our tight-knit college. We want students to find successful careers doing what they love. There are far too many creative opportunities available to remain a starving artist. From day one of class to 20+ years after graduation, we support our students and grads with Lifetime Career Services.
– The industry tours were very helpful and informative in helping educators see industry needs and skills students need to attain for employment.

– The tour was wonderful! The presenters were very open and honest about their field and I truly appreciated the knowledge!

– Engaging, clear, and relevant

TN Dept of Education Reviews
Creative Workshops
In addition to touring our campus, Tennessee CTE educators sat in on workshops. Tom Stanford, Nossi Photo Coordinator, and Mark Fleming, Nossi's Illustation Coordinator, shared various new trends in our programs. Stanford shared behind-the-scenes videos, student ADDY award winners, International and regional trips taken by our Travel Photography class, and information on our current classes.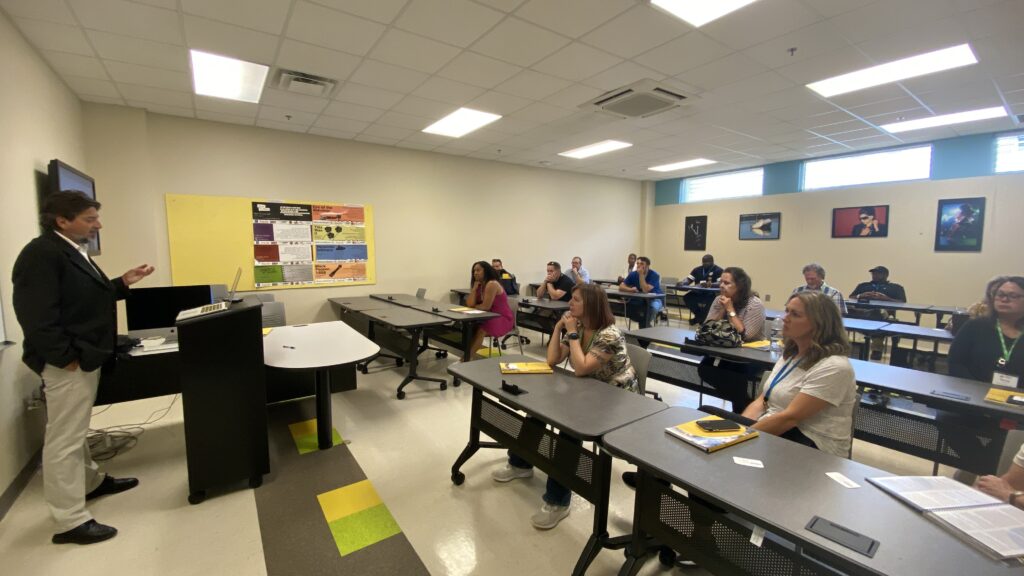 Fleming demonstrated digital painting—a skill our illustrators learn about halfway through our program. Digital painting is a newer artform in which the artist applies digital tools using computers/tablets and software to mimic traditional painting techniques (e.g., oil paints or watercolors).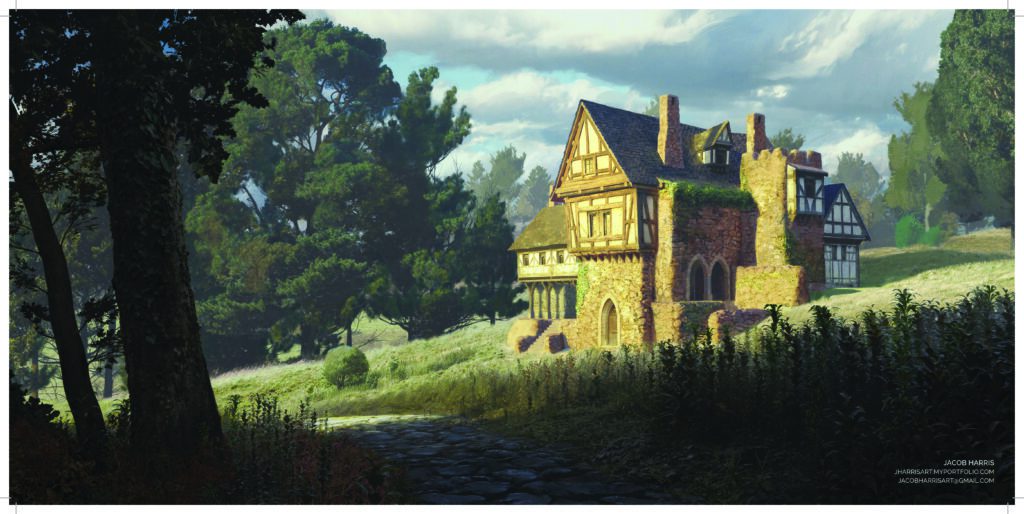 Jacob Harris, 2021 Nossi Grad
Digital Painting Example
In addition to discussing our programs, we wanted to give the teachers enough information to take back to their classrooms and discuss with their students.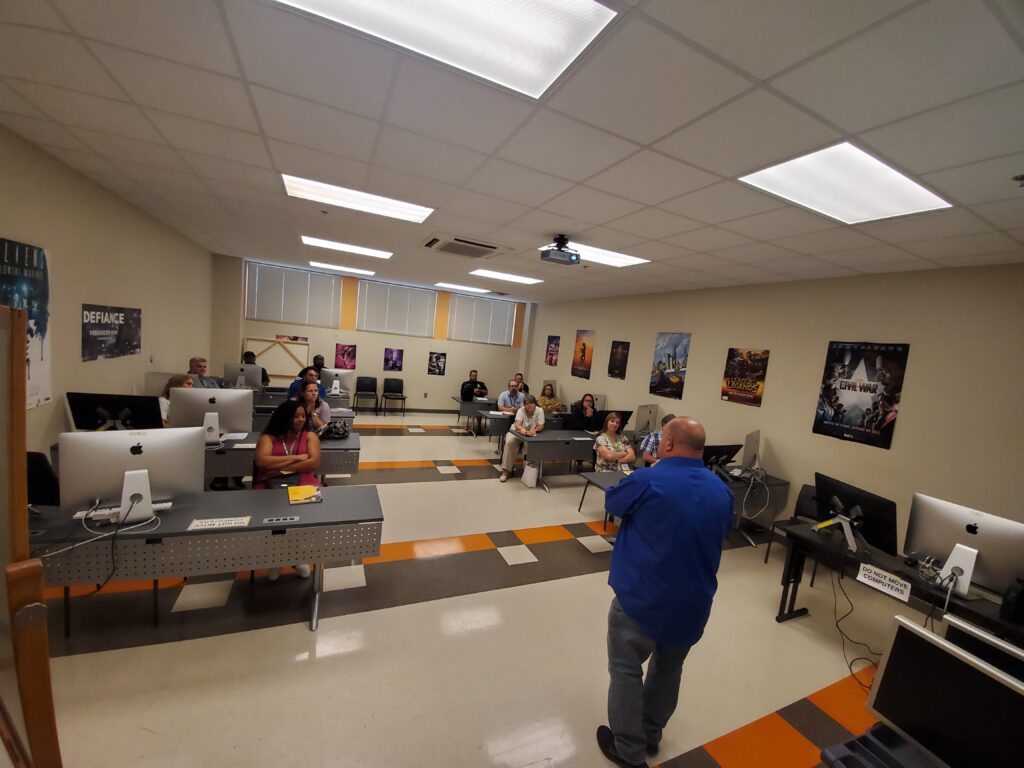 Creative workshops and Inservice needs
After the tour, the TN Department of Education asked if Nossi College could host workshops and in-service opportunities for creative high school teachers. We are happy to help Tennessee's high school teachers complete in-service hours in any of our programs. If you are interested in a creative tour, a hands-on workshop, or you need hours for in-service needs, Nossi can train and educate you in the areas of Photography, Graphic Design, Video & Film, Commercial Illustration, and Culinary Arts.

"I think the team at Nossi College of Arts did a phenomenal job of welcoming our Arts, AV Technology, and Communication educators," said Applewhite of the Department of Education.