JUMP LINKS: Order your Grad Photos! | Top Six Quotes from Celene's Speech | Graduation Video!
Nossi College of Art held its 2021 graduation ceremony in August at Goodpasture High School in Madison, Tennessee. Joined by Cyrus Vatandoost, Master of Ceremonies, and Ms. Nossi Vatandoost, Nossi College's founder, over 50 graduates donned their caps and gowns to highlight this important achievement and the pinnacle success of college before starting on their journey in the creative economy.
We were fortunate enough to welcome Celene Aubry, the Director and Print Show Manager at Hatch Show Print as our 2021 Commencement Speaker. Her selection as this year's commencement speaker underscores the success of local women in the arts community.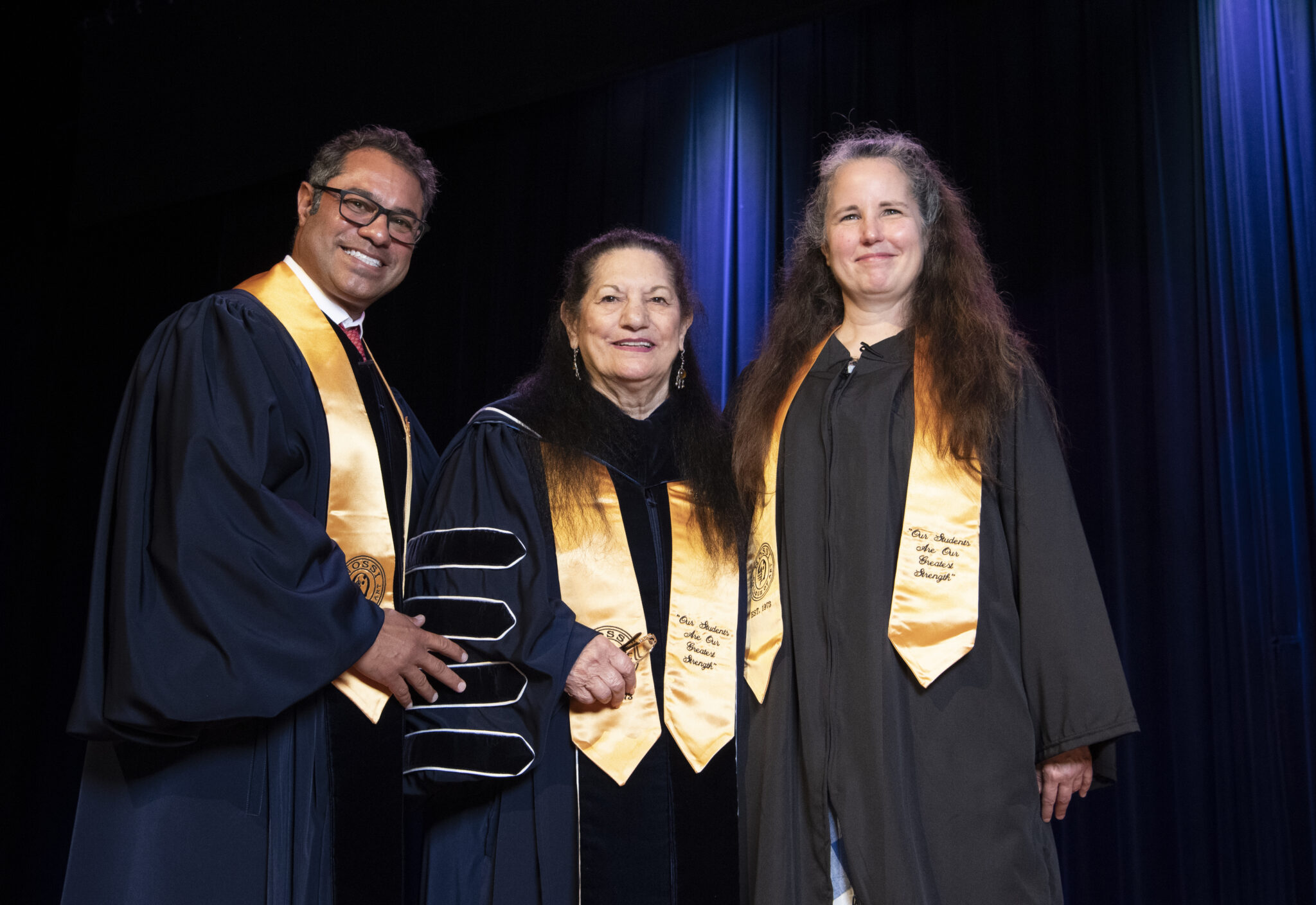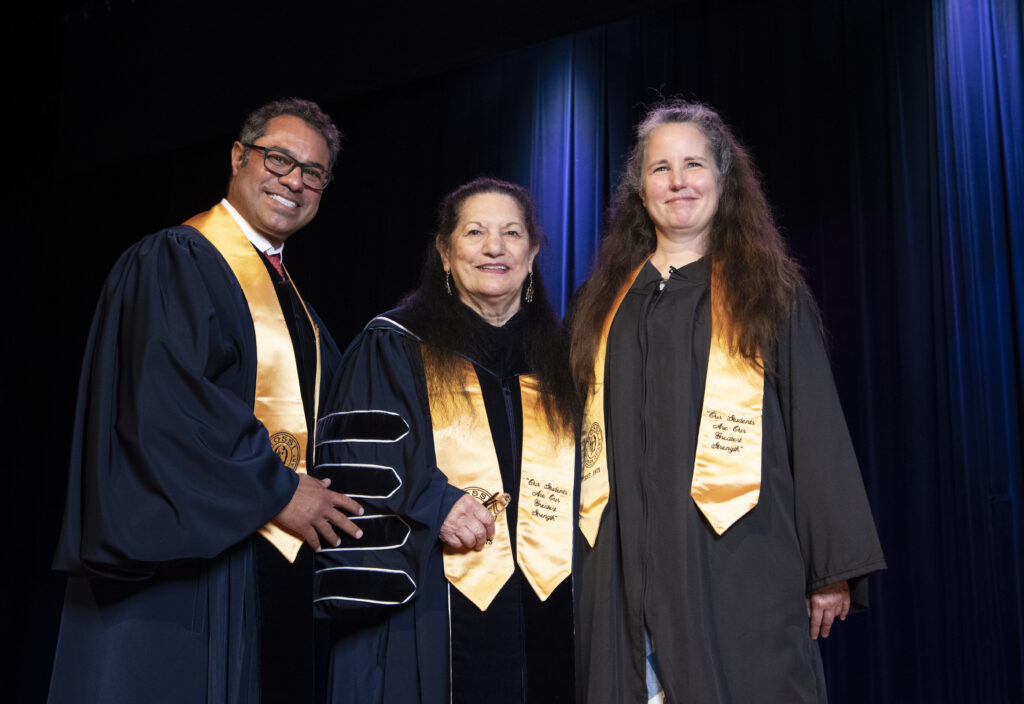 Aubry shared a moving speech and encouraged graduates to look to their future without fear.
"Surround yourself with the people who challenge you to be better and do better, the people who share in your successes and jump in to help you find your way from failure to become enlightened and experienced. Try something new every now and then, and pursue a passion with the focus and joy of a child. Find kindred spirits in your career and your life and the road will be much easier to travel."

Celene Aubry, Hatch Show Print
Aubry is the first woman to be named director of Hatch Show Print since printing began over 140 years ago! She joined the Hatch Team in 2012 with the eventual goal of taking the reigns from Hatch Master Printer Jim Sherraden. In her current role, she manages the shop and business, oversees the development of Hatch Show Print programs and activities, and continues the shop's tradition of preservation through production. One of her many important projects was coordinating the print shop move from Lower Broadway to its larger home at the County Music Hall of Fame and Museum.
She shared a message of gratitude and excitement for the change ahead. She encouraged Nossi's graduates to embrace failure and never stop seeing themselves as beginners. They even walked away with a custom Hatch print! If you are a 2020/2021 Nossi grad who could not attend graduation this year, please email Libby to get your Hatch Show Print!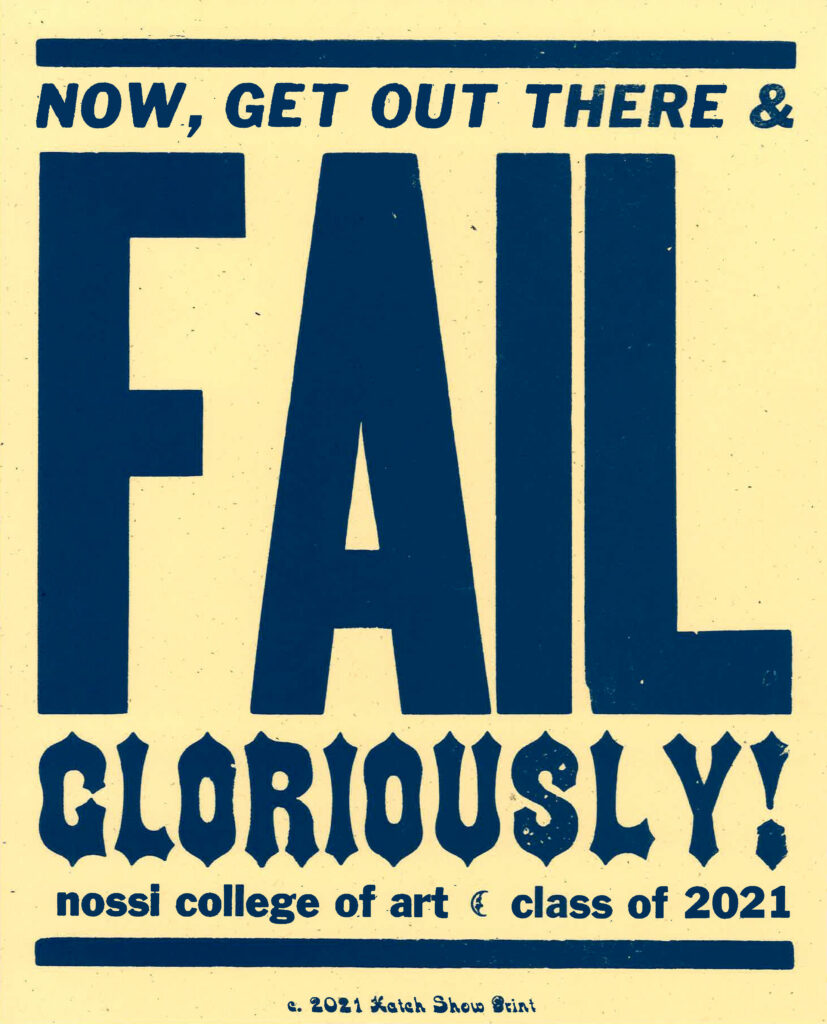 Purchase your 2021 Graduation Photos
Special thanks to Nossi photo graduates, Caitlin Harris and Russell Hilliard of Harris and Hilliard Photography for taking images of this important event. Check out their gallery of images and purchase grad photos on their website.
Photos by Harris and Hilliard Photography
Top Six Quotes from Celene Aubry
In addition to Director duties, Aubry overseeing the development of additional Hatch Show Print programs and activities to best leverage two important Hatch Show Print spaces – a classroom and a gallery space. She knows a thing or two about getting a group of people (creative or not) excited about the letterpress process, and she had the attention of all our graduates as she spoke about her vast experiences in and out of the art world. In the end, she had some inspiring messages for our artists: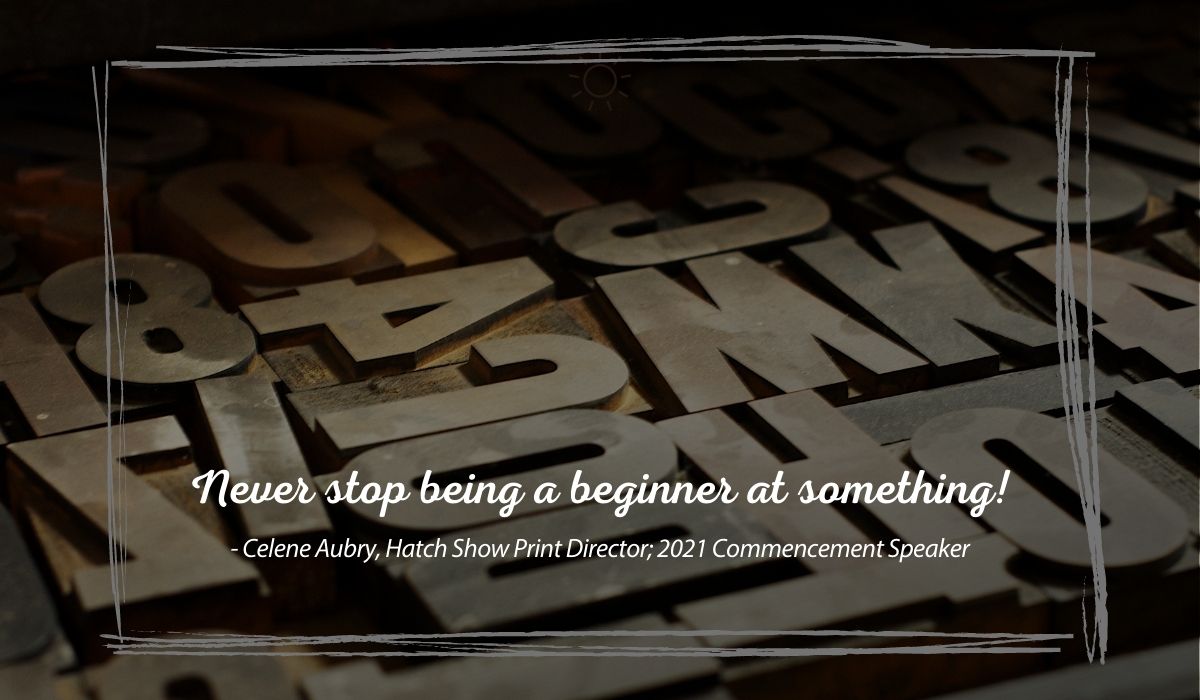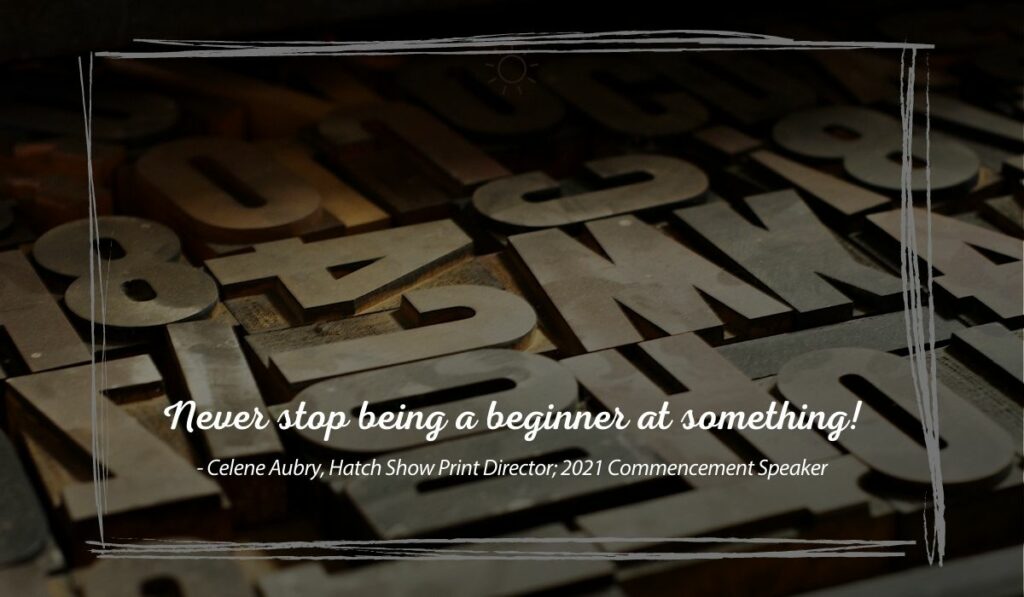 It's Okay to Fail!
"It is one of my wishes for you. To fail as often as you can, and stand it, and to do it gloriously."
"Do not be afraid to fail. Practice failing, embrace your failures. It is through doing something and not getting the outcome we expect or need that we can become more certain of the right path to take, to solve the problem in the future."

Change is Coming!
"If you want to continue to grow as an artist, as a human on this planet, the more comfortable you are with the output of that – change – the more exciting change can be."
"The acceptance that change happens regularly is the opportunity to make it a positive prospect. Reassess the old, carry over what is good, and grow into the new try things on. Try things on, see how they work."
"If you're not testing the boundaries of what you think you know, and what you can do, how do you know you're not missing something that can revolutionize how you do everything or something that's just wonderful?"
Graduation behind the scenes
To document the day, Nossi alumnus Zakk Beaty captured the day to create this highlight video for grads to remember and look back on this special day.
Starting Your Creative Career
Always want to be part of Nashville's creative economy? Ready to finish your degree? Join and be part of a community of creatives – and Tennessee's only private art college! We offer creative degrees in Photography, Video & Film, Graphic & Web Design, Commercial Illustration, and Culinary Arts.
Have a question about attending art college? Connect with our Admissions Director today or call 615-514-2787.