Photojournalism is the art of communicating news through powerful imagery. We have all seen a photo that stops us in our tracks, it evokes an intense emotional reaction of joy, anger, inspiration, or sorrow. It follows with a surprise of "how did they capture that moment," to "how could they capture that moment?" With a purpose to enhance news stories, photojournalists catch a moment or angle with a unique perspective and trained eye.
John Partipilo, an international award-winning photographer, takes photojournalism to an artistic level and inspires future photographers at Nossi College of Art. From learning about his adventures to taking students out on assignment, he shows the hard work and the reward of capturing a specific moment that speaks louder than words.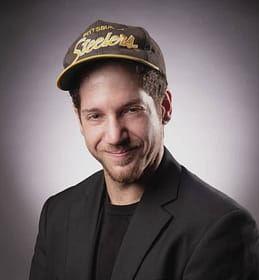 "I went [to the Atlanta Photojournalism Seminar] for a few reasons," said Ethan Shulman, a Nossi College of Art photography student. "Taking John Partipilo's class inspired me to learn more about this genre and type of photography. I want to learn what it takes to see your own work published, and I've always had the dream of seeing my personal work in print."

Ethan Shulman
The Atlanta Photojournalism Seminar is the oldest, continually running photojournalism conference held every year. It reinforces the highest standards of photojournalism through education, network building, a photography contest, workshops, distinguished guest speakers (some Pulitzer Prize winners), equipment and gear sales or cleaning/repair, portfolio reviews, and a contest awarding more than $5,000 in prizes.
Ethan Shulman and Kathleen Munkel (a fellow photography student) headed south for the day to take in some sessions and get inspired.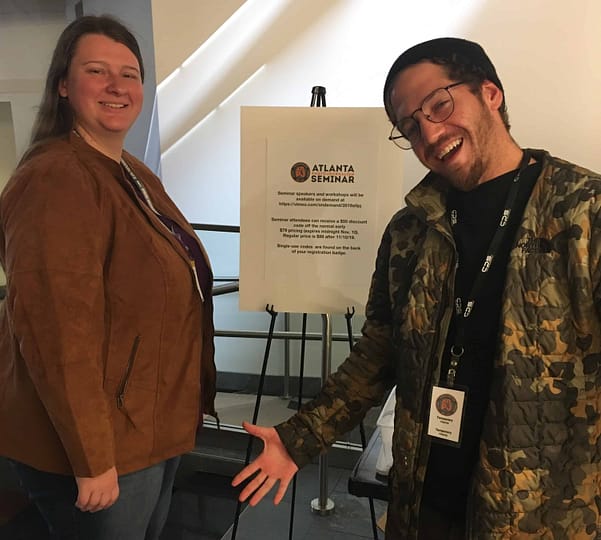 "I went to the seminar because photojournalism is a passion of mine, and I wanted to learn from the best," said Kathleen. "I had gone last year when Tom (Nossi's Photography Program Coordinator) suggested it."
"I was starry-eyed for the whole weekend."

Kathleen Munkel
Although Ethan was only able to attend the first day, he packed it with four speakers:

1. Russ Harrington – an influential entertainment photographer in Nashville and a regular guest lecturer at our art college.
2. Rich Glickstein – an avid photojournalist for newspapers and magazines. His clients include TIME Magazine, The New York Times, and The Washington Post.
3. Bernadette Tuazon – the Director of Photography for CNN digital, overseeing breaking news and feature photos.
4. Gabriel Scarlett – a freelance photojournalist and storytelling advocate for social issues in America. He has worked for the National Geographic, Los Angeles Times, and Denver Post. He has received grants for documentary storytelling in Colorado.
Pro Tips Learned in Atlanta
Several of Ethan's takeaways included gaining a deeper understanding of the business of photography, meeting and connecting with working photojournalists, getting a better feel for what it is like to be a photojournalist, and what is needed to be successful in this industry. Ethan was able to learn more about how to make your budget (big or small) work the best for your needs from Russ.
Pro TIP: Rent equipment first–you don't need to buy all this crazy-expensive gear that you may not use regularly. It is really important to prevent future debt before you even start.
Rich covered traumatic events and the importance of mental health. Many people may not realize the impact devastating news stories can have on the photojournalists who cover them. He offered a question and answer debate on personal beliefs and conflicting values in photojournalism because of strong imagery captured from traumatic events.
Pro TIP: If you are interested in a career in photojournalism, it is important to dismantle common mental health stigmas. The trauma of some subject matter does not just impact victims and audiences, but it can also deeply affect the photographer.

Bernadette Tuazon instructed photographers to try to recognize and realize their implicit bias. If you have heard of implicit bias but are not familiar with it, think of it as connecting people and attitudes with common stereotypes in a subtle or unconscious manner. These stereotypes can revolve around disabled/differently-abled people, race, gender, religion or even polarizing subject matter like guns and politicians.
Pro TIP: Everyone possesses implicit bias. Be aware of how you feel towards a certain group of people and decide how you can commit to being part of a more inclusive society.
The most inspiring speech award went to Gabriel Scarlett, according to Ethan, because of his gritty style and strong imagery. The story that stood out the most? Traveling to discover the whereabouts of Amelia Earhart's plane after disappearing while attempting to circumnavigate the globe. Although (spoiler alert) they did not find her plane, Gabriel displayed some amazing imagery and detailed the expedition he took.
Pro TIP: Inspiration comes from people and the dedication to their work. Find out what other photographers are up to and discover the next amazing story you can tell from your perspective.
Kathleen was able to spend the Saturday in Atlanta as well, continuing to connect with fellow photographers–both new to the photo world and the pros who have been capturing images for years. Her biggest takeaway is to find as many resources as possible and to constantly be on the lookout for more. Always try to increase contacts in your network, and learn about ways to improve your craft.
Pro TIP: Resources are not always just for business improvement. Be on the lookout for mental health and educational resources, as it is all connected to your passion.
Did You Know Photographers have access to special art college scholarships?
Art school students who study photography can earn scholarships while they are in college. View a list of the latest photography-related scholarships.
Are you still in high school searching for undergraduate art colleges and art college scholarships? Here is a list of scholarships available for you.