After eight years, we caught back up with Jose Semidei to see what has changed in his life as an illustrator and designer. He still lives in the Nashville area, he has moved to Swiftwick, a small, local company to take on more responsibilities. After graduating, he decided to continue to give back his creative experiences by becoming a teacher at his Alma Mater – Nossi College of Art! Check out his illustration and design work and a few of his thoughts since we last connected in 2012! Check out Jose Semidei's Behance page.
SOME INTERESTING FACTS ABOUT JOSE: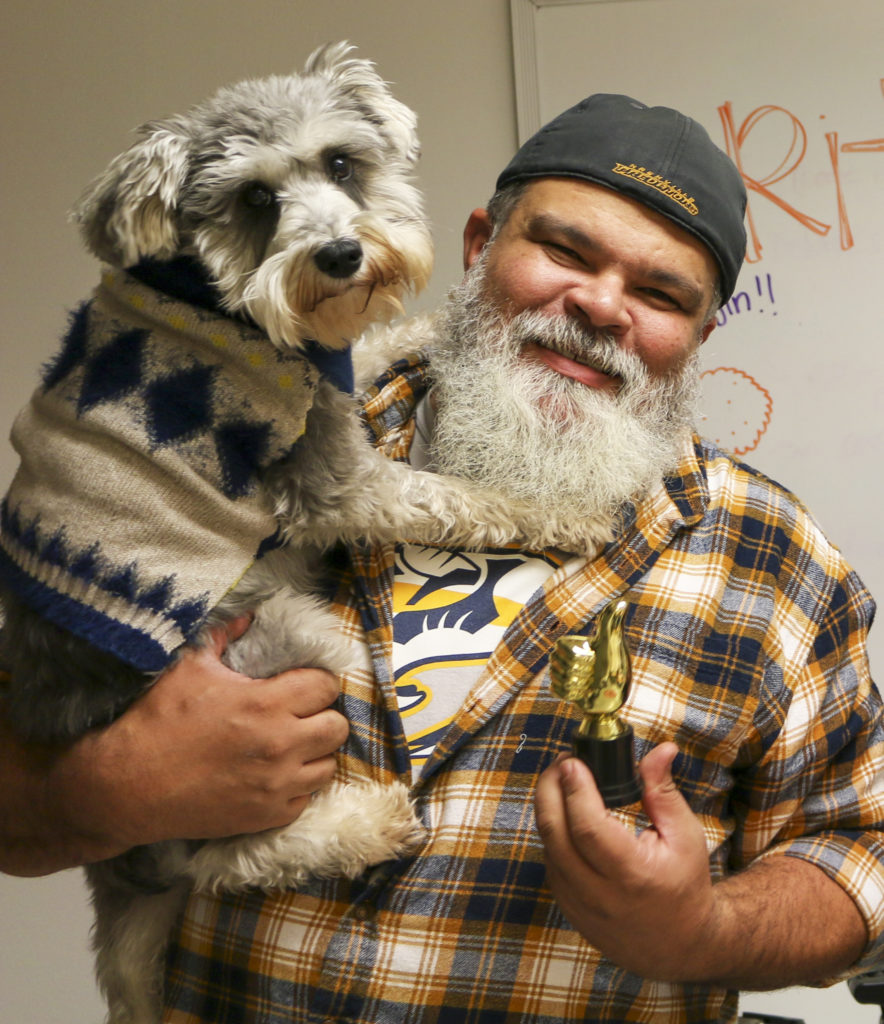 Jose loves the Nashville Predators – and if you see him out, there is a good chance he is in Nashville Preds gear!
He currently works as a Graphic Designer for Swiftwick and creates graphics, displays, social media needs, website graphics, and even some product photography.
Jose is a 2012 graduate and started teaching at the college in 2014. He is celebrating his 6 year anniversary in 2020!
He is originally from Puerto Rico and came to Nashville to originally be a musician.
Loves all kinds of music, but identifies as a Tattooed Puerto Rican Metalhead Teddy Bear with Muscles
He has two Miniature Schnauzers, Benedict Quinlan and Bellatrix Pearl.
He loves to cook, mainly ethnic dishes from his native Puerto Rico.
Here are a few other things we caught up on recently:
Nossi: Tell us about your Job at Swiftwick.
Jose Semidei: Based out of Brentwood, Tenn., Swiftwick is a performance sock company committed to making the best socks you will ever wear. It is basically a high-tech sock company. I was offered the opportunity in July 2017, and I was more than happy to take it because I loved the idea of working for a small, local company producing a product manufactured in the United States with foreign and domestic materials. Given the culture and work environment, it was an opportunity I did not want to pass up.
I am their Graphic Designer, and I prepare graphics for email campaigns, POP Displays for trade shows, social media, and website graphics. I also handle product photography, and yes, I do get to design many of our socks with decorative and fun patterns. I prepare designs for both knitted and printed socks. Each has its own procedure and design preparation, which is pretty cool.
Nossi: What is the biggest lesson you have learned over the past eight years?
JS: Woah! The biggest lesson I have learned in eight years… not to sound like I am using a cliché, but I would have to say it's the fact that you can never stop growing and learning and your designs always have room for improvement. Even as an instructor, I am constantly learning. Trust your instincts, have an open mind, take criticism with a grain of salt, don't limit yourself, and last – stay humble because you're not indispensable. Also, I want to add, as a designer in Nashville, it is cool to have been able to see things as an outsider and then as an insider. What I mean by this is, I left my small Puerto Rican town of Yauco and arrived at Nashville in 1998 with no knowledge of the city nor did I ever think I would be who I am or where I am today. I took a dare. Through ups and downs, I was able to establish myself in a loose way, but it was not until I decided to make a true career choice that things truly started to fall into place.
Choosing a good school was the big thing for me as I knew I wanted to be involved in the arts in some way. It came to fruition and I, with loads of sacrifice and overcoming self-doubt, was able to obtain my Bachelor's Degree. It was about having that hunger, that desire to stand out and be the kind of man who would do whatever it took to succeed. It's all about not giving up and making yourself better each and every day. It's not always easy, but then again, any goal reached without effort and hard work aren't rewarding. It's better to feel like what you have accomplished was earned and not just given to you.
Nossi: What are some things you teach at Nossi?
JS: I have taught a variety of classes, mainly programs within the Adobe Creative Suite. I have also taught Basic Drawing, Design Composition, Graphic Design Fundamentals, and Introduction to Copywriting, However, my main class, and what I teach almost every semester, is Adobe Illustrator.
Nossi: What advice do you want to give fellow creatives?
JS: Find Balance! I am a Graphic Designer and a College Instructor. I am also a husband and a father. It is not difficult to balance both and what you do at one should make you better at the other, because all you do reflects who you are in all aspects and with everyone you are associated with. Find the balance, be thankful for life regardless of anything, and ask yourself 'What's next?'
Check out some of his work and learn more about his history below!
Swiftwick Design Samples
CONTINUED FROM:
Alumni Spotlight: Jose Semidei – March 2012
When an unexpected job opportunity emerged at Gaylord Opryland Hotel, Jose Semidei packed a duffel bag and left Puerto Rico for the neon lights of Nashville. Following a well-worn path established by many artists before him, Semidei wanted to pursue a career in music. Little did he know, his adventures would land him a graphic design position working for Music City herself.
Semidei's supervisor position at Gaylord couldn't hold his creative interest for long. After moving multiple times and working at various Nashville businesses, he decided to refocus his talents and finish his degree. Researching a variety of colleges led him to Nossi College of Art, where he enrolled in the associate graphic design program.
"I liked the personal feeling of it," Semidei said, referring to when he visited the college. The curriculum, teachers and location sealed the deal. Before graduation, Semidei landed a graphic design gig at Dex Imaging. While at Dex, he decided to continue his education by enrolling into Nossi's bachelor's program. He graduated magna cum laude in April 2010 with his bachelor's degree in graphic design.
Before receiving his diploma, Semidei displayed his work at Nossi's Senior Portfolio Review. Because of his tenacity, he grabbed the first table in the front. He wanted to be remembered. It was there he met Chuck Creasy, VP of creative services at the Nashville Convention and Visitors Bureau (NCVB).
"I was very impressed at the portfolio review," said Creasy. "There was a lot of good work, but Jose's stuff was head and shoulders above the others. That is what I look for, someone who has a little bit of an edge, who does more than it takes to just get by."
While working for NCVB, Semidei designs brochures for conventions visiting Nashville, program initiatives like Music City Hitmakers, and logos for events including the New Year's Eve "Bash on Broadway," an event nationally ranked by many news sources including Travel + Leisure.
"He is a fabulous employee for us. He is doing award-winning work for the city of Nashville. I can't say enough good things about him," says Creasy.
Semidei loves his job because it allows him to explore his range of talents and pushes him to always strive for perfection. Whether he gets to meet Keith Urban, Lynyrd Skynyrd, Reba or Darius Rucker, Semidei's favorite place to be is behind the scenes, knowing what he has designed and how many people have seen it.
Semidei now gives back to Nossi. As a creative professional, he attends portfolio reviews and events to provide insight to current students.
"[At Nossi] teachers see you as a peer, not just a former student. You are professionally equal and there is camaraderie," says Semidei. "When I visit, I always stop to see Arden [Von Haeger]. He gave me confidence and guidance when it came to my vision. He wasn't there to change my style."
After our interview, Semidei invited me to Aladdin's to meet Michael Inman, a friend and fellow Nossi graduate. Inman is a graphic designer for Horizon Wine and Spirits, the largest wine and liquor distributor in Nashville. TO BE CONTINUED.