Photos take by Nossi College of Art Student, Jason Lyell
This spring, 41 students were nominated in seven award categories at Nossi College of Art's Open House featuring the Senior Show. From Most Improved to Most Creative, these awards, presented at the end of each semester, highlight successes from the student body. Nossi College's adjunct faculty members and select staff members help nominate students who excelled throughout the semester.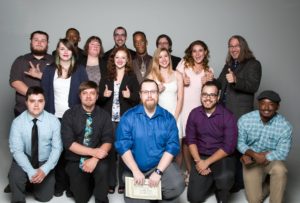 "I'm honored to be part of the nominating class each semester because I am always impressed with the level of work our students are producing and the commitment they have to their craft," said Libby Funke, Student Activities Director at Nossi College.
The award ceremony takes place after the Senior Show. Winners are announced in the following categories: Most Creative, Class Participation, Most Improved, Ambassador, Academic All Star and Talent Discovery. Academic All Star and Talent Discovery are awards reserved only for graduating seniors. The student with the highest GPA in each program earn Academic All Star while one student, considered "best of the best" among Nossi's most creative students is picked for Talent Discovery and presented with a $400 prize.Class Participation
Susan Birchfield of Milton, Tenn of Nashville
Most Improved
Ashleigh McBride of Glasgow, Ky and Hector Mendoza of Clarksville, Tenn
Excellent Student
Suzan Ahmed of Richmond, Va., and Kayla Crumbley of Nashville
Ambassador Award
Sean Williams of Nashville and Angela Everett of Hendersonville
Most Creative
Joseph Ebanks of Nashville and Michael Gribble of Hendersonville
Academic All Star
Stephanie Bragg, Bachelor's of Photography
Joseph Ebanks, Bachelor's of Video & Film
Michael Gribble, Associate's of Interactive Graphic Design
Chelsa Schoonover, Bachelor's of Commercial Illustration
Julia York, Associate's of Digital Photography
Talent Discovery
Mikal Barker of Portland, Tenn., and Joseph Ebanks
In addition to future students, friends and family members, the Open House featuring the Senior Show event is designed to draw creative professionals to Nossi College to support students and their creative futures. Everyone has the opportunity to visit with students, staff and faculty while viewing a variety of creative work from graduating seniors. It is important for professionals to get a sample of the talent level that will be entering Nashville's creative and entertainment industries.
Nossi College of Art offers professional, creative associate and bachelor degrees in Interactive Design, Graphic Design Media, Photography, Video & Film, Web & Interactive Design and Commercial Illustration. Starting this fall, Nossi will offer 16-week certificate programs in Commercial Photography and UX UI Design to help professionals with career development. Learn more about our degree programs here.