Centennial Art Center's 2017 spring exhibit, A Walk in the Woods, celebrates the natural world with four artists exploring the textures, colors and glowing beauty of natural wood. Landscape paintings by Lisa Taylor, a local, Nashville artist combined with graceful handcrafted wood-turned vessels and sculptures by Barry Werner and Michael Holowach, and intricately sculpted furniture by Douglas Lawrence. The exhibit begins with an artists' opening reception on Friday, April 7, 2017, from 5-7 p.m.
Lending a more two-dimensional approach to A Walk in the Woods, Lisa Taylor's expressive oil paintings convey feeling and a connection to nature with lush, verdant landscapes. Lisa feels her mission as an artist is to capture fleeting moments, aiming to represent not what is seen, but what is felt.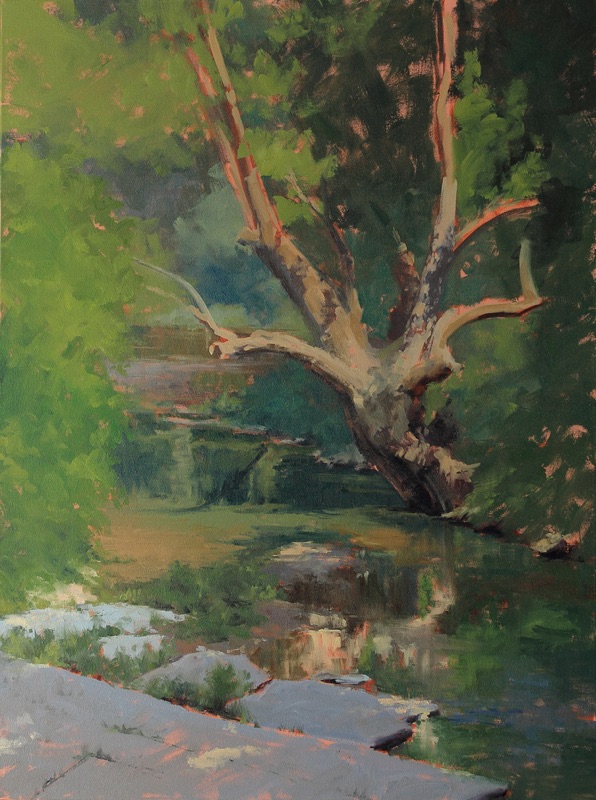 Originally from a small town southwest of Nashville, Tenn., Lisa is an adjunct faculty member at Nossi College of Art, a professional art school in Nashville. She earned a Masters in Fine Art and a Bachelor of Science in Logistics from the U.S. Merchant Marine Academy in New York. She has been in numerous group and juried exhibits and is a national award-winning artist. She teaches Color Theory and Basic Drawing to students in Nossi's Illustration Program.
Lisa is an eight-year veteran of the U.S. Coast Guard, where she worked in Planning and Contingency Preparedness, filling numerous management positions and roles in Emergency Management.
In addition to the lovely landscapes of woods and streams shown in this exhibit, Lisa paints expressive cityscapes, still lifes and figurative paintings. This spring accompany Centennial Art Center Gallery for A Walk in the Woods and is on display through May 25, 2017.
Centennial Art Center Gallery is free and open to the public. The exhibit is open April 7 – May 25, 2017. Gallery hours are Monday – Thursday 9 a.m. – 5 p.m. For more information, call Centennial Art Center at (615) 862-8442, visit online at nashville.gov/cac. Please RSVP here to attend!
View more of Lisa's work here and follow her on social media.
Instagram | Facebook | Twitter | YouTube