We are just warning you; you might be hungry by the time you finish this blog post!

Nick Bumgardner is a professional photographer specializing in food, beverage, and product photography. He runs Nick Bumgardner Photography, and luckily, you can catch up on a wide variety of his photoshoots! When he is not playing in studio or on location, Nossi College of Art is lucky enough to have him in studio teaching students about the art of photography.


Nick typically teaches Food Photography and helps with our Adobe Lightroom class as well. He is active on social media, including LinkedIn and Instagram, where you will see posts about his shoots, peek at behind the scenes activity, read updates on his blog, and explore tasty food photography shots for clients (or just for himself!).
Musings with nick Bumgardner
Nossi College of Art: How did you get into photography?
Nick Bumgardner: I got into photography on a 7th-grade band trip. My parents bought me a cheap Polaroid 35mm camera. It was my first trip to a big city, and I took photos of everything. After that trip, I kept taking photos. I took two photography classes in college, where I learned the joy of developing film and making prints. It was not until after I graduated from college that I thought about photography as a career.

What is your favorite thing to photograph?
NB: My favorite thing to shoot is beverages. Each beverage has its own unique set of challenges.

Nossi: Current gadget you cannot live without?
NB: The San Disk Extreme Portable SSD has been a life-changer. It is a small affordable solid-state drive that I always keep in my camera bag. The best thing about the drive is how fast it is!

What was your first creative job?
NB: My first creative job was starting my business as a freelance photographer. When I first got started, I thought I wanted to work in photojournalism. Tom Stanford (our Photo Coordinator!) hired me for my first paid freelance photo assignment for The Tennessean.

What made you want to begin your own company?
When I started photography, I never really thought about working for someone else. I just figured I would do my thing my way and see what happened. I spent the first six years of my career working for myself. I then worked for Saks Fifth Avenue for three years. I have been working for myself again for the last four years. When I left Saks, I interviewed several companies, but honestly, nothing felt right. I decided that it was time for me to work for myself again. I think it was the right decision.

What is one thing you are grateful for at the moment?
NB: I am grateful that for the last 13 years, I have had the opportunity to do what I love for a living.

Favorite part about being a photography teacher?
My favorite part of being a photography teacher is when I see someone "get it." They feel great about understanding, and that energy makes me feel good too.
Writing a weekly blog
One way to find new work and clients is devoting time to social media posts and blogs about your work and your past clients.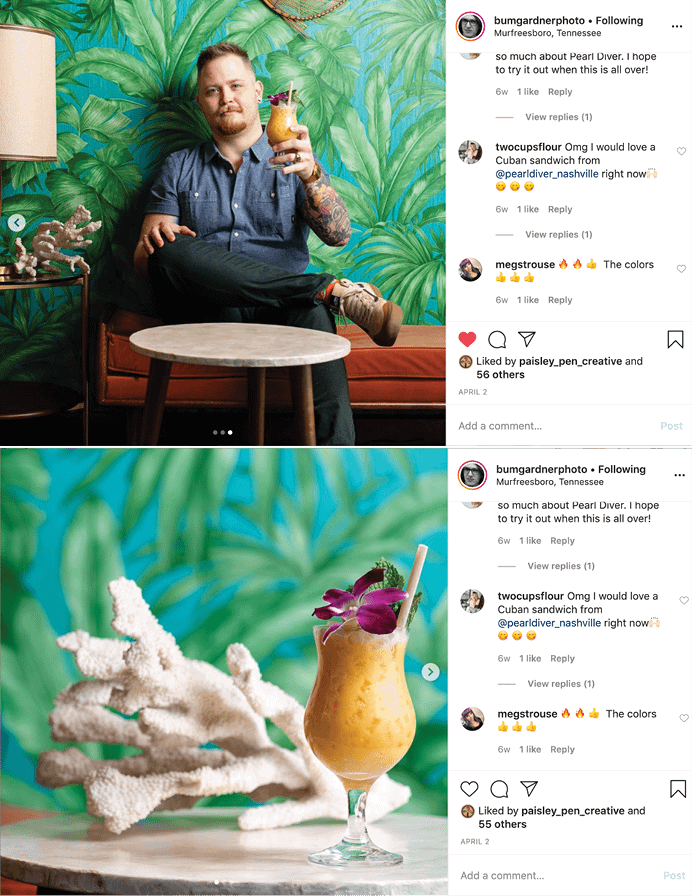 Maintaining a good website and social media presence is taught throughout our college curriculum, with a deeper dive into our business and marketing classes.

Nick's posts are both interesting and informing – plus he gives you links to a recipe or two. Even if you can't take a great food photo, you can at least make the delicious recipe.
One adventure included a cocktail photoshoot at Nashville's tiki bar, Pearl Diver.

Nick even captured a behind the scenes of the location setup before getting started.
---
Jack's Black Book for Tasting Panel at Pearl Diver, a blog by Nick Bumgardner
A few months back I got an email from Tasting Panel about a collaboration with Jack Daniel's and Pearl Diver. It sounded like a fun shoot so I could not pass it up. They needed 3-4 final deliverable images of a cocktail and of the bartender. Let's start with a quick behind the scenes videos and then on to some photos. Continue reading…