With the help of ArtPop Street Gallery, Nossi alumnus Danielle Duer exhibited her artwork, Thank You-HealthCare Heroes, on three billboards, including the iconic Nashville Sign – a large, digital billboard towering over West End.

ArtPop Street Gallery's nonprofit mission? Giving communities greater access to art, by supporting the artists that create it.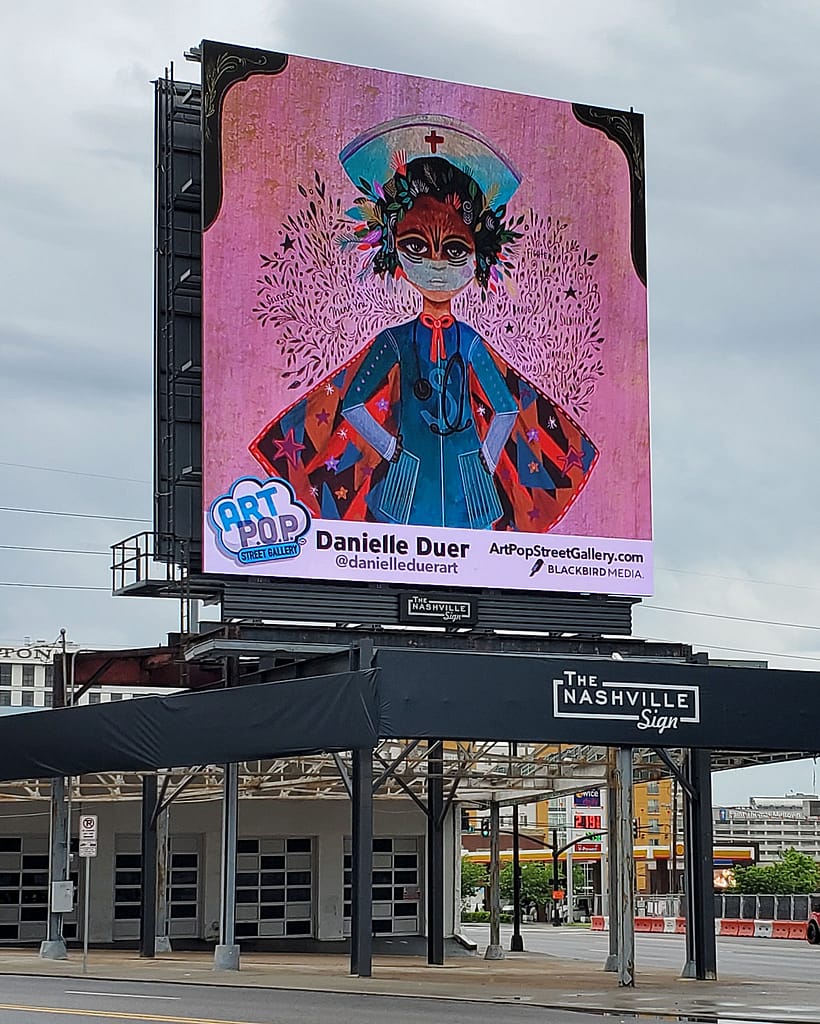 Wendy Hickey, owner and founder of ArtPop Street Gallery, connected with Blackbird Media and RBX Media in Nashville for a special short billboard run due to COVID-19. Her next step? Finding and collaborating with talented artists to display artwork on a variety of billboards across town. Scrolling through her Instagram feed, Wendy discovered Danielle's Thank You-HealthCare Heroes. She knew it was a great message to share with Nashville.
I love to create bold imagery that is fierce and often feminine. I like to make work that feels beautiful and serious.

Danielle Duer said about her work
It is how this idea came to her, "I think most people agree these medical folks are demonstrating their commitment to helping others and they should be appreciated for their generous sacrifice," Danielle added. In her Instagram caption, she confessed she may not be able to sew masks, but she could create a hero's cape!

Watch the story on News Channel 5.
Billboards are perfect public art galleries
Wendy's original idea for this nonprofit came to fruition in the early 2000s after combining her love of helping artists with her full-time job of selling billboards. While sitting on a Board of Directors for a local Art Council in Pennsylvania, she reflected on ways to impact the local art scene while highlighting local artists and had an idea. Billboards could be an excellent way for art to reach the masses.

She turned to her billboard company and found support for her initiative. As her job transferred her around the country, her idea to promote local art and artists through her street galleries traveled with her.
Artists need the promotion. Artists need to be seen. And so I decided to get very serious about it. Literally the day I moved to Charlotte, ArtPop Street Gallery was born.

Wendy Hickey, Founder and Owner, ArtPop Street Gallery non-profit
Although ArtPop Street Gallery isn't permanently in Nashville, they do hope to return in 2021. To make that happen, they started a new round of funding on GoFundMe.

They will be launching an Atlanta ArtPop Street Gallery soon and are hosting open auditions in Triad, N.C. Discover additional ArtPop's artists and support them by purchasing art on their website.
Launching Love Love Illustrated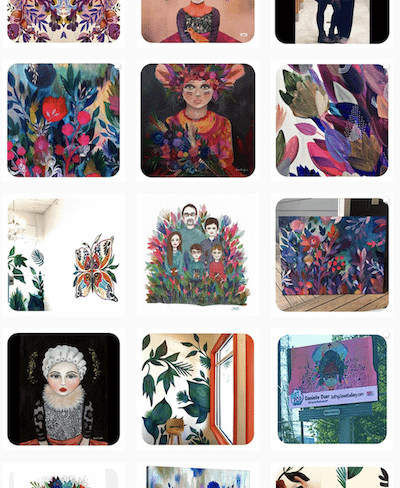 Danielle Duer launched Love Love Illustrated, her creative empire, after discovering people loved purchasing her custom illustrations of family love stories. Expanding on original and custom paintings, Danielle also creates murals, designs fabric panels, prints, and can place her designs on just about any product like coffee mugs and stationery. Understanding the business world helped increase revenue sources and profit, allowing her to realize her dream – becoming a full-time artist.
It's one of the reasons I went to Nossi. I am primarily a fine artist but have an illustrative style, and I needed to learn how to make money as an artist so I could do it all the time.

Danielle Duer, Founder and Owner Love Love Illustrated
After taking marketing and business courses, she invested and found enjoyment in the business side of her art so she could continue creating.

"I try to maximize the value of everything I create while never undervaluing the original work, which needs to continue to go up in value," said Danielle. One cool aspect of Nossi College is that she can come back anytime and retake a course for free, as part of our Alumni Together Program.

See more of her creations by visiting her website, LoveLoveIllustrated.com