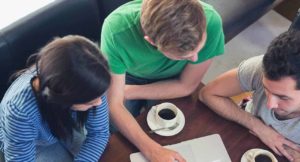 Enrolling for college is a great experience for high school seniors. Receiving that acceptance letter from the college of your choice is the start of a new beginning for many students. This new beginning can involve moving to an unfamiliar city, searching to find safe, affordable housing, and locating friendly roommates to share space.
Nossi College of Art's admissions specialist, Sunny Spain, can help students make these important decisions even before calling Nossi home. Ever hear stories of potluck assignments for dorms? You are crammed into 200 square feet with a complete stranger. Want to have the opportunity to pick your living space and roommate? Sunny can help! She comes from a relocation background in real estate, and has helped move many families to Tennessee. She treats her students in a very similar way.
"It is really important to help with housing because we want to make sure students are going to be in a safe environment that is affordable and close too. This is especially important when dealing with students because it can be their first time away from home," said Sunny.
She works with students who come from out of state or out of the country, and the biggest concerns she sees every day is designing a budget. It can be daunting to Google search apartment communities, affordability and proximity to class when you are not familiar with the area. To help, Sunny created a list of over a dozen communities around Nashville that range from the inexpensive to upscale, gated neighborhoods.  Amenities are also important, so they are included in our list as well. Some of the communities we work with have pools, work out facilities and even a fishing dock! The apartment communities make special accommodations for Nossi students, and each one has been visited and approved by our admissions team.
In addition to a list of housing options, amenity options and price options, Sunny also keeps a 'roommate wanted' list. The information is never made public; it is only shared with other students interested in finding roommates.  Included is information about personal habits like smokers and nonsmokers, gender, where they are from along with their contact information. This is great to finalize before school starts so students feel comfortable when coming to Nashville. It has also been a way to find close friends before orientation.
"Having this option allows students to contact each other, become friends and choose to be roommates way before they ever get here," Sunny said. "At Nossi, students have a lot more flexibility (for housing) than other schools."
Interested in more info about Nossi, including housing and finding a roommate? Contact Sunny by email, SSpain@nossi.edu or ask us on Facebook.