Nossi is excited to announce NEW STUDENT HOUSING! Music City Housing Services, LLC, is a Nashville housing service that opened its new student housing complex, located adjacent to the college's campus, in the new mixed-use Creative Way Village development.
JUMP LINKS: Video Highlight | Ribbon Cutting – You Are Invited! | Press Highlight
Student Housing Details
Developed by Samaroo Development Group, these apartments include new Ashley furniture, appliances with smart technology, new HVAC systems, and green technology like LED lighting. The best perk involves the location! These Student Apartments are within a short walking distance of campus while providing beautiful views of the Nashville neighborhood and campus.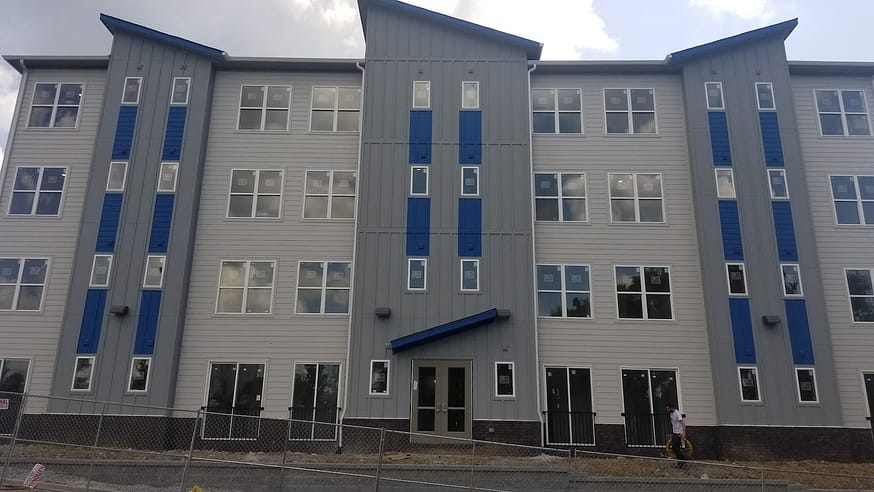 Nossi students will have their own private bedrooms equipped with a twin bed, tall dresser, nightstand, and a storage closet. They will share a bathroom with only one other student, allowing privacy and social distance as our fall semester begins in September.
"As Nossi continues to grow, this housing provides a great option for students that desire to live across the street from our campus hub. This is one more reason Nossi has become the first choice for students across the Southeast seeking a world-class education in the arts."

Roger Qualls, Nossi College of Art Housing Director
Student HOUSING Highlight VIDEO

The Student Apartments are part of Creative Way Village, a mixed-use development and lifestyle community consisting of brownstone homes, apartments, dining, and retail space inspired by the historic brownstone villages in New York City and Brooklyn. The community will feature local dining and retail capturing the essence of Nashville living.
"We're thrilled to partner with Nossi College of Art to create this beautiful new community for the school's current and future students."

Keith Samaroo, President & CEO at Samaroo Development Group.
He added, "In addition to its close proximity to Nossi, students are close to many great Nashville attractions and dining options, making it an ideal location to live, play and learn."
Students moved in at the start of the Fall 2021 semester, and this is just Phase 1 of a two-phase project. Once everything is complete, we will host almost 200 students every year in housing.
Visit this page for more information about or to apply for Nossi's student housing.
Attend our ribbon cutting
UPDATE! Thanks to everyone who attended our Ribbon Cutting on Tuesday, September 28. Special thanks to Smokey Dawggs for providing a great lunch! During our Ribbon Cutting, we heard updates from Keith Samaroo of Samaroo Development Group, Nossi's Executive VP Cyrus Vatandoost, Metrocouncil Member Hon. Nancy VanReece, and Laura Knotts – the Madison Rivergate Chamber President.
View the recorded Ribbon Cutting event on Facebook.
ABOUT THE EVENT
All students, faculty, staff, and alumni are invited out on September 28 at 12 PM to attend our official Ribbon Cutting Event! We are bringing Smokey Dawggs Food Truck out and the first 100 attendees will get a free lunch! Event Details + RSVP here.
We Got Press!
With the help of Pierce PR, Nossi College of Art received special media from Main Street. View the student housing story on their website.
Want to see the progress from the beginning? Check out this quick video on Instagram!
Interested in attending art college?
Are you an artist or creative looking to find your fit in Nashville? Consider joining hundreds of fellow creatives and attend Nossi College of Art. We offer five creative bachelor and associate degree options in Culinary Arts, Graphic Design, Video & Film, Photography, and Illustration.
Come see this beautiful campus for yourself!
---