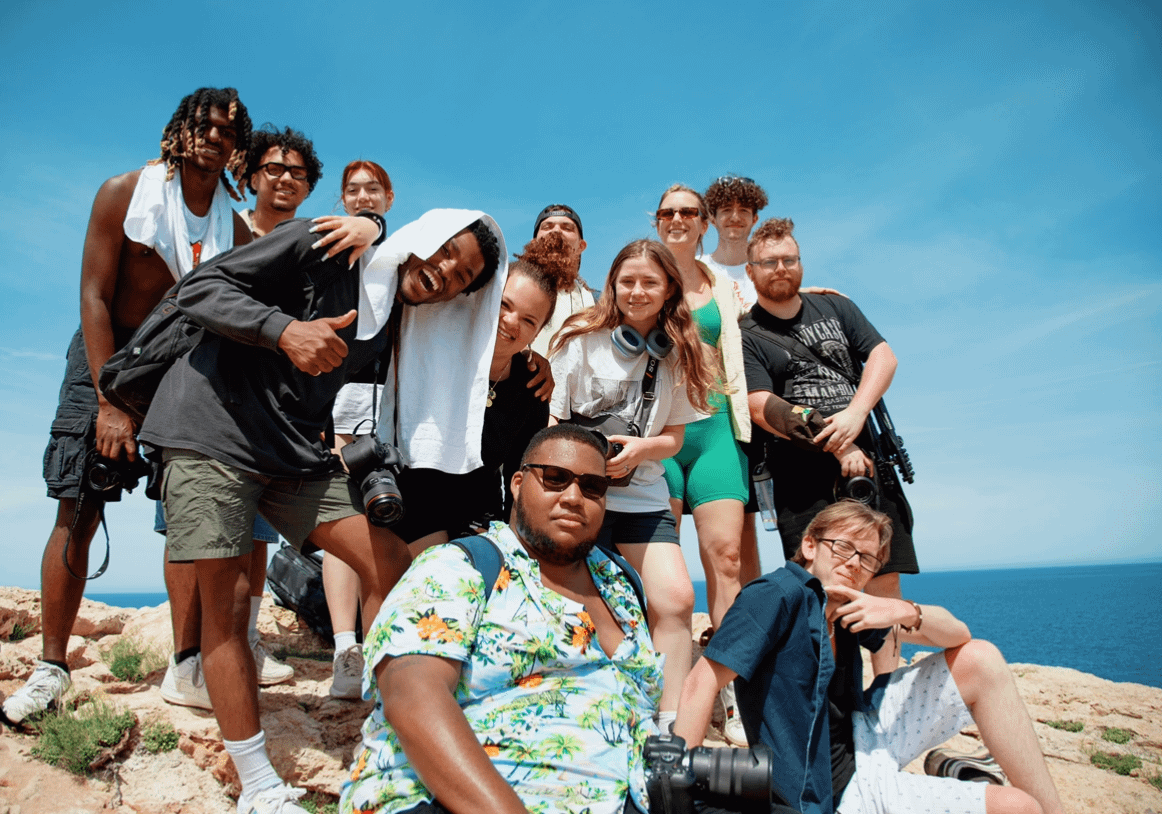 One of the most highly anticipated classes within the Photography program is the Travel Photo Class Trip. The first trip abroad was back in 2018 in Ecuador, then followed Ireland.  When the pandemic hit in 2020, this class was unable to enjoy the full travel photography experience. Being safe and cautious in 2021 helped revive this tradition with a trip to New Orleans and then a trip visiting National Parks and the varied landscapes of the American West. Fast forward to Spring 2023, and Photography instructor Sammy Hearn took twelve photo and video students to visit Spain's beautiful landscapes and even more breath-taking architecture.
BARCELONA → IBIZA → VALENCIA
BARCELONA --  Sunday, April 23: CLASS:
The city closes down for siesta so this will be the perfect opportunity for us to go out and shoot architecture, cityscape, etc. without a lot of traffic.
Before we head out we're going to go over some photography techniques, as well as thinking about shooting for social media jobs.
Monday, April 24:  Tour of Barcelona visiting the Gothic Quarter, see Gaudi's work all over the city, visit Parque Guell, the 1992 Olympic Park and the Sagrada Familia. Shooting the Gothic Quarter and Parque Guell as our main focus points for the day.
Tuesday, April 25: Focus on shooting food if you are taking the paella class, or shooting people/street photography/cityscape if you're not. If there are any sights we saw in the last two days that you want to shoot at sunset or sunrise, this will be the day to do it. You may also shoot any food you eat, people you meet, etc.
IBIZA --  Wednesday, April 26: CLASS
We will walk the island and shoot people, street photography, and the energy of the city. Think - local musicians playing by the beach, vendors selling their wares, etc. We will also photograph culture, clothing and details.
Thursday, April 27: CLASS:  We will have ample opportunity for shooting the sea and the coast. You may also photograph the people working the boat, any locals we meet, food we try, etc. Spend time shooting the beaches, landscapes and Barceloneta. You may also shoot nightlife tonight, and work on varying shutter speeds, and a cool nightlife photography trick you can use with direct flash as well.
Friday, April 28: Focus will be all landscape, all nature. This will be the best opportunity for some HDR and panoramic shots. Bring a tripod!
VALENCIA  -- Saturday, April 29: CLASS:
Visiting the futuristic City of Arts and Sciences and shoot there with an architecture focus. We will check out Valencia Cathedral as well, and La Longa de la Seda.
The most important thing I learned on our trip to Spain was to just relax and have fun. Don't overthink and capture the things you enjoy. Be expressive. Be bold. Be adventurous. - Hill Mosley, photography student
This photo was one of my favorites. It was the first motion blur photo shoot I've attempted and the results were so creative and fun. For me, this speaks of finding our peace in a world that's chaotic. For her, it seems to be her music. - Hill Mosley, photography student
Students will submit a portfolio of thirty photos for this class's requirements. Stay tuned for their work! Thank you to Sammy Hearn, and the Nossi Photography Program for this experience!