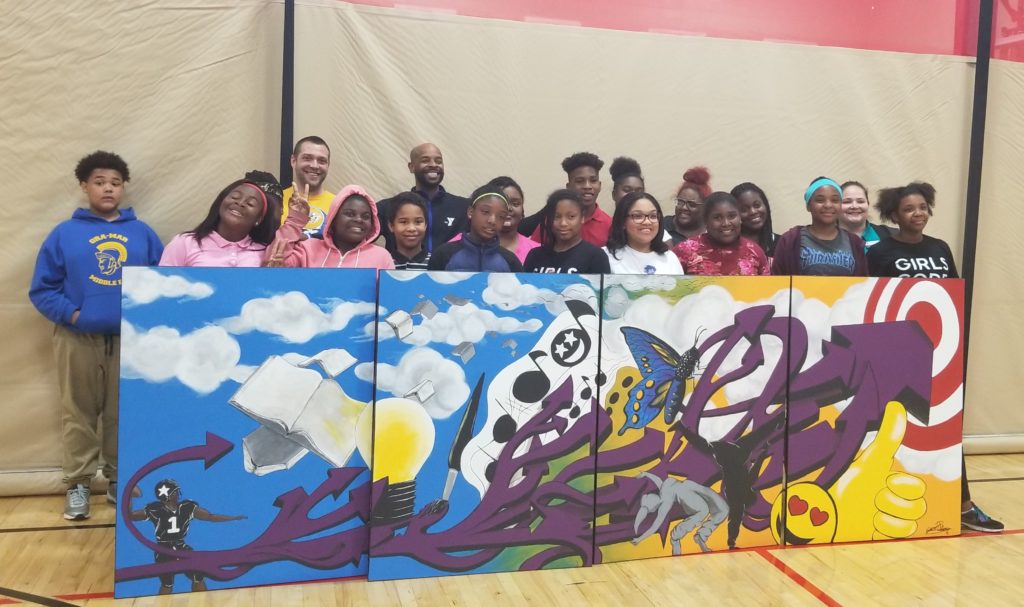 Nossi All Access encourages art students to gain professional experience by connecting with local nonprofits needing creative assistance and support. After teaming up with YMCA Community Action Program, Y-CAP, in East Nashville, Nossi College of Art wanted to help brighten up the Y-CAP campus with a community mural. Rachel Folk, the Y-CAP Community Outreach Director, pitched a unique idea – create a four-piece moveable mural that can be displayed separately in four different rooms and could come together to tell a more complete picture.
"We are comprised of individual K-12 programs that have their own unique identity, and we come together to represent Youth Development Outreach within the YMCA of Middle TN," said Folk. "Overall, our goal is to build confidence and create a sense of belonging for students in underserved communities. Through a series of programs designed to meet each community's needs, we help guide students along a path that will ultimately lead to college or career success."

Sean Williams, a recent Commercial Illustration graduate, understands the importance of giving back to his community using his creative talents. When he was a student at Nossi College, he was the president of Kappa Pi Eta Tau, a Chapter in the International Honorary Art Society, and encouraged fellow students to get involved.
Williams immediately signed on to be the mural leader and created the overall concept. Folk helped gather feedback from the Y-CAP students about what they wanted to see, and Williams assembled a group of fellow Nossi College of Art illustration students to help outline and paint the mural. Williams completed the project with various finishing touches, including a detailed butterfly.
"I used the theme of Moving Forward after some brainstorming. For me, it means to always continue growing and learning as a person. The butterfly, a symbol of change, fits this theme of moving forward because you cannot grow as an individual without changing and evolving. The Pipevine Swallowtail, a butterfly native to Tennessee, was added to the arrow to enrich the symbol of moving forward. Icons were concepts suggested by the YCAP students and I let them act as the characters in the story."


Nossi All Access is an award-winning student activities program from our Accrediting Commission, ACCSC. With the goal to connect creative students to nonprofit, entertainment, music, sports, fashion and other creative industries in Nashville before graduation, Nossi gives students a chance to impact their portfolio with real-world work by companies who need creative support. Nossi College offers certificate, associate and bachelor degrees in Photography, Web & Interactive Design, Graphic Design Media, Video & Film and Commercial Illustration.
Check Out Nossi All Access | Interested in Hiring Sean? Click Here |
Click Here to Donate Your Time, Talent and Spare Dollars to Y-CAP