In September, Nossi alumni were offered a unique opportunity to give back to the Nossi community. Graduates were invited to design the school's new t-shirt to be sold in the campus store. Participants in this contest were challenged to work with strict color and design limitations when creating their submissions.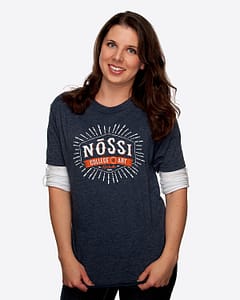 After the passing of the early October deadline, Nossi faculty and staff members sifted through many impressive, varied designs and carefully cast their vote for the t-shirt they felt stayed true to Nossi's brand. In the end, Amanda Purcell's submission was chosen as the winning design, with Matt Pritchett taking a close second place. Amanda won a $100 gift card as well as one of the t-shirts she designed.
I had the chance to speak with Amanda regarding the contest and how it's changed her relationship with Nossi. The following is a transcription of our discussion.
Your days as a student at Nossi are through, so why return for the contest? What drew you to this particular creative opportunity?
I saw a posting for the contest on the Alumni Facebook page. We do a lot of t-shirt designs at Mollie B. Creative (the studio I co-own with a partner), and it's something I enjoy, so I thought it was a great opportunity and a chance to do something fun!
How long was the process?
It's hard to say exactly how long it took since a large portion was just coming up with the concept, but I'd say the actual mechanical part of the design took several hours, getting the layout and details just as I envisioned them.
What did you gain from this experience?
I think most importantly I regained a connection to Nossi, I really enjoyed my time there and it was nice to be able to reconnect in some way and still be a part of things.
Amanda's design is now available at the bookstore for $15. The shirt is available in crew and v-neck!
Photo by: Russ Hilliard, Model: Amanda Purcell