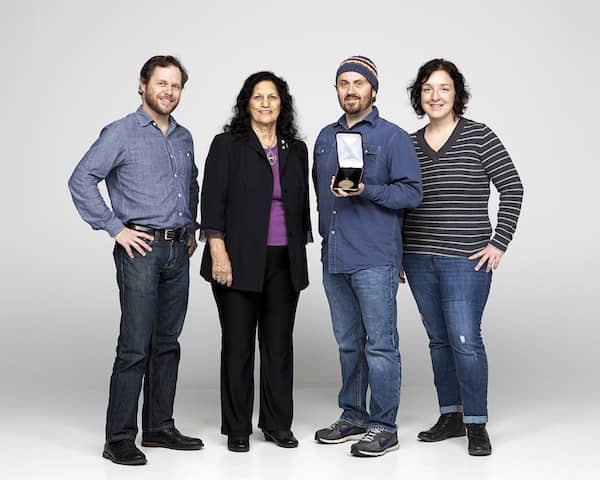 Pictured from Left to Right – Christian Botorff (CMA), Nossi Vatandoost, Dusty Draper, Amanda Eckard (CMA). Photo by Russ Hilliard
In the field of photography, there are many different interests and opportunities, allowing professionals to master a specific field or become versatile in the many facets of photography. "I didn't know exactly what I wanted to do in photography," said Dusty Draper, student at Nossi College of Art. "I had certain interests but I wanted to try everything so I could figure out my niche."
The Nossi College curriculum incorporates the area's only All Access program, connecting professional art students to Nashville's entertainment industries. All Access began the same time Dusty Draper first enrolled. The program was in its initial stage and its goal was to plug students into assignments and events with real clients and real businesses – giving students insight about the industry before graduation. Dusty's current success can be traced back to his willingness to get involved and volunteer for as many assignments as he could fit in his schedule.
From attending non-profit events with the Pencil Foundation, shooting courtside at Vanderbilt basketball or capturing Lightning 100's Live on the Green, Dusty was always willing to get involved and capture events for Nashville clients. In 2014, because of Dusty's success with All Access, he built his portfolio to submit for Media Access to CMA Fest. Every year, the Country Music Association handpicks Nashville-area college students to document the CMA Fest in pictures and words. Very few students get selected, and Dusty was one of three photographers chosen from Nossi College of Art, and one of nine students all together.
Dusty's incredible portfolio of concert work allowed him All Access to CMA Fest. Two weeks before the event, student photographers and journalists toured the various stages and venue locations. They were introduced to CMA staffers and even had their own schedule of events to follow. CMA heavily relies on student photographers to capture the weekend events – from backstage access, to fan fair to the pit at LP Field. They trust students to capture the shots needed, and this experience is not something you can gain at just any college.
"I woke up one morning after CMA Fest was over and [a friend] tagged me in a post [on Facebook] saying my photo was in Rolling Stone!" Dusty said about his photos getting published. "I about freaked out. It was really cool."
In addition to Rolling Stone, Dusty's CMA Photos also made CMA CloseUP, Billboard Magazine online and The Tennessean. When looking back, Dusty said the experience was priceless. "You can't pay for a ticket and get the access we got!"
Because of Dusty's success at CMA Fest, he was nominated by the CMA team to attend and capture the CMA Awards as an Award of Merit winner. Only two students – one photographer and one journalist – are selected from the CMA Fest student staff. Students get honored because they are very professional and are a big contributor during CMA Fest. These articles and photos get posted daily during the festival under the supervision of the Director and the Manager of Creative Services.
"This was our best photography class, and it was really tough to pick just one winner this year," said Amanda Eckerd, CMA Director of Creative Services. "Dusty was a professional throughout the whole event and he took some really great shots. We really enjoyed working with him and are happy to be honoring him with this award."
Dusty Draper graduated from Nossi College of Art with an associate's degree in commercial photography. After spending a semester in the real world, Dusty decided to re-enroll in the bachelor program to make him more marketable for jobs, but also to earn the right to teach. Many teaching opportunities require a bachelor degree.
"Donnie [Beauchamp] talked to me about teaching before he passed away, and I want to make a difference for others the way he did for me," Dusty said of the late Donnie Beauchamp. Donnie was a veteran teacher at Nossi for over 15 years. He unexpectedly passed away in the summer of 2014.
Dusty currently manages and runs Dusty Draper Photography based in Bowling Green, Kentucky, and Nashville, Tennessee.