2020 gifted Nossi students with unique barriers to overcome, problems to solve, and newfound confidence to crush obstacles in their way. We have a talented group of alumni we are excited to introduce to the creative community.
This year, Nossi College of Art is excited to unveil our 2020 Commencement Exercise details!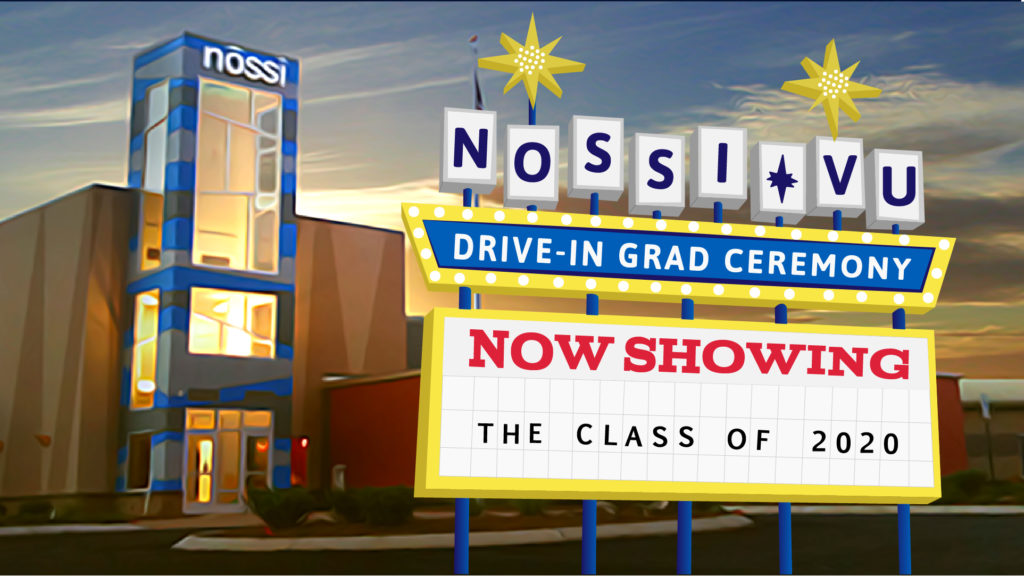 The Event
WHEN
Saturday, August 22 @ 10 AM
Graduation Portraits will be taken from 8:30 to 9:45 AM. We ask all graduates to arrive no later than 9:45 for the ceremony.

WHERE
Nossi College of Art's Campus – we will be gathered in the back parking lot – staying socially distant!

Can't make it back to Nashville? We hope you will join us on Zoom because all grads can be part of the ceremony this year, even if you aren't in the Nashville area.

WHO
We will be honoring our grads from Fall 2019, Spring 2020, and Summer 2020 graduates. The event page has been emailed to all grads, faculty, and staff. Can't find your invite? Let us know!

PHOTOS & VIDEO!
Shout out to Caitlin Harris and Russ Hilliard of Harris and Hilliard Photography for documenting the event. Click here to view and purchase graduation photos.
Not able to attend the 2020 Commencement Ceremony? Don't worry – we recorded it for you! View it on YouTube!
The Speaker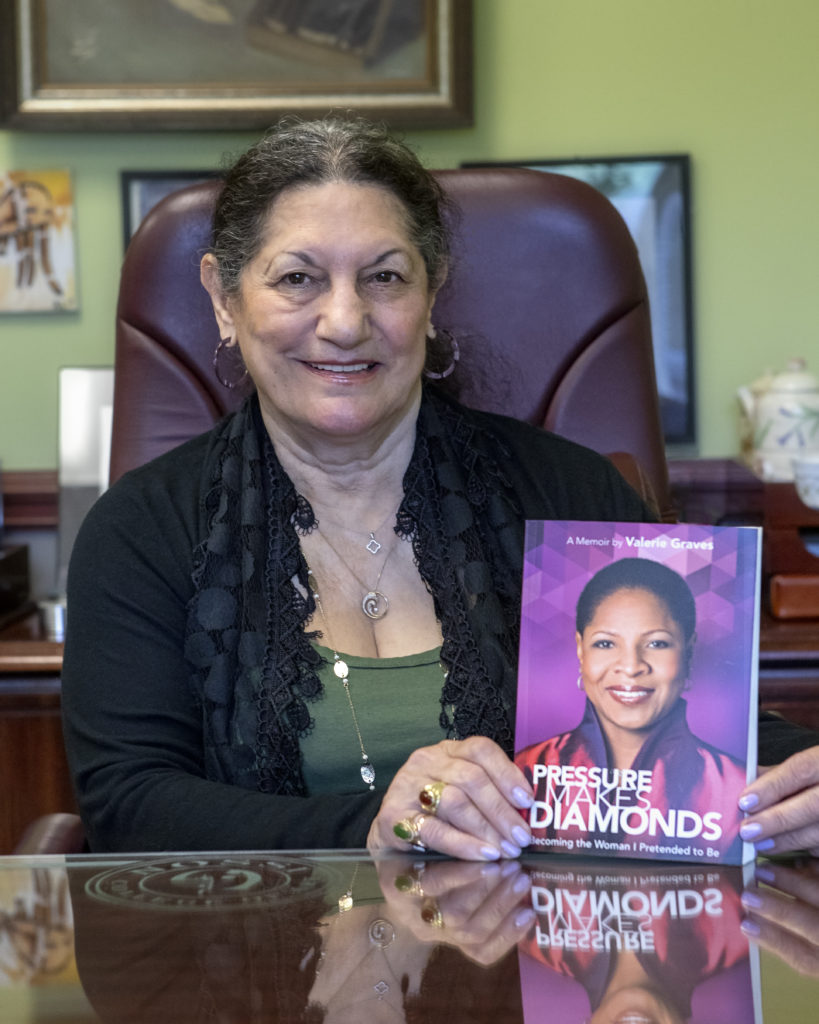 Valerie Graves is a leading diversity advocate with over 30 years of experience in the advertising and creative industries. She has developed ad campaigns for some of the biggest brands in America. Watch her commencement address!

(Left: Ms. Nossi holds Valerie Graves' memoir: Pressure Makes Diamonds. Becoming the Woman I Pretended to Be. Photo by Russ Hilliard)
The details
We sent out a survey to our graduates to get feedback about the best way to celebrate their accomplishments, as we wanted to provide a memorable experience for such a grand occasion and celebration. We heard your top four graduation wants:
1. Walking across the stage to receive your diploma
2. Graduation portrait pictures
3. Attending a ceremony (even if it is hybrid in-person and online)
4. Hosting an impactful commencement speaker
We are moving forward with a drive-in type of graduation to help maintain social distancing while still coming together as a community to celebrate.

We will be set up in the student parking lot, similar to drive-in concerts, and we will use Zoom to ensure everyone can hear the event and those who are not in the area can also tune in. Additional WIFI hubs will be added to the parking lot to ensure easy connection.

Cyrus Vatandoost will be our Master of Ceremonies and will be speaking to graduates. Hosting the event through Zoom allows options for grads and their guests. We hope your family can commute with you to campus. Any additional family member who wants to attend will have access to guest parking on campus, and we highly recommend family members bring a laptop or cell phone to stream the event. Any family member who cannot make the event can stream it live from any location with WIFI.
The Setup
Parking Spaces will be numbered from 1-30, and each graduate will be assigned a number as soon as you arrive. It is important to RSVP by Thursday, August 22 so we can be sure and reserve a space for you.

Didn't get your RSVP via E-vite? Let us know!

Graduates will pull into parking spaces facing campus, and the ceremony will take place from the stage and via Zoom. (The stage will be tented for all weather needs.)

Staff members will be located all around for assistance. Each graduate will be notified when they will begin (slowly) driving to receive their diploma. Please be cautious in your cars and wait for the person ahead of you to move forward.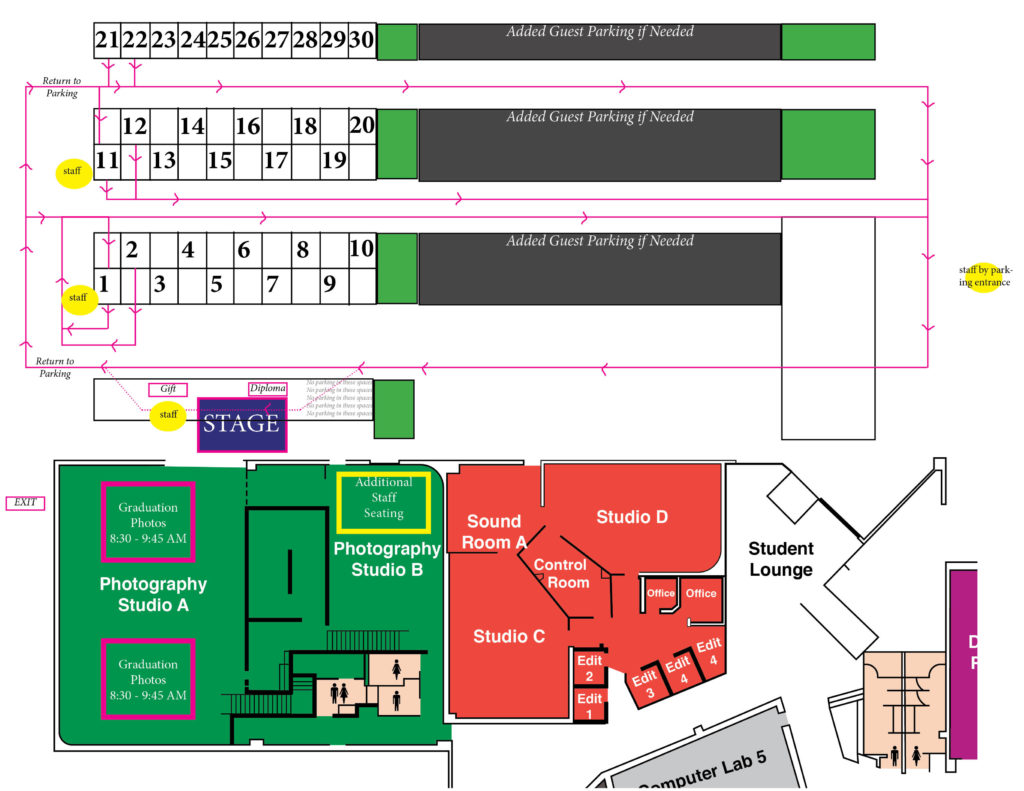 It is best for graduates to be in the passenger seat, so the driver can keep the car moving as you walk to the stage for your diploma. In addition to your diploma, graduates will also receive a gift from Ms. Nossi to celebrate the occasion.

We will post an event video and the commencement speech once the ceremony is over, as we are excited to remember this unique year. We don't think there will be any other graduation like it!
A Few Questions
We have created a FAQ section for you!

We have been emailing grads directly, and if you have any questions, please reach out to Barry Howard in Career Services. He will be happy to answer any graduation-related questions you have.
Do I have to RSVP in advance?

Yes, it is very important all grads RSVP in advance. We need to know how many parking spaces to reserve and ensure we have enough space for all grads. Please RSVP your plans no later than Thursday, August 20.

We will also have grad gifts, and we want to make sure we have enough for everyone who attends in person.

Didn't get your RSVP via E-vite? Let us know!
Who can attend?

We welcome you and your family to attend the ceremony. All activities will be socially distanced and located outside. Attendees will remain in their cars.

If you have a family member who is interested in watching but cannot drive to campus, a Zoom link will be provided via the RSVP link so they can log in from any location with WIFI access.
What should I wear?

Grads will be wearing traditional caps and gowns, and they can be picked up at the front desk anytime between Monday and Thursday from 8 AM to 10 PM or Friday from 8 AM to 4 PM.

Kappa Pi grads – don't forget to ask about your Honor Cords when you pick up your cap and gown!

We encourage a business casual attire under your graduation gown and shoes you can easily walk in, as there will be a short walk from your car to the stage to receive your diploma.
Will photos be taken?

Yes, before the ceremony we will start taking graduate portraits in Studio A at 8:30 AM. Russ Hilliard and Caitlin Harris of Harris and Hilliard Photography will be taking the grad photos and event photos, available for purchase after the event. Images will be available on their website via a link after the event concludes.

All portrait and family photos will stop at 9:45 AM so we can begin the Graduation Ceremony at 10 AM.

Zakk Beaty, a Nossi video graduate, will also be on campus documenting the event.
Will the commencement speech be recorded?

Yes, Valerie Grave's commencement speech will be recorded and shared on our YouTube page after the event has concluded.
I have career/job placement questions

We highly recommend you reach out and schedule some time to meet with our Career Services Director, Barry Howard. Email him to start a discussion or give him a call at 615-514-2787.