"Make sure you come dressed for success. A lot of people looked like a work of art."
– Angelynn Johnson, Nossi Fashion Collective Student Member
A lucky group of Nossi students was able to attend Nashville's prestigious Fashion Week Event! Nashville Fashion Week came to life in 2011, with the purpose of showcasing the city's community spirit and booming demographic of talented creatives in the fashion world. Retailers, designers and creative professionals come together for a five-day unique festival highlighting mostly local but also regional and national fashion designers.
In addition to educational workshops and runway shows, Nashville Fashion Week provides philanthropic support of our creative economy. Ticket proceeds go to the Nashville Fashion Forward Fund of The Community Foundation of Middle Tennessee, an annual award to help local creative talent advance in their careers.
Nossi students were selected to attend Nashville Fashion Week because they are members and contributors to Nossi's Fashion Collective, a student group fostering working relationships between the creative students at Nossi College and up-and-coming fashion brands and businesses. We collaborate on photo shoots, design consultation, invite guest speakers to campus and attend events around Nashville.
Students said their overall favorite part of the event was seeing the different pieces of clothing and vibrant styles. When asked about the biggest takeaway from the event, Daniela Dominguez (photographer) says, "There is so much talent and creativity! It can be nerve-wracking to push the boundaries and seeing the work of these designers was inspiring to do just that."
A common sentiment shared amongst the group, was the attire of attendees was exquisite. Angelynn Johnson (Graphic Designer) said, "Make sure you come dressed for success. A lot of people looked like a work of art."
The group attending Nashville Fashion Week was made of photographers and graphic designers (and the group has video, web and illustration students as well).
Graphic designers in the group, Taylor Powers and Ashna Momin, said that they were really interested in finding out how graphic designers could help with the field of fashion. The networking was dominated by photographers they said, but they were both intrigued and determined to find a design outlet within the fashion world. Powers says her method would be to help fashion designers with branding through posters, social media and business cards. Her mission is to make each one stand out.
A fashion show could've been intimidating in terms of networking but to Jonte Swoope, the student president, it was a dream come true, "Everyone was welcoming and supportive and talking to the models. [It] was great networking." A week later he connected with one of the models for a photo shoot at the Nossi photo studio.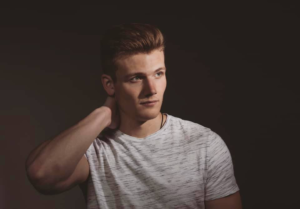 Attending events like this, allows the Nossi's creative students to gain confidence and provide valuable networking experience.
Student Groups are just one of the ways students get involved in their own future and community. We currently have multiple student groups focused on industry-specific careers as well as hobbies. It is important to Nossi College to have a great community for our students to interact with. Check out several more student groups here.
Looking for an art school that thinks about the students' experience and connections in addition to their education? Sign up to get emails from Nossi and discover what makes us different.