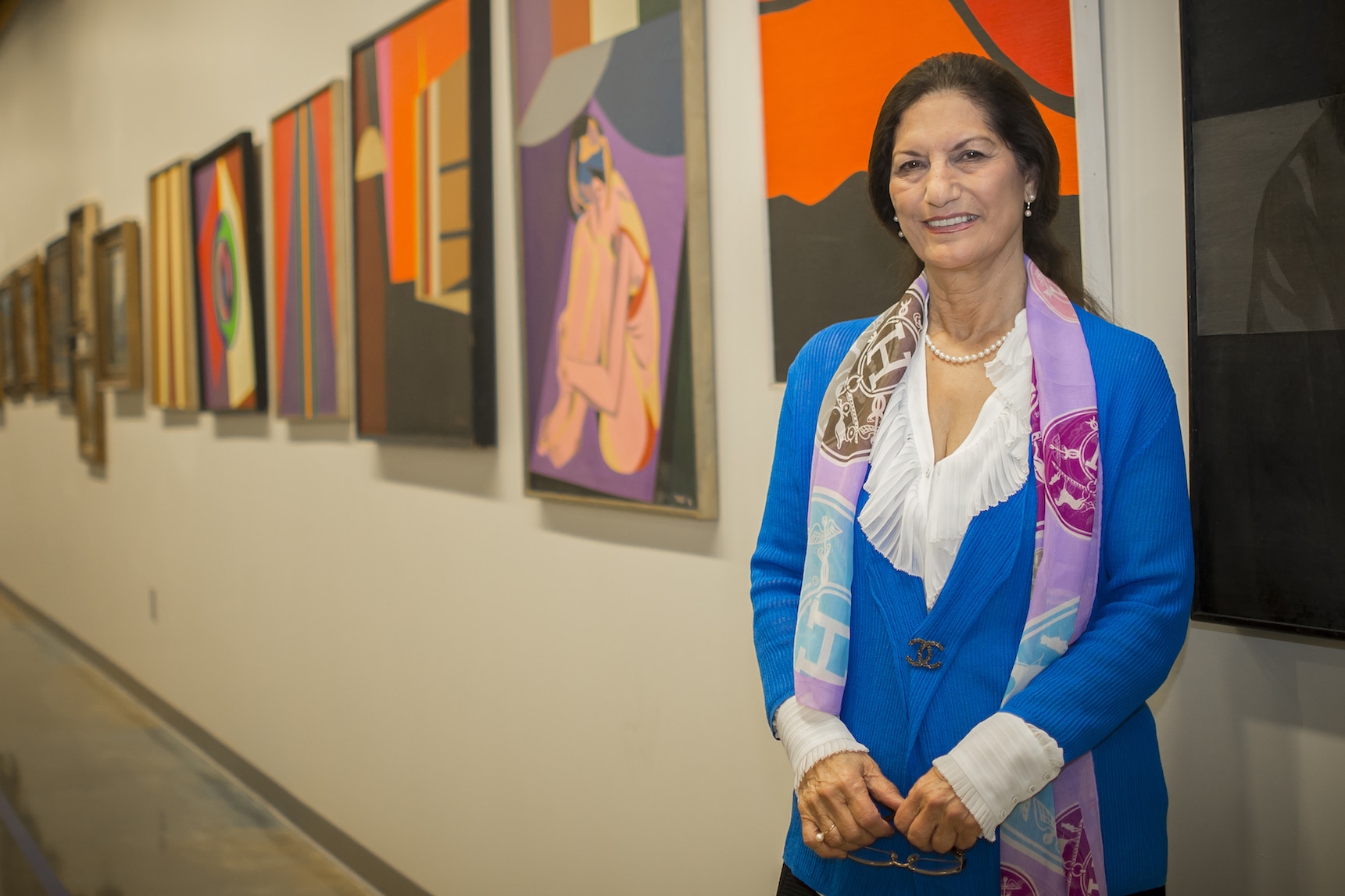 Growing up in Persia (modern-day Iran), Nossi Vatandoost began painting at an early age. In high school, she developed a style for Persian miniatures using watercolor and gouache.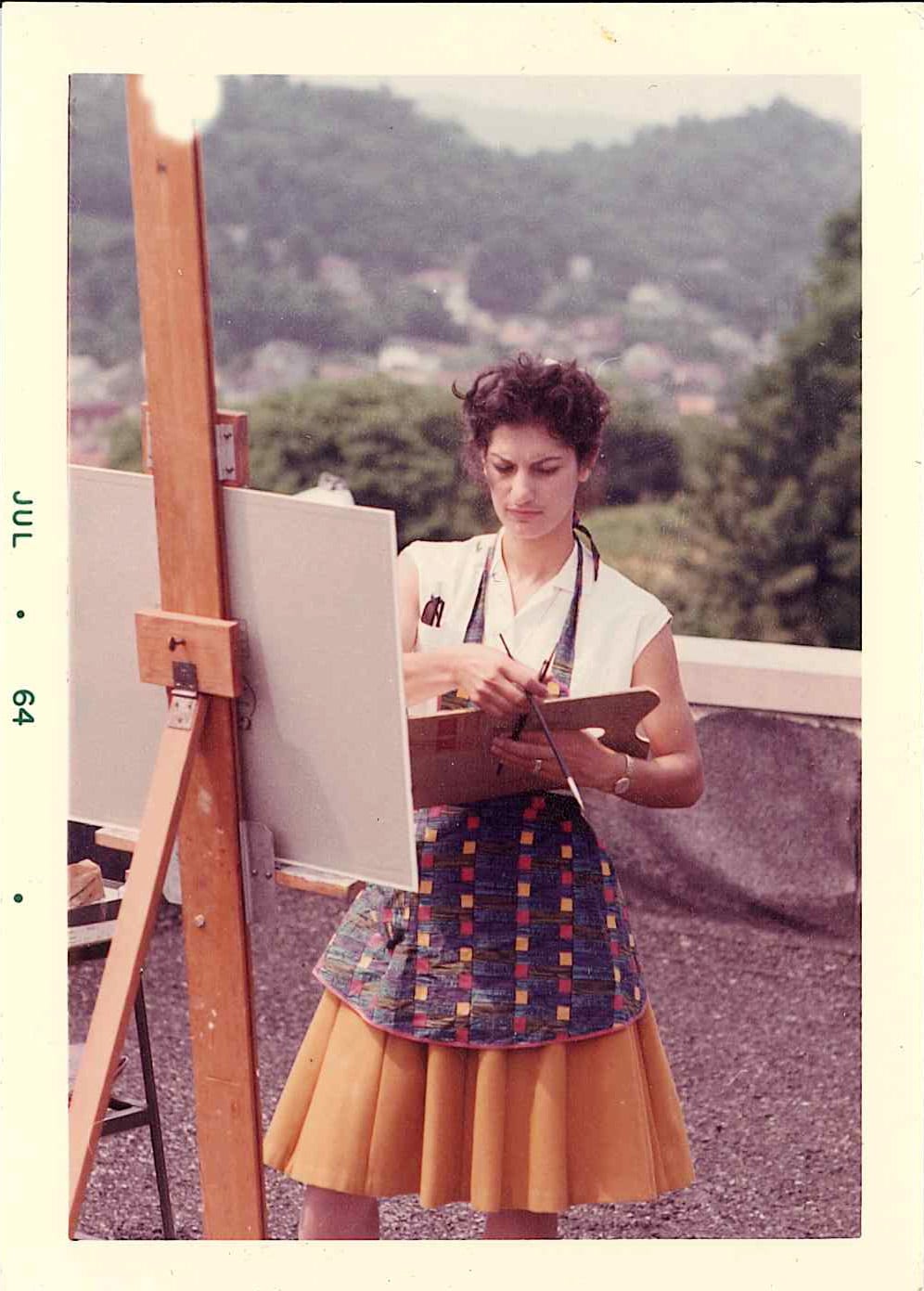 Her love for art continued after high school, guiding her to Heidelberg University in Germany to study fine art. While in Germany, inspiration to paint landscapes and historic buildings stemmed from her days exploring the countryside. Old Europe seemed to act as a muse for Nossi. She even began adopting their traditional mediums of oil and acrylic, moving away from the familiarity of watercolor and gouache.
The lure of America's grandeur in the 1950s led Nossi to her next adventure – studying at various universities across the United States and graduating from WKU in 1970. Experiences in America drastically changed her style. Keeping with oil and acrylic paints, Nossi started using abstract subjects, large canvases, straight lines, vivid colors and the human form to express her work. Although a stark change from her early years, these modern pieces are some of her best-known work.
She would revisit painting landscapes, but left Old Europe behind and kept painting with an American twist. Attracted to Kentucky and Tennessee's beauty, she focused on natural lighting and its effect on the surroundings. Often times she would instruct her husband, Ira Vatandoost, to stop the car on the side of the interstate to take a perfect sunset or landscape photograph.
Nossi College of Art began as a fine art school in 1973 and has transformed from two students learning art in a kitchen to a nationally accredited collegiate institution. Nossi Vatandoost, who is listed in Who's Who of American Women as well as Who's Who in America, trained in the Middle East and Europe and taught art in the Nashville Metropolitan school system before opening Nossi College of Art.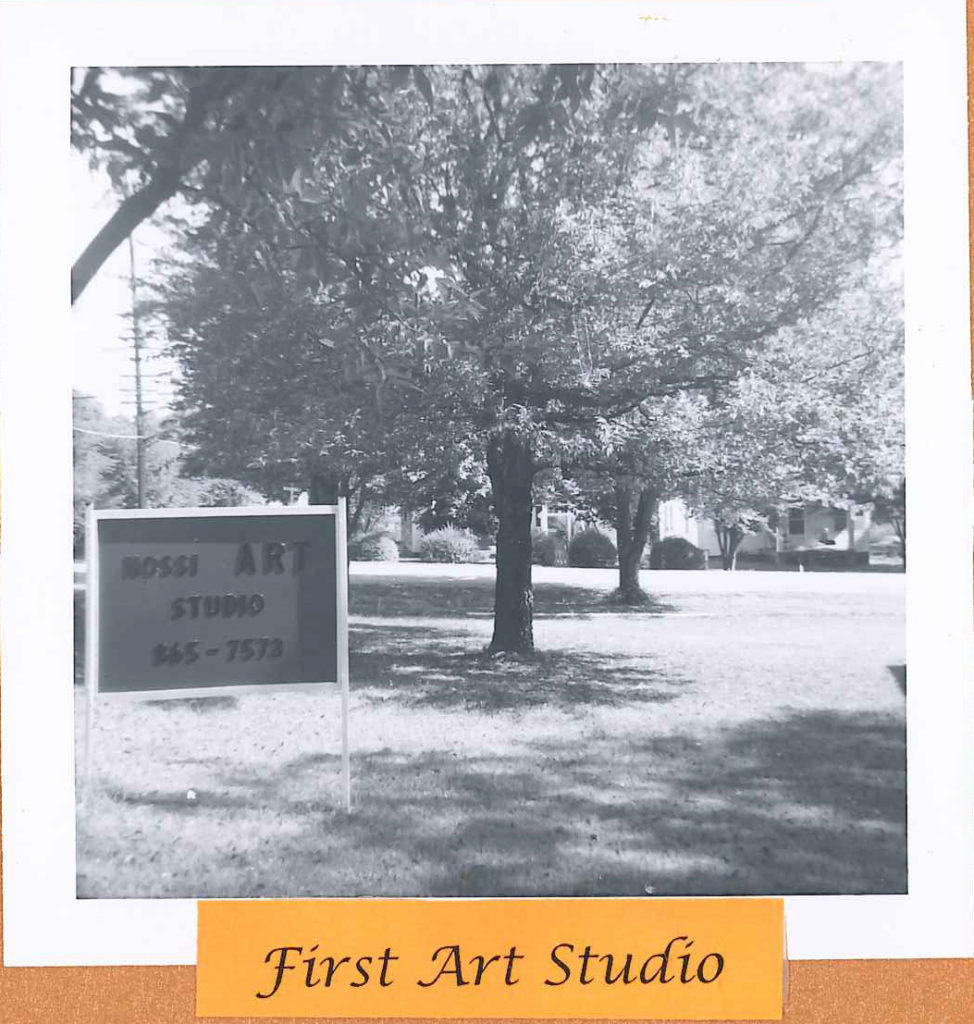 The first classes included painting, airbrush and photography courses in Madison, Tenn. Over the next 18 years, Nossi added several new programs, hired creative professionals as teachers and received accreditation from ACCSC. In 1991, Nossi College of Art was born. The college received accreditation first in graphic design followed by photography, illustration and video. "We are always focused on re-investing in our students," Nossi said. The college achieves this by incorporating strong curricula for each program.
By September 2010, Nossi College of Art outgrew its "storefront" location and moved into a brand-new facility just north of Nashville. It was designed to be a creative organization for students, faculty and staff. The grand opening was a major culmination of Nossi's dreams—opening a college to educate the visual artist, exploring students' artistic possibilities, learning about career opportunities and becoming part of a community. Last September, the Nashville community came together to celebrate Nossi's 30th anniversary.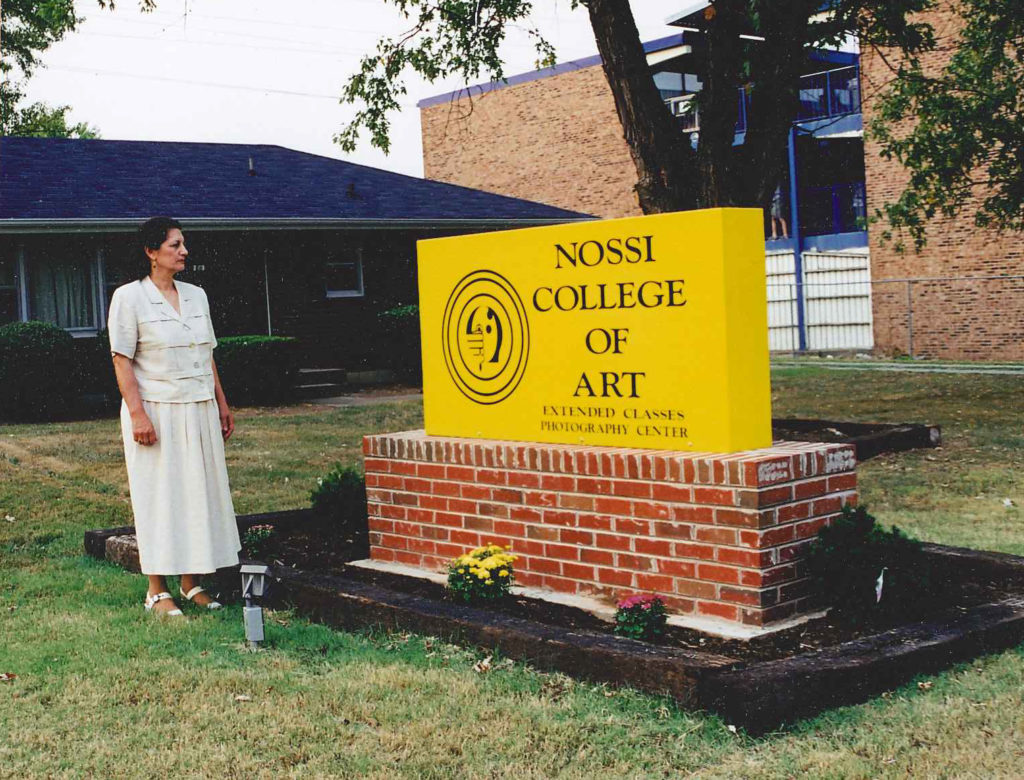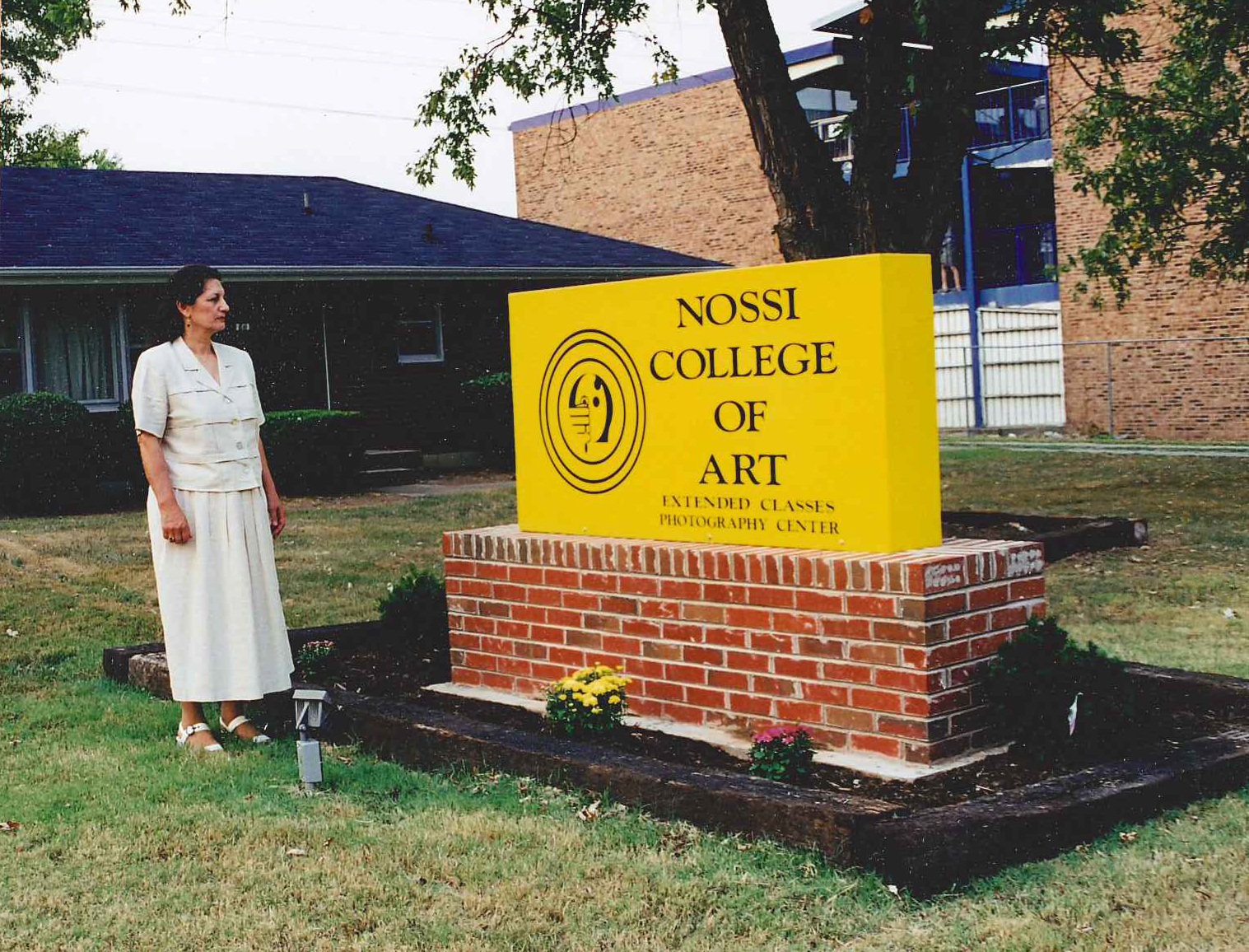 "Everything we do comes from the need of the community," says Cyrus Vatandoost, Nossi's son and the College's Executive Vice President. Cyrus, a 1994 WKU graduate, has worked at Nossi College of Art since 1993, in almost every facet of the college.
In the 1970s and 1980s, Nossi exhibited her work at several galleries and sold many of her pieces. Since that time, she has rarely shown her work to the public, and it is no longer available for sale. Her collection is being prepared as a separate trust to be loaned to various institutions in the future.
Though Nossi formally retired from painting 20 years ago, she finished one final piece the week of this anniversary. It is titled Sunset in Madison, TN. The painting is a dedication to her daughter, Laleh Lamb. Many people hope she continues her work in painting, but no one more so than Cyrus, her son. He even stated that one of his conditions to work at the college was so she would devote time to paint.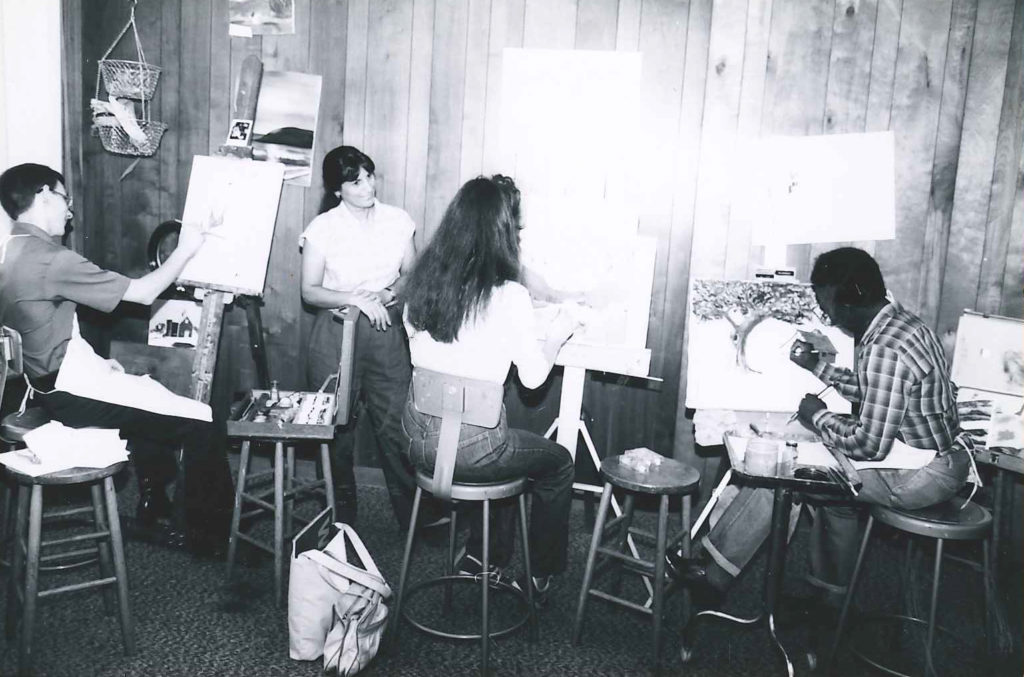 Nossi values her faculty and staff for more than what they bring to the classroom—she values the role they have played in helping her achieve this dream. She readily admits many people helped her along the way, and she has made sure to show her appreciation. "I was really blessed," she says, listing everyone from her late husband, who encouraged her to open the school, to her first graduates, whom she remembers by name and current career.
So what is next for the college? They are on a mission to transform it into an artistic university. "It's going to happen," Nossi says. "It might be in a few years, it might be later. But it will happen." As the college grows and expands, the programs are sure to grow with it, reflecting the contemporary culture of art.
"Our industry is in a constant state of change," says Cyrus. "We are, too."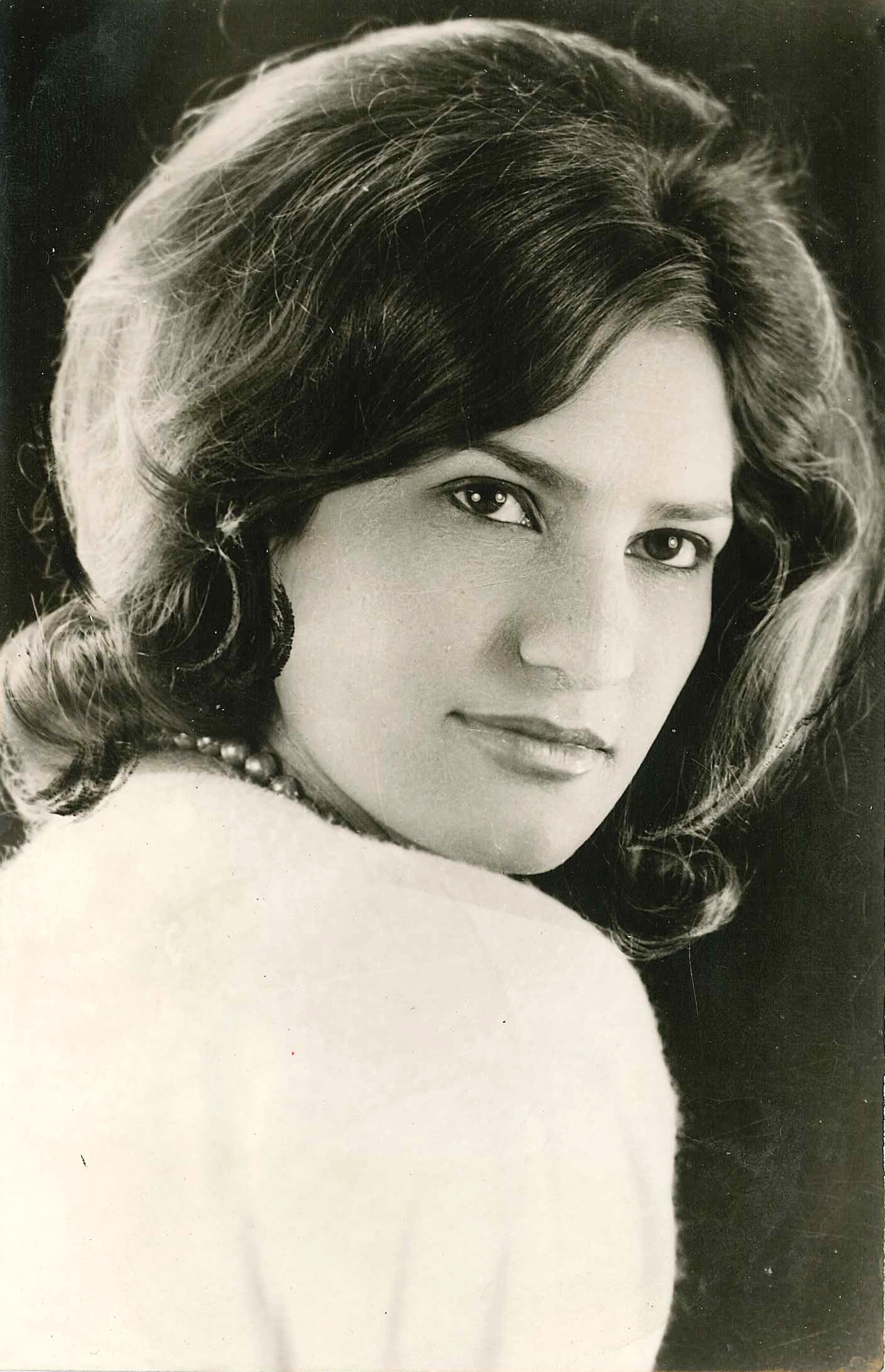 Since beginning her teaching career in 1973, Nossi understands this constant change, and she is determined to stay on top of it. Thinking back, she tears up telling her story and how happy she is to have a college full of art students; it's clear that sometimes she can't believe it's real either.
The above article was written by Libby Funke Luff and appeared in Nossi Vatandoost's International Alumni Magazine for Western Kentucky University. View the WKU Magazine Alumni International Magazine. 
Nossi College of Art now offers five degrees in Web and Interactive Design, Graphic Design Media, Photography, Video & Film, and Commercial Illustration. Learn About our degree programs.