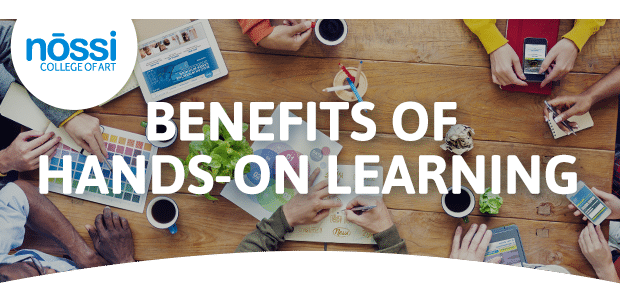 When is it best to take an online class versus a class on campus? You have probably seen or heard lots of advertisements for online courses and online degrees, making your choice harder. Before deciding where you earn your art school degree, consider why learning at Nossi College of Art can have a more significant impact on your professional career than an ONLINE-ONLY education.
At Nossi, spend your first day of class meeting your instructors and learning about their professional, creative lives in Middle Tennessee. All of our teachers are adjunct and have to work in the real world to be a teacher here. (Seriously, check out our faculty) You also connect with classmates who share your interests, passions, and creative gifts. As the semester progresses, you will collaborate with students in class as well as with students in other programs, learning about all creative fields and how they can benefit your professional career.
Nossi's classrooms are interactive environments providing you with critiques for artwork, discussions on client relations, debates on methodologies, and advice about pricing your work. There is no better way to learn these skills than in person.
Experiential learning is vital to understanding the creative profession.
To help boost your experience, Nossi offers a student program All Access, designed to allow students to cherry-pick creative assignments from the real world. Nossi connects with All Access Partners, so students commit to one job and not a semester or year-long internship. Our partners include Lighting 100, the Country Music Association, American Lung Association, Musicians Corner as well as local nonprofits like Martha O'Bryan Center, YCAP, and King's Daughters Child Development Center.
These one-off assignments help students gain experience while getting paid (in cash or trade)and improving their portfolio work. All of this leads to more knowledge and better opportunities to land the job you want after graduation. We highly encourage internships when possible, but don't wait until your senior year to get some real-world opportunities.
Learn more about Nossi All Access
Sometimes I need a break, so I don't know if I can attend class on campus?
It is your decision to learn online or in person. We understand it can be challenging to work a full-time job, go to school, and balance your life – but there is a way! Over 300 students do it every year with Nossi. We build an online-only experience for a week once a semester. These weeks take place in March, July, and November (typically around spring breaks and holidays), to offer students a chance to travel, see family, or reduce trips and travel to campus.
Get those experiences and connections!
When making your decision, consider all the experience and connections you give up when earning your degree online. We live in a hands-on world. Applying collaborative and communication skills to enhance your professional career should be hands-on, too.
Have questions about working around your schedule, semester timing, or any other questions related to your future potential, please email us or call us at 615-514-2787!