Reid Horn and Lindsey Stevens are members of Nossi College of Art's staff helping creative students with mental health support in college. Reid is a licensed therapist who runs Horn Counseling.

A partner for almost two years now, Horn Counseling exists to help you thrive in college and in life by providing counseling and coaching. With over 10 years of experience working with individuals, couples, and organizations, Reid and hist team can help you thrive in all areas of your life. Reid accepts both on-campus and virtual appointments. Feel free to schedule your appointment online or email him directly if you have any questions.

2021: A Fresh Start to Your Mental Health
Blog by Reid Horn, Horn Counseling
The year 2020 is over…finally! You may be moving into 2021 with some well-warranted hesitations, and that's understandable. Here are a few ways that can help you get a fresh start on your mental health at the beginning of 2021.
Habits of Health
It is easy to look back on 2020 as a waste of our time, but we are created to adapt in hard times. Reflect on the habits of health you learned along the way. You survived 2020 partly because of the self-care you picked up along the way. Consider what's been working for you and keep it going – whether it be baking, journaling, exercising, or keeping up with your friends through Snapchat and FaceTime. And, don't be afraid to learn from your friends as well. Ask them about the habits of health they picked up in 2020.
>>See FOUR additional options for staying mentally fit in 2021, including Positive Mantras and Having a Stress Plan!
---
Book an Appointment with Reid
Signing up for an appointment is super easy and you are done in five simple steps.
Visit Horn Counseling and scroll until you see an orange button "Schedule Your Session."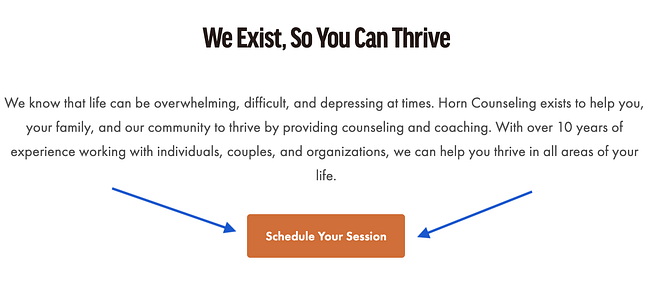 1. Select Timothy Reid Horn or Lindsey Stevens as your preferred counselor.

2. Select Nossi College Individual Sessions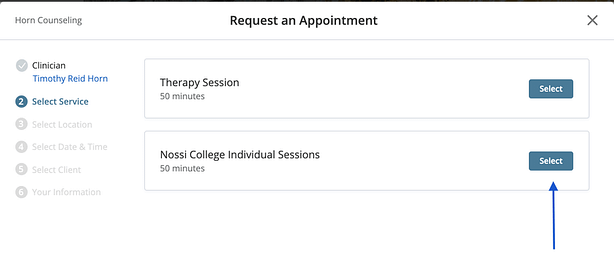 3. Select your preference of online (Telehealth – Online Counseling) versus on campus session (Nossi College of Art).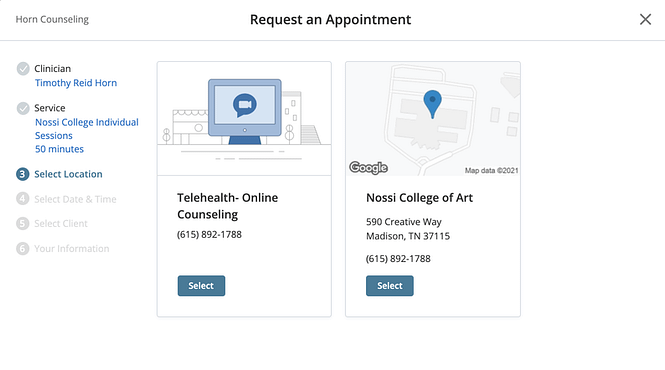 4. Select the best date available for your schedule. Horn Counseling offers services on Wednesdays both in the mornings and afternoons. You can book up to 90 days in advance! Select the time after you select your date.
5. Complete your appointment request by filling our your information.