During the summer semester, Leenay Barnes, a Kappa Pi student member, wanted to have an important conversation about race, diversity, and inclusion with the Nossi community. An important conversation about racial inequality was happening across the United States, and she talked about the importance of Nossi College of Art joining in to help all students, especially students of color, be part of the discussion and to find their fit in the creative community.

Listening to her feedback, Ms. Nossi and staff members agreed on the importance that all students – all races and all genders – should feel welcomed and at home at Nossi College of Art. It is why we support students like Leenay. We want to help students find their voice so they contribute to their community in mindful and impactful ways.

We collaborated and created a panel discussion made up of Nossi faculty members, an alumnus, creative students, and community professionals who came together to have a tough conversation about race and inclusion.
Thank you in advance to everyone who attended, contributed, and participated in our July panel discussion. We hosted over 40 people, from faculty to staff to students for this discussion.
Read about Nossi College of Art's Commitment to Diversity and Inclusion here.
SKIP TO SECTIONS:
Learn about Ms. Nossi | Asking the Tough Questions | Avanzando | Finding Help
Diversity + Inclusion Panelists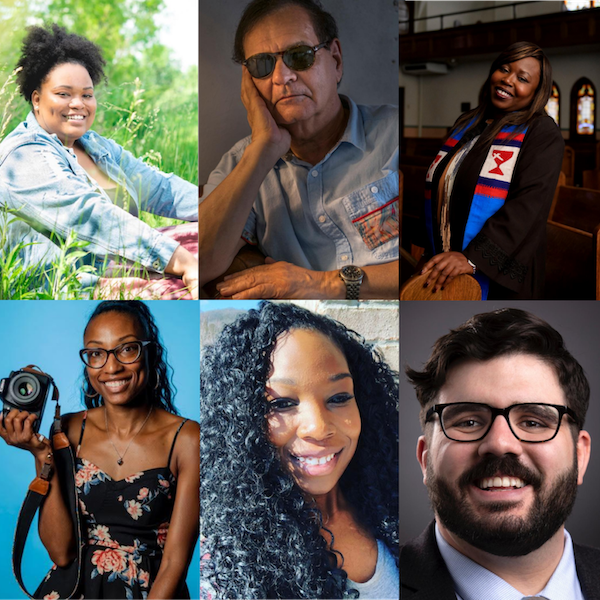 From top left clockwise: Theresa Anderson, John Partipilo, Rev. Cherisna Jean-Marie, Reid Horn, Irika Skeete, and Leenay Barnes.
View Theresa's work on Instagram.
JOHN PARTIPILO – PHOTOJOURNALISM INSTRUCTOR | NOSSI COLLEGE OF ART
Working as a photojournalist for 35 years, John Partipilo won awards, including NPPA Best of Photojournalism, was nominated for two Pulitzers, and was featured in national and international publications.

In 2016, John emerged from an award-winning photojournalism career into fine art photography, but he always sticks to his journalism roots — it's this style that heavily influences his process. In every situation, he has to immediately be able to tell the story accurately. He uses his intuition to guide him towards the shot giving him access to places he wants to go, gaining trust from the people he meets, and leading him to the pictures that are the most honest.

Most importantly, John's work is about people — people in their different environments and people in their different stages of life. That's the heart of his work. To him, people are so important, because they all have a unique story.
REV. CHERISNA JEAN-MARIE – RACIAL JUSTICE MINISTRIES | SCARRITT BENNETT CENTER
On June 1, 2019, the Rev. Cherisna Jean-Marie started her ministry as the Director of Racial Justice Ministries with Scarritt Bennett Center in Nashville, Tenn. Rev. Cherisna Jean-Marie (aka Pastor J) is Haitian-American born and raised in Newark, NJ to the parents of Joseph (deceased) and Grace Jean-Marie.

In 2001, she graduated with a Bachelor of Arts in Public Communications from Kean University in Union, NJ. Upon graduation, she worked in the University setting in the Division of Student Affairs, encouraging college students to tap into their fullest potential and embrace the true and living God. It was during that time she discovered her calling into the pastoral ministry.
After five years in Higher Education, Rev. Cherisna answered her call to ministry and matriculated into Vanderbilt Divinity School as a second career student completing her Master of Divinity from Vanderbilt Divinity School in 2010. During commencement, she was awarded the coveted Florence Conwell Prize for outstanding preaching.
REID HORN – MENTAL HEALTH PROFESSIONAL | HORN COUNSELING | NOSSI COLLEGE OF ART
Reid is a licensed therapist with over 10 years of experience in the mental health industry and is a part-time mental health professional for Nossi College of Art (with hours on campus).

He earned a master's degree from Evangel University in Springfield, Missouri. He has experience working with both men and women suffering from depression, anxiety, trauma, and addiction.

He specializes in relationship counseling, utilizing the therapy approach of Emotionally Focused Therapy (EFT) and trauma therapy utilizing the approach Eye Movement Desensitization and Reprocessing (EMDR). It was during his time in Springfield that he fostered his love for good coffee and road trips. He currently has a goal of visiting all 50 states and taking a selfie at the "Welcome to" state sign. He has proudly reached 31 selfies thus far!
IRIKA SKEETE – ILLUSTRATOR | DESIGNER | INSTRUCTOR | ACTIVIST
Irika Skeete is a graphic illustrator with more than a decade's experience helping companies nationwide leverage the power of design to create inspiring brands that customers love. Her success can be attributed to her empathetic approach to work and life. Whether in design, teaching, or activism, her primary objective is always to act from a place of compassion, keeping the consumer's needs front of mind.

Always been outspoken on matters of racial justice, Irika uses her platforms to promote unity and understanding. Taking the lead from her grandfather and his siblings who marched with Dr. King during the Civil Rights Movement, Mrs. Skeete has also galvanized diverse groups to speak out about inequality and injustice in their communities. Most recently, she and her sisters launched a retail brand that promotes the power of allyship in standing for justice.

Irika comes from a Southern family that knows all too well the issues of racism that plague this country. Her great great grandfather was born in slavery, her great grandfather lived through Jim Crow, and her grandfather and his siblings marched with Dr. Martin Luther King and were personal friends of Rosa Parks. Following in the footsteps of many of her family members who came before her, Irika has and participated in a number of social justice events in the community.

With empathy as one of her core values, and it informs every aspect of her life. She attributes her success to her empathetic approach to her work—placing herself in the consumer's shoes as she considers even the slightest aspects of design elements.
LEENAY BARNES – NOSSI COLLEGE OF ART STUDENT | KAPPA PI MEMBER
Leenay Barnes is a portrait photographer that resides in Nashville.

She specializes in family portraits, personal events, editorial styled wedding photography, as well as business and PR headshots. She also offers her clients location and studio sessions.
Ms. Nossi – An influential immigrant
Ms. Nossi was a creative pioneer, and at a young age knew she couldn't stay in her controversial home country of Iran. So she did something unprecedented in the 1940s, she left to study art in Germany, and she never looked back.

After attending Heidelberg University she began her next dream – studying art in the United States. Traveling across the country, Ms. Nossi ended up in Bowling Green and then Nashville. She witnessed racism, experienced sexism, and encountered discrimination herself along the way. She always wanted to look at everyone as an individual person, to welcome everyone to the conversation.
Ms. Nossi's son, Cyrus Vatandoost, is the College's Executive Vice President, and he attended the panel session to listen to the conversation, to empower students and faculty, and to help find and address solutions to feedback shared.
NOSSI COLLEGE OF ART'S DIVERSITY AND INCLUSION PANEL
The College encouraged attendees to submit questions to panelists in advance so they could reflect on their answers before the event. Nossi College is still listening and learning, too. We encourage students who could not attend or new students seeing this post later to still submit feedback (students and faculty must use their nossi.edu emails to access our digital suggestion box. If you have any issues, please let us know).

Below we will dive into the questions and top answers discussed during the panel session. Watch the video segments below for additional details.

Special thanks to everyone who contributed.
How do you become more tolerant when people have a difference of opinions?
The goal should always be to have a conversation and not an argument. To have a conversation people must first, listen. You do not have to agree to be able to listen to one another and feel heard. (quotes below are slightly edited for clarity)

Rev. Cherisna: I think we have reached a place in our culture and world where we've lost the art of community and conversation and engagement because everything is so polarized.

Social Media creates this idea of cancel culture, where we have the audacity to cancel people out. I think it is dangerous. I think it's dehumanizing, and I think that is a threat to the community.
"We can disagree and still love each other unless your disagreement is rooted in my oppression and denial of my humanity and right to exist."

James Baldwin, author
If your point of view is not rooted in love and humanity, then you might want to check yourself. Because now you are compromising a communal agreement in terms of what it means to be in a community with one another.
learning about your opinions
When you are part of a conversation, it is important to familiarize yourself with the subject matter. There is far too much information easily available to not understand racism or discrimination and how it impacts you, your community, your city, and the world around you.
Leenay Barnes: I have had experiences, but I didn't always engage with the conversations until I matured as a person. When there is no maturity, then you may not find a resolution. When I have waited, and when I have thought about the conversation, I can handle it in a more mature way.
Rev. Cherisna: I think one of the mistakes that people tend to have is they engage in conversation with people and yet they have no knowledge about that particular topic. You can't say you don't know or don't understand racism when all you gotta do is Google! The real issue is you don't want to know. You don't have a desire to know, and until you can get to a place where you recognize your own humanity is at stake, then it creates a kind of desire in you where you want to become knowledgeable in this conversation so that when you approach any conversation, you're able to stand. Even with fear.
We are in a time of information. Information doesn't lie.

Rev. Cherisna Jean-Marie, panelist
Have you encountered a problem on campus?
Having representation on campus is important because it is important students see themselves in their teachers. Nossi College of Art will continue to encourage all people to apply to open positions, to engage with Nashville's creative community, and to promote diversity and inclusion in policies and curriculum moving forward.
Irika Skeete: I was a student at Nossi and now I'm an instructor. When I was a student I did not feel a lot of racism because Nossi is a very unique place to where everyone has some sort of something different about them that goes here. We're all artists. So that is just the nature of who we are, Ms. Nossi is very accepting, and of course, she is not going to hire based on race and things like that.

However, as a student, I have had experiences with professors where I felt like they may be prejudiced. I let it go because it is something I was used to at my younger age. In 2004, I was the only black girl to graduate in my high school, and my family pretty much integrated the city we moved to. I've always been the only black girl in a setting, and as a student, I would just roll with it.

My first day I went into the classroom where I was teaching, it was a study hall, and there were two black students and they asked, "Are you my teacher?" When I said yes, they said "You are one of us!" And they came up to me and asked "Can I hug you?" It was two black students so happy to see a black teacher. It is important to have teachers that look like you.
Reid Horn: I'm jumping in, and I'm trying to learn. I'm trying to educate myself as a white male and really see things I have been blind to most of my life. Dr. Kendi's book on How to be an AntiRacist – I love this idea he presents. The idea of 'not being racist' is a made-up area. It's like either we have racists policies in place or we have anti-racist policies in place encouraging and incorporating equality. It is an important thing to think about at Nossi.
Being conservative and still being heard
Submitted questions were mindful and incorporated all points of view and perspectives. Our students who are more conservative want to be part of the conversation as well, and at the same time, don't want to be immediately stereotyped. This goes back to the beginning of our panel and listening to other people, even when we disagree.
Rev. Cherisna: The question for me is not about your politics but what do your politics mean? Not just for you, but for your neighbor. So when I hear folks say, well, I'm Pro-Trump, well let's talk about Trump and his behavior. The last four years have demonstrated behavior and communicated in ways that suggest people like me are not safe under his leadership in this country. There have been policies in place to put up walls for a particular group of people. He has attacked every minority group, LGBT, and trans community – every single minority group.

So my question is not about whether you are pro-Trump. My question really is about what ideology are you supporting? Are your ideologies or your support for Trump oppressive and dangerous to your neighbor?
Reid: Even the terminology Pro-Trump can be misleading. It can be so many different things and it can be painful for some people. If you are trying to communicate something you support, communicate that part – the policies and what you support. Pro-Trump is such a triggering word for people.
A look at curriculum
We have heard the feedback from our students, and we want to look at our curriculum and assignments to incorporate social, civil, and racial justice themes into our coursework beginning fall 2020. It is important to have these discussions in the classroom because art is a student's form of self-expression.
Rev. Cherisna: I want to start with the idea that Black Lives Matter is controversial. It's our reality. And so it's a lived experience, Black and Brown folks in this country. So I strongly disagree with the idea that it's controversial. Controversial for who? I live this every single day.

I think, when we say buzzwords like BLM and controversial, what is does is distract from the possibilities of learning and engaging this very true, authentic, honest, lived experience of Black and Brown people in this country. I think the classroom is the place of learning and teaching.
From a student attendee: I want to add that a white person cannot decide what is offensive to a person of color. Heterosexual, cis people cannot decide what is homophobic or transphobic. Men cannot decide what is misogynistic of offensive to women.
Reid: If there's an uncomfortable comment or something is brought up in group (or class), one of the simplest ways to start the conversation is to say "Hey, that hurt my feelings" or "That made me uncomfortable." Just putting it out there means people don't get to argue with that because there is nothing to argue.
Leenay: I think we should become more educated on controversial topics so that we don't offend anyone. I wouldn't mind being educated because I want everyone to feel included. I want to make sure everyone is being respected.
Avanzando
In addition to racism and inclusion, students and staff also discussed homophobia and transphobia because the LGBT community is an important community on Nossi College of Art's campus, and their conversation should be added to the inclusion side of our discussion.

A group of students from the Colors Club along with select students will be discussing options, new opportunities, and ways to continue the conversation forward. We look forward to additional announcements.
Rev. Cherisna: I think one of the ways that make us beautiful as humanity is our differences. And oftentimes we don't often have many places in our society that encourages us to celebrate diversity. And so to hear conversations, here in this space, the ways to be a more welcoming space, not just for Black and Brown people, but for the LGBTQ community is such an important way of what it means to be human in this learning space.

So again, I want to say thank you for inviting me to your sacred space and thank you all for being committed to doing the hard work to be an inclusive space that welcomes all to the table and celebrates diversity.
Finding help
Reid Horn of Horn Counseling is an on-campus Mental Health Provided available for all students. He had an important note to end the conversation with: I want to bring it up – if anyone here may be identified some racist, sexists, or bigoted tendencies after our conversation – know there is a difference between guilt and shame.

Guilt: you identified something that is wrong and you want to fix it.
Shame: on the other hand shame says I've done something wrong. I am wrong. I am a bad person. Shame can be debilitating. I don't want anyone to shame themselves.

I want to help identify some guilt. It is okay to say, "I need to work on this." If you are struggling, reach out. Let's talk about it. It is okay if you have made a mistake.