Student Housing
Nossi College of Art is a partner with Nashville Student Housing (NSH) to remove the stress of finding convenient, affordable housing for students in college.
Nossi's housing office works with NSH to introduce students to an active residential life. This housing opportunity encourages educational, creative and personal development and growth by giving students an outlet to a community outside Nossi's campus. With our student housing, you will meet fellow students, enjoy residential activities and quickly immerse yourself into college life.
Shared Housing | Independent Housing | Locations | Application Process
Independent Housing
Independent Housing
If you are married, are a single parent, have a pet you can't live without or you prefer living by yourself, Nossi College offers Independent Housing Options for you.
Communities for Independent Housing have been prescreened with negotiated rental rates. This program allows you to rent your own space and you will be responsible for furnishings and utilities.
Other perks include:

Flexible, individual leases
Assistance in leasing directly from apartment communities or renting a home
Student Life – Meet fellow students attending free events: go-carts, bowling, BBQs and more
Amenities such as pools, clubhouses, outdoor recreation areas and laundry facilities
Creekstone Apartments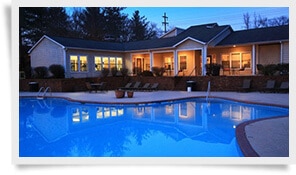 This community comes with spacious options for housing along with perks of a private balcony and great amenities. Whether you want access to a country setting or would rather hang out in the city, Creekstone is conveniently located to lots of Middle Tennessee activities.
Application Process:
Shared Housing: Each student is responsible for paying a $50.00 application fee. Applications may be submitted on the Nashville Student Housing website by clicking here. The application fee is a one-time payment and is non-refundable unless the College denies enrollment. Acceptance is subject to basic credit and criminal background checks.
New to Nōssi College of Art?