Thank you for joining us during these past nine weeks as we highlight local nonprofits and classrooms doing amazing things. Check out our final week as we wrap #45DaysofGiving. Don't forget to give back where you can as well!
We are so excited to share the fun we had shopping, donating, creating and celebrating within the wonderful community that has supported us during our 45-year creative journey.
If you haven't already, check out our previous blog for Week 4 to get all the action!
Day 41: Newcomers Club – Sumner County
The Newcomers Club is a service and social organization for those in the Sumner County area wanting to connect and meet new people while giving back to their community. It is a dedicated organization, with almost daily activities planned, to meet neighbors and give back to their community.
Newcomers Club works with Nossi so we can help document the HolidayFest events including Tree Lighting Ceremonies and athletic events including the Indian Loop 5K. We are sending two students to Monthaven's Christmas Tree Elegance Ceremony on Nov 17 – we hope you can come out and join us! More details here.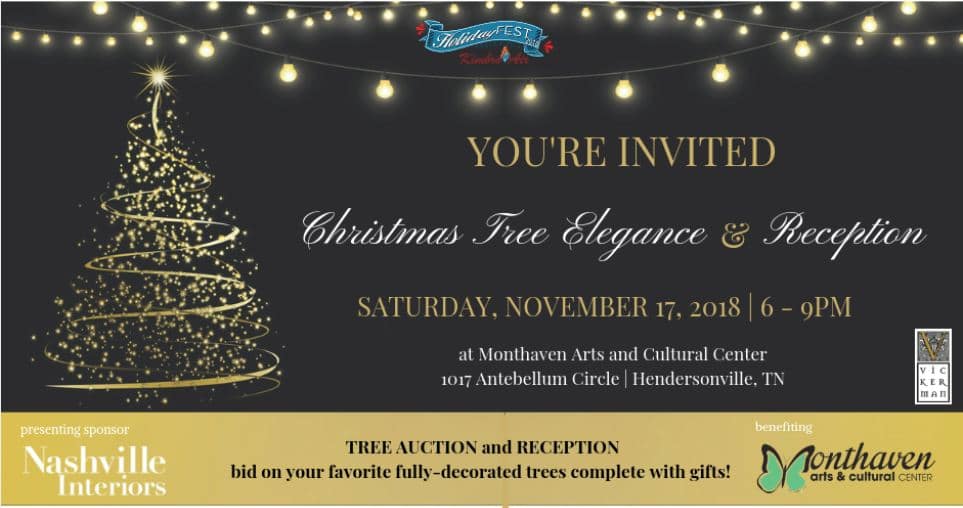 Two photographers, Chyanne Funnell and Angela Thomas will be on hand to document this tough assignment. Five, seven-foot. Trees, all decorated by local and nationally known designers, will be auctioned off at Monthaven Arts and Cultural Center to support art education and other related programs in Sumner County. The trees are donated by Vickerman Trees and are uniquely decorated to match a particular theme. Attend the event and then check our Facebook page for these photos.
From Fashion Shows to seasonal events, the Newcomers Club is always open to connecting our beginner students to Sumner events. This allows students to gain professional experience in photography by documenting events in the real world. We run these opportunities through Nossi All Access.
Day 42: Society of Saint Andrew
Day 42's nonprofit
 has a big goal – to feed all those who are hungry. Their mission of bringing people together to access and share healthy food, reduce food waste and offer food to neighbors in need revolves around four core values: faith, compassion, stewardship and service. Since their first load in 1983, the Society of St. Andrew Potato and Produce Project has distributed well over 800 million pounds of food to America's hungry.
With regional offices across the country, Nossi's videographer, Cory Determann connected with the office in Madison to document their food process – and what it takes to end hunger across America. 
Although the video is not quite complete, we did want to share some behind-the-scenes images from the shoot. We will be posting the final video to our YouTube page and announcing on social media. You can also follow Cory Determann for all the updates. 
Discover how you can give back by visiting EndHunger.org today.
Day 43: Champions Breakfast; Martha O'Bryan
The Champions Breakfast is a fundraising and mission awareness event that brings together Middle Tennessee's leading civic and corporate leaders to support the programs of Martha O'Bryan Center. Nossi supports MOBC in several capacities – from the donation of creative services to volunteering at their center. With the Champions Breakfast happening only every two years, we were excited to attend this inspiring event and to continue investing in this community nonprofit in East Nashville.
Videos like the one below are unveiled at Champions Breakfast to show the impact Martha O'Bryan is making in the community:
There are still ways to help benefit Champions Breakfast initiatives, click here to give. Want to make a lasting impact? Make a monthly contribution or consider connecting with their Junior Board, NextUP.
2016 Champions Breakfast Video:

Day 44: Nashville Wildlife Conservation
Is it Deja Vu? No, you are seeing Nashville Wildlife Conservation Center again, because we made a direct impact on multiple programs within Nossi College by connecting top-tier creative students with a huge project – develop branding, photography and website needs for this project. Top students were selected from each program and we are thrilled and impressed with what they came up with (luckily we weren't the only ones).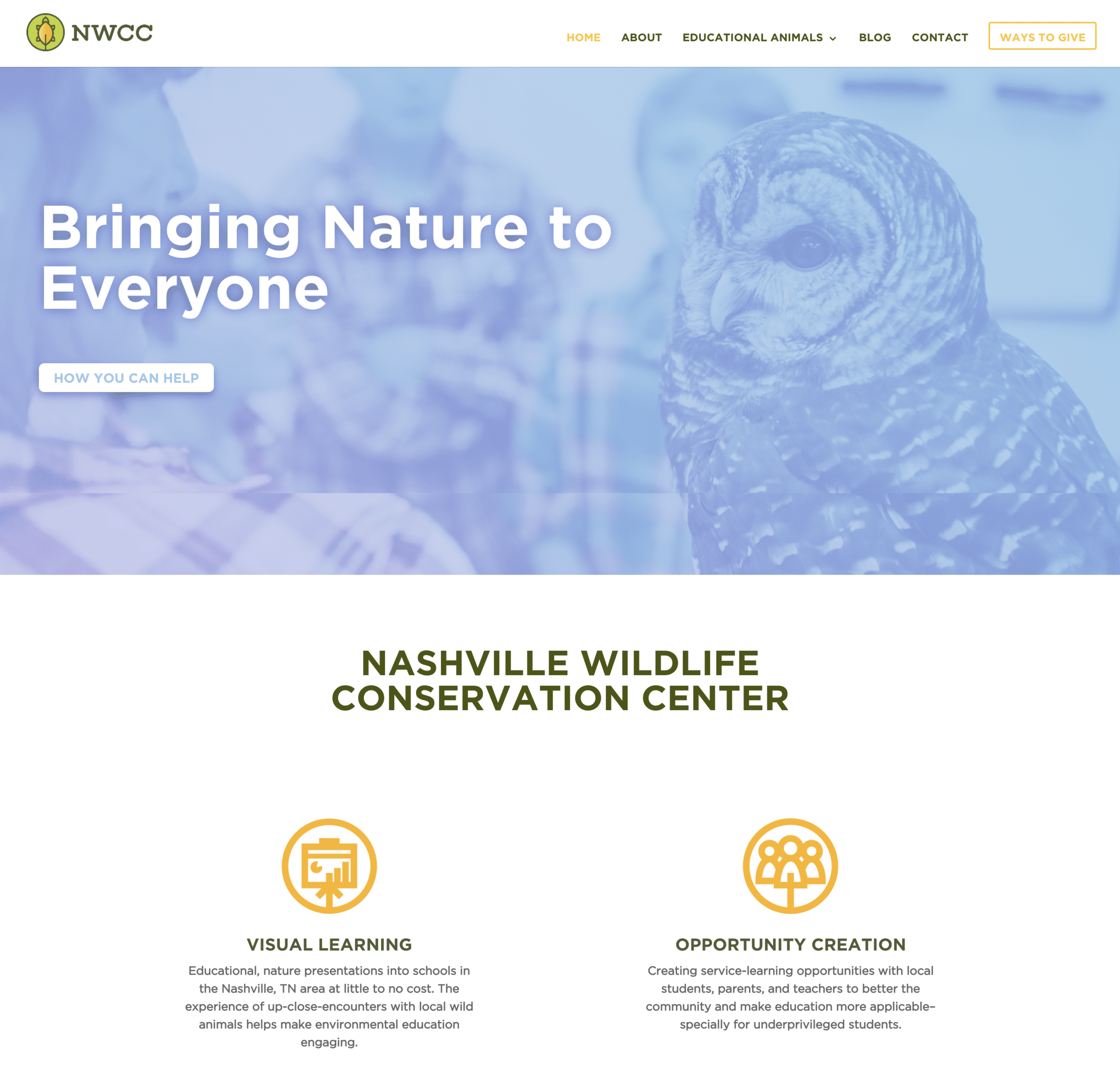 With a goal of simple, clean and easy to use, our designers, collaborating with Nossi photographers, wanted to utilize imagery in the best way possible. Take the website for a spin and maybe you will find the donate now button! 🙂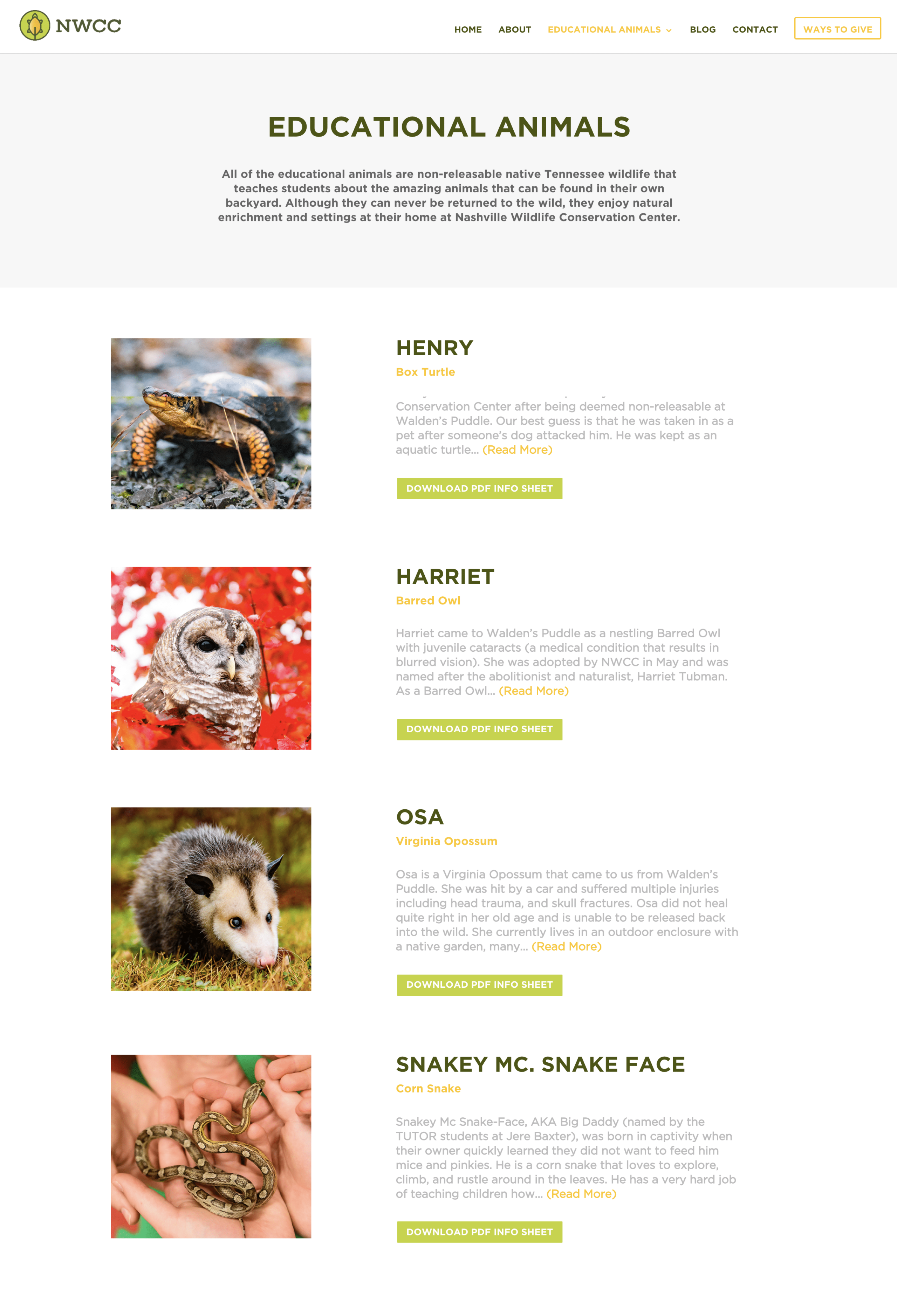 Fun Fact: Nashville Wildlife Conservation has a fun and interactive Facebook page – learn about their animals, events and other fun opportunities to engage with nature! Become a fan here.
Day 45: Christian Cooperative Ministry
Several months back, Nossi student Elsa Marin designed Christian Cooperative Ministries' logo and their mission has stuck with Nossi College's Administration. With the holidays coming up, the Nossi community decided to host a canned food drive so families in the Madison area are taken care of for the holidays. We opened up our canned food drive to Nossi faculty, administration, students and the community during our 45th Anniversary Party! Thanks to everyone, we are able to deliver hundreds of cans to Christian Cooperative in the next week!
If you live in the Madison area and want to give cans as well, click here to find ways you can give back.