Written by: Sara Lamb

Hey everyone, and welcome to the official blog with the inside details on our 45 Days of Giving! Below, see Days 1 – 5 to start off our big campaign! 
In the fall of 2018, Nossi College of Art is celebrating our 45th anniversary, and we decided to do 45 acts of creative kindness for local classrooms, non-profits, church groups. Nashville and the surrounding communities have been supportive of Nossi College and the impact we wanted to make on this area, so in return, we wanted to feature 45 acts of thankfulness. 
We have had help and donations from faculty, staff, students and local organizations like Plaza Artist Supply and Jerry's Art-A-Rama – who helped stretch all dollars and supplies donated! If there is an organization we highlight that impacts you and your neighborhood, we encourage each reader to consider giving back to one of these 45 opportunities!
We are so excited to share the fun we had shopping, donating, creating and celebrating within the wonderful community that has supported us during our 45-year creative journey.
Day 1: Smart Supplies
Monday, July 23, SmART! held a Teacher Supply Drive, where teachers could buy as many supplies as they could fit in their basket for just $25!
Nossi donated hundreds of composition notebooks, glue sticks and sharpies to help in their teacher drive effort and Nossi student, Quinn Bowersox, donated his time photographing all the action.
Photos above and below by Quinn Bowersox
SmART! Is Nashville's best spot to shop for new and gently used art and craft supplies for a fraction of their retail price. 100% of SmART! profits benefit Progress Inc. programs to promote the health, happiness, and safety of adults living with intellectual disabilities in our community.
Want to support SmartSupplies, click here.
[below] Outside the SmART! Supplies teacher drive, Photo by Quinn Bowersox.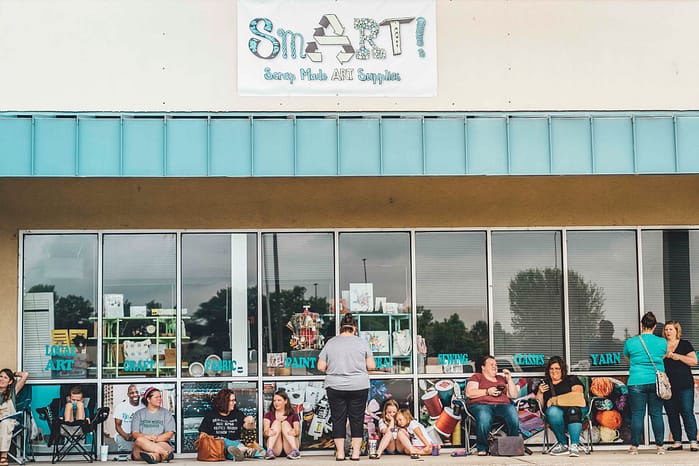 Day 2: The Big Payback
Wednesday, May 2, Nossi Photography Coordinator, Tom Stanford, and Photography Professor, John Partipilo donated their time documenting the Big Payback.
The Big Payback is a philanthropic event that serves as a way to shine a spotlight on local needs and create excitement around philanthropy in Middle Tennessee.
[Below: Tom Stanford, Nossi's Photography Coordinator, and John Partipilo, Nossi's Photojournalism instructor, captures photographs during The Big Payback unveiling at Bridgestone Arena]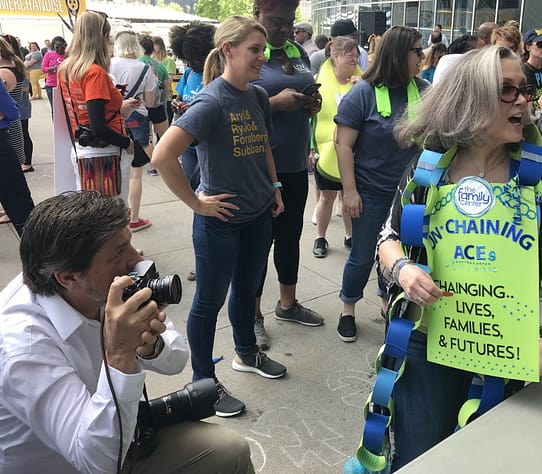 This fundraising event hosted by The Community Foundation of Middle Tennessee, is a 24-hour online giving event with a goal to inspire Middle Tennesseans to show pride in their communities by donating to support the work of local nonprofit organizations. They raised just over $3 million in 2018 and $9.3 million in the first four years to over 750 charities!
To learn more and join in on next year's Big Payback visit TheBigPayback.org.
Day 3: A Royal Affair, King's Daughters
Nossi student, Pam English, worked directly with the event committee to produce all graphic design needs for the King's Daughters Fashion Show, "A Royal Affair" on May 19th at Cheekwood Gardens.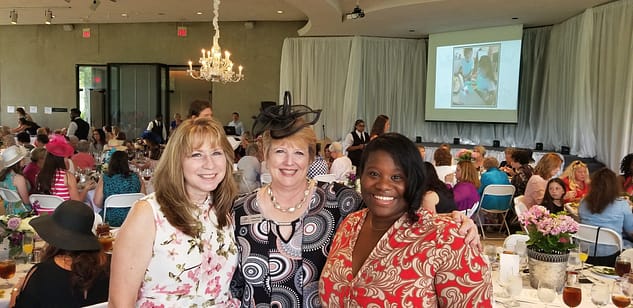 Nossi student, Pam English (right)
This included the Royal Affair logo, Silent Auction Cards, Table Numbers, Invites, Reply Cards, Thank you Notes, social needs and other printing needs.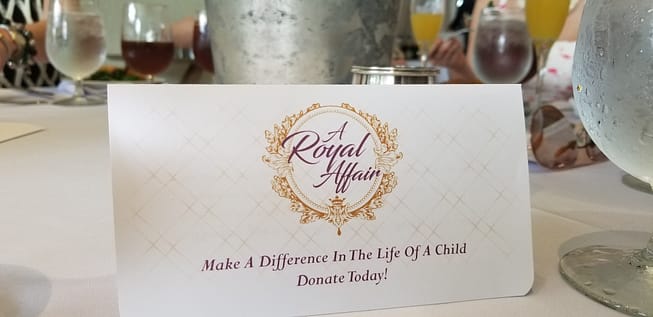 Royal Affair table card design by Pam English (above)
The fashion fundraiser is for The King's Daughters Child Development Center that provides childcare and educational programs for children from economically disadvantaged families in the Madison and surrounding areas.
Of course, we had to make sure Pam could attend, so we bought 2 tickets to the show for her and a friend to enjoy this unique fashion event in the stunning gardens of Cheekwood Estates.
We were proud to donate to this year's fundraiser, for more information and to donate visit this link.
Day 4: J.E. Moss Elementary
What a score Day 4 was hanging at J.E. Moss Elementary located in Antioch TN. The teachers' here designated a spot called the Maker's Corner that encourages their students to make art and grow their creative skills.
For this school year, we donated a beading station to promote hands-on creativity and so the students could bring their art home to share with the family.
We fell in love with this school and the work that they do to make their classrooms more stimulating, challenging, safer and happier.
Do you want to donate to JE Moss' Maker's Station? If so, click here for contact information! 
Day 5: Nashville Wildlife Conservation
When we heard the Nashville Wildlife Conservation needed a complete website rebranding, we were proud to offer two of our photo students, Gabbie Karademos and Hayley Colburn provided the photography assets for their new website.
Gabbie and Hayley spent 2 semesters getting to know the superstars that are, Harriet the owl, Henry the turtle, Osa the opossum and Snakey the snake. Here's a tease of their adorable photos you can find on their website.
The Nashville Wildlife Conservation is dedicated to bring environmental education into lower income areas, that lack the resources to get out to our beautiful parks and reap the benefit of nature. provide high-quality science education, including STEM and NGSS standards, wildlife encounters, and outdoor adventures to introduce students to their backyard neighbors.
To volunteer your time or donate money for this important environmental Nashville cause: click here.
Stay tuned next week for Week 2, Days 6-10, of our 45 Days of Giving!