Guest blog appearance by Bruce Stanley, Graphic Design coordinator at Nossi College of Art.
The title of this post sums up what many creatives today are feeling–their careers are being challenged by the unrealistic pace of technology and the ability to keep up. Having worked in the advertising industry for 18 years, I graduated college with a BFA majoring in graphic design. At that time, Apple was becoming the industry standard for designers and Adobe was just getting started as the go-to software company. My classmates and I were learning the very first versions of Photoshop, Illustrator and Quark Express (not an Adobe product), because InDesign didn't exist and its predecessor, Pagemaker, was a weak competitor. To give today's designers a clue of what I'm talking about. Photoshop hadn't even introduced layers yet.
Skip forward 10 years to 2005. The iPhone still has two more years before its introduction and websites are still considered untraditional media. Most everything was print and a designer's life was moving at realistic pace. Learning new trends and adapting to software changes are part of a graphic designers job. However, today's changing pace has tripled since the two generations prior. What use to take 10 years to radically change the industry and advertising media platforms, now takes two to three years.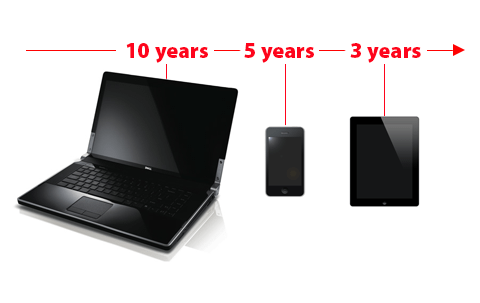 Since the introduction of the iPhone and its multi-touch screen, six years ago, and the iPad, three years ago in April, we have seen a dramatic shift in how consumers access information and how they engage with advertising. Terms like engagement strategies, mobile, interactive and integration now fill the brainstorming rooms of many ad agencies and now even classrooms within college environments.
So what does all this mean? What's my point? Because what I'm saying isn't news to anyone. And mostly to those I'm addressing–graphic designers, art directors and creatives alike. Well, it means that we are going to start seeing people infiltrate our industry that may not have had that much experience or traditional training. However, they are used to the pace of change and will typically be more comfortable with the technology as a user. Their expectation of an ever changing world will be more aligned with the pace of the industry. Watch out old schoolers!
––––––––––––––––––––––––––––––––––––––––––––––––––––––––––
Key take aways:
1. Be honest about your current capabilities. Are they up to par? Or better, are they above par?
2. Make a plan to adjust your capabilities based on your honest answer to the above question. A failure to plan is a plan to fail. Set goals that will help you accomplish your new growth.
3. Create a list of possible scenarios that will help to accomplish meeting these goals. For example:
     a. Workshops, seminars, conventions or summits
     b. Online and offline learning – tutorials, textbooks, etc.
     c. Take some night classes at a local art college that will help you be more marketable (this might be dependent upon where your honest answer lies to your current capabilities).
4. Take the necessary steps (commit) to personally growing yourself to reach your desired goals.
5. Repeat steps 1-4. Let's face it, this is your career and it will require ongoing personal growth. It will continue at a faster pace and will increase in the future.
–––––––––––––––––––––––––––––––––––––––––––––––––––––––––––––––––––––––
As the Graphic Design Coordinator of a local art college here in Nashville, Nossi College of Art, I am very aware of these changes and the challenge to not only change curriculum to meet the industry demands, but to find quality instructors who are capable of teaching our students. Even accreditation standards are having to reinvent how they look at qualified professors/instructors coming into the education system.
When I attended college in the early 90's, the only real focus was creativity. I didn't have many instructional courses that centered on learning technology. Today, there are just as many instruction courses within our curriculum as there are courses that utilize learning towards application and strategic execution. Of course, there will always be, and for good reason, the fundamentals of design, color, composition and the history of art to be reckoned with as a young, creative student. However, today's graduating credit hours are packed with technical learning that almost trumps creativity. Creativity will always be the priority of the college in which I am an educator. The day this becomes obsolete will be the day I resign as a teacher of design. I think I share this concern with many others in the education business.
So, what's the good news? It's that we now have an array of new opportunities to be clever, consistent and transparent (real) in design thinking and communicating a brand's message in unique ways. Grass roots is being replaced with gorilla and multi-media is being replaced with media channels or integrated campaigns. A campaign's length is now much shorter and its name is being replaced with words like experiment and beta testing.
 Read more from Bruce's blog article about graphic design positions in today's technology culture.