By Nicole Drake, Kappa Pi member/Founder
Kappa Pi Eta Tau at Nossi College created Table Topics to bring creative professionals, alumni and industry leaders to campus so students can hear from them directly and ask questions about their field (in Photography, ​Video and Film, Graphic Design or Illustration).
This June, photography st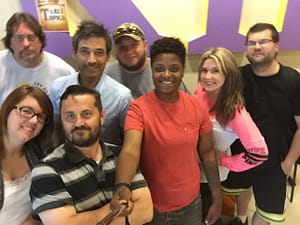 udents gets Flex'd! Anthony d'angio not only brought his accent all the way from the United Kingdom, but also his knowledge of the entertainment world. Anthony spoke with students about his start in the industry of music photography and confessed, he's only been at this for two years! He shared the importance of networking, skill and most importantly he says "it is crucial to be personable."
These budding photographers listened with ears wide open while hands shot up for questions. Thank you Anthony for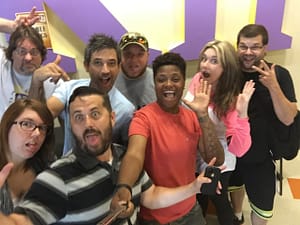 sharing your time with Kappa Pi and Nossi students while answering one main question we have all been asking, "How do we use our degrees to make a living?"
Turns out, you can make your living and attend great concerts across the planet! View more of Anthony's work here. Pictured (top left to right): J Scott Whigham, Flex the Frographer, Chris Garrett, Nicole Drake, Kelly Williams, DC Robinson (bottom left to right) Amanda Fay York and Dusty Draper. Thank you for the use of your selfie stick, Nicole!
View Nicole Drake's extensive photography work here.