Mary Sullivan, a successful and prolific illustrator, has cultivated a love for art that is fed by her natural curiosity. Mary's unique artistic perspective embodies a confluence of interests, spanning the fields of philosophy, history and aesthetics. I had the opportunity to speak with Mary and learn more about her influences, work experience and plans for the future. The following are highlights from my interview with Mary.
What led you to begin illustrating? What inspires you to create things?
I started drawing when I was about 5, drew lots of horses, and over ti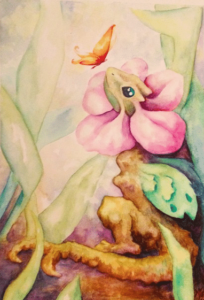 me I discovered you could be an artist and study it as an adult. I haven't really wanted to do anything else since (other than figure skating and being an astronaut, but those never worked out). Up until I was 20, I didn't really consider studying illustration or commercial arts.
I love ideas in philosophy and aesthetics, and I think that has contributed to my desire to create what I think are beautiful things… maybe in hopes I can make the world better the more I perfect my craft. This desire for ideals and love of stories have combined to make me an illustrator. I loved art history and studying the Masters; but I realized I may not be cut out for just fine art as time went on.
I am a perfectionist who loves creating characters and stories. I've always been a big reader, and I like to tell stories with my pictures in addition to drawing and painting. Once I realized this, I started looking for a way to study illustration over fine art.
You're only halfway through getting your degree, but you've had a lot more professional experience than even some graduates. What sets you apart? What made this possible?
I think this may largely be due to the fact that it's taken me a while to get where I am. I started college before I transferred to Nossi, a couple years later than I wanted be cause of money issues, and received my associates. My plans were still further delayed after I was sick for three years. I felt like I couldn't do anything to further my goals. Family, good people, medical related research and sheer will power got me out of that three-year-rut. I finally moved to Nashville, and one thing let to another – now I'm finally here. The day I started classes, I decided to do as much as I could everyday. Maybe being held back and having to fight to get here helped? I'm not sure, I know everyone works hard and has their own problems to fight; but I know I work harder now than before I got sick.
It's truly the little things that count the most. The reason I got my internship at 12th & Broad was because I won an art contest at Nossi. Working hard in class, getting involved and constantly practicing my art drew the attention of my professors, who shared my work with Student Activities and encouraged me to enter their art contest. I try to treat my professors like employers or clients. I listen to them and execute what they want. They are knowledgeable and they care, and I want to take advantage of that. They noticed and the school noticed- the little things go a long way.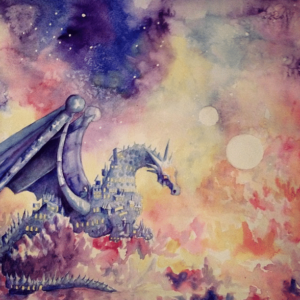 You interned at 12th & Broad last fall. What did you work on while you were there?
I worked on some ads for their magazine and some mock up ads for clients, but I mostly worked on redesigning their media kit. Their business brand and look had evolved, but they were still using an old media kit. They wanted it to better reflect who they are becoming. I also sat in on some meetings and observed the inner workings of their design process and how they brainstorm creative ideas for the production of their magazine and website.
What knowledge did you gain from your time at 12th & Broad?
Sitting in on design meetings was really interesting. I've never observed anything like it before. I saw how fast paced everything is, and how quickly a magazine has to be planned, revised and produced – with careful planning along the way. I got a taste of a real job with specific instructions with revisions. I know that its okay to ask questions to better understand the task. Throughout the entire process, I saw how important networking, connections and reaching out to people and clients really is and how it can impact your business.
Most importantly, I saw my reaction and responses to this new environment. I was able to better see my strengths and weaknesses, and what I need to work on in the future.
What new and exciting things are you working on? What do you have your eyes set on for the future?
To be honest this is still largely an unknown for me. Health issues have forced me to take baby steps for so long- but it worries me less and less now. I get a little down sometimes that I'm not further along in my career by now: some people my age are already established illustrators. But my timeline seems to be different, and so far that's been ok. I'm studying a variety of mediums and subjects at Nossi, and I've found that I am better prepared for a variety of job options. I love that about my major, it's opened up a lot of areas for me that I didn't know before. I'm always looking for ways to work in the community around Nashville. I've love living here and I want to stay involved.
I have several stories and characters I'm working on. I'm starting to look for illustration jobs, especially in the book publishing industry. I'd love to illustrate children's or juvenile books, which I think would match my style. I'm also studying anatomy and expressions and drawing quickly because I'm interested in animation and character design. Plus, there is still my original love for fine art and stories.
My goals are general, but I'm not sure it's a bad thing. I'm an artist, and I will always find ways to be so. There are so many options to explore, and I'm looking forward to seeing what happens next.
View Mary Sullivan's latest work on her website and Instagram.