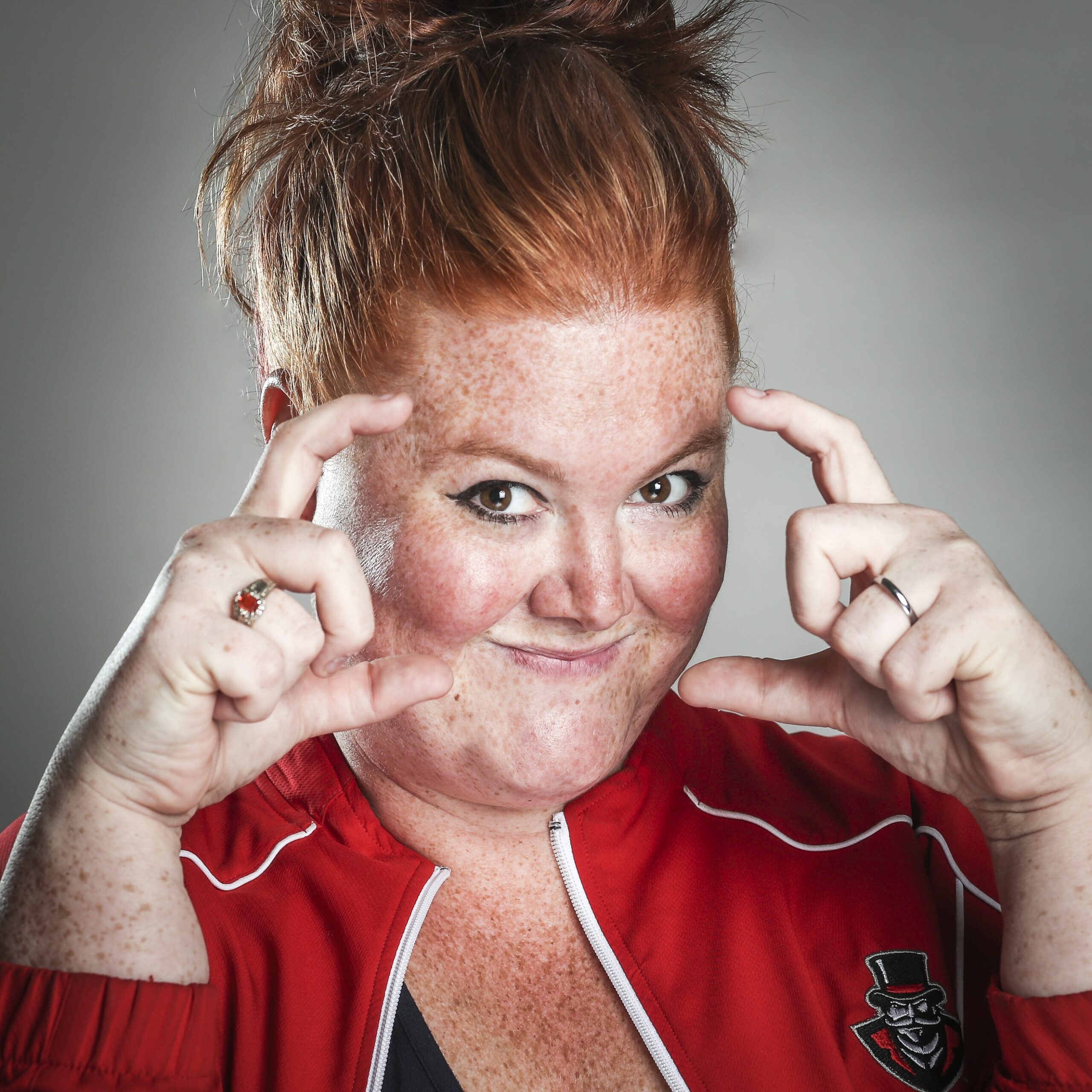 Beth Lowary graduated from Nossi College of Art with her Associate Degree in Commercial Photography in 2007. After graduation, Beth worked at a local newspaper and formed a lasting connection with Austin Peay State University. When she discovered Austin Peay had a lead University Photographer position available, she immediately applied because it represented an opportunity to blend her passion for photojournalism with the call to create more editorial and commercial marketing content. (Better hours and benefits also didn't hurt! 😊)
As an Austin Peay photographer, Beth began capturing photos – from events and sports to portraits of students, faculty and staff – for the public relations and marketing team. After several years of creating successful content, a new venture presented itself to Beth. The university's marketing manager position was vacant, and with her extensive experience and education, she easily moved into this new opportunity. Now, Beth will be directing a team of content creators to help build the University's social media presence as well as run marketing campaigns to get students excited about choosing APSU for their higher education.
How did you first get connected with Austin Peay State University and their photography gig?
After graduating from Nossi, I was given the opportunity to work as a visual journalist for The Leaf-Chronicle newspaper in Clarksville, Tenn. I covered events at Austin Peay State University like commencement exercises, football games and homecoming weekend. The school was even a spot I liked to visit when I was asked to produce standalone art for the paper. When I heard the university opened a photographer position, I knew it would be a great opportunity and an easy transition. I was already familiar with lots of folks on campus, and I had a portfolio of related images ready to go.
What kind of photographs did you capture?
For a university photographer, assignments run the full gamut from journalistic event coverage, headshots and portraits, to creative editorial shoots. I would say my specialty was the editorial shoots. I like capturing images designed to have a genuine feel of candid campus action while working out every detail for maximum visual brand exposure. For example, I created an APSU-style pin board with the best outfit and accessory ideas for our student models. Coordinating schedules, clothes and props with students so everyone looks as natural as possible can be a challenge, but those are my favorite types of shoots.
What does they day of a university photographer look like?
It is much different from the newspaper world; higher education operates on a Monday through Friday, 8 a.m. to 4:30 p.m. schedule. On an average day, I work with our team of designers, writers, web coordinators, marketing and project managers to produce three to four photo shoots for use in recruitment publications, news releases and social media. I cultivated, trained and coordinated a team of student content creators to maximize our capabilities. On a bustling university campus, there are always great visual opportunities to be captured. Of course, besides actual shooting, there's editing, digital asset management, social media management, finding and training student workers, meeting with campus stakeholders, research and professional development – the list goes on!
How did you get interested in the marketing position? What will you be doing in marketing? Will you still use your photography skill sets?
The combination of my ability to coordinate photography and social media assets was essentially the same as directing content creation for the marketing team on a daily basis. It made sense to move into a more directorial role in terms of overall university marketing, since photography and social media are integral parts of the marketing process. Now, I'll be managing overall marketing campaigns from a more strategic sense with relation to the university's overall mission and vision, but the visual skills that got me here will very much still be in play.
Do you still do any photo work on the side as a hobby or as art?
Yes, I still do a bit of photo work as a hobby. I loved being able to take photographs for work, and it almost became too much like work to carry over photography into my free time as well. Now, I hope I'll be able to rekindle that first love in shooting, just for me since my job will encompass a lot more than just taking and utilizing visual assets. Of course, my favorite subjects are my children, and I'll have more creative energy to put toward documenting family life in general. Check out my work by visiting www.bethlowary.photos and follow me on Twitter!
Want to learn more about Nossi's Photography Opportunities, check out Beth below and click here.