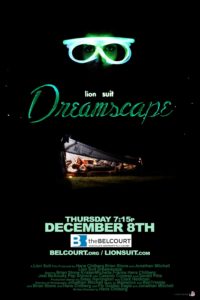 Join Hans Chilberg and his team behind LION SUIT DREAMSCAPE at Belcourt Movie Theater in Nashville as they screen a Nashville-based, true independent, feature narrative. Enjoy this 100-minute break from the holidays and a journey into dream, question, genre destruction, tasers, space poetry, love and quest…
Hans Chilberg's high school fascination with stories and seeing them come to life on screen planted seeds resulting in the release of his new independent narrative feature film, Lion SuitDreamscape. The movie, described as a rare mix of romance, comedy, sci-fi and mystery, was filmed primarily in Nashville, with some scenes shot in Knoxville. Hans, Nossi College of Art's Video & Film Coordinator, was raised in Nashville, studied film and screenwriting in California and lived and focused on the film industry. He was particularly intrigued by the creation of the stories he saw on screen.
"Stories, in general, were exciting to me," Hans said. "I gravitated toward the art of visual storytelling in high school. I started seeing movies like Wes Anderson's Bottle Rocket and John Favreau's Swingers. They were low budget, and I liked hanging out with the characters. I felt these were movies about real things and that kind of woke me up." – Read more here.
Abe dreams of his childhood TV hero and a woman he's never seen. When she shows up in real life, he sets out through Nashville in search of her true identity but uncovers much more.
Genre: Comedy. Romance. Sci-Fi. Mystery.
Come of age again with us Thursday, Dec 8th.