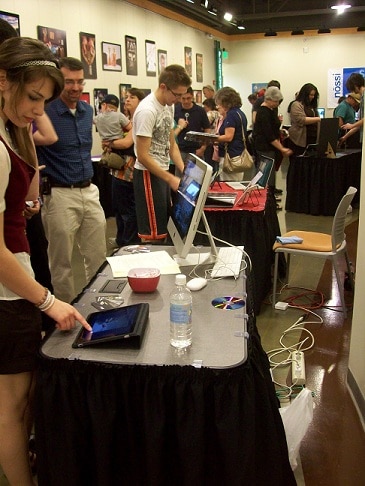 It is a highlight for many students who attend an art school. Senior Portfolio Review offers a chance for students to showcase their talents, a summation of a student's long hours, hard work and dedication to a craft that will define their careers and life.
Nossi sends thousands of emails and mailers to creative professionals in Middle Tennessee, enticing them with talent, networking opportunities and food. This year, professionals and students can expect something a little different for their showcase.
Moving everyone from the hallways to our expansive photo studios allows for more interaction between professionals and the students.  For students who haven't had many chances to network, this will be the opportunity to practice before they get thrown into the wild, creative world in Nashville. Also, with everyone thrown in together, professionals will have an opportunity to view more portfolios and talk with more students. This will help generate mock interviews. Students will be kept on their toes by participating in an interview with elite, Nashville professionals. Practice makes perfect, and the design of this senior portfolio is for the student to practice and gain confidence in their work and their speaking abilities.
"This senior portfolio is designed to build a student's confidence," said Dax Gomez, career services director and senior portfolio organizer. "At the last [senior portfolio] I felt students didn't realize the purpose of the event. That purpose is to learn."
He also stated that students should not feel upset if they do not land their dream job at senior portfolio. With this showcase, students will meet other students, network with professionals, have mock interviews, enjoy conversation, listen to critiques and learn from the entire event. If someone does get hired, fantastic, but know it is not the main point.
So we invite you to attend as a professional giving a critique, as a support system for a student, as an interested person looking to enroll in college or as a hungry creative looking for some free food. Come and see what Nossi College of Art is all about. View additional student work here.