You can now join in on the party because the official Madison, Tenn., eclipse party will take place at Nossi College of Art on Monday, August 21 starting at 11:30 AM. With community support from Waddell and Reed, the Madtown Eclipse Viewing Party will be giving FREE lunches and solar eclipse glasses to the first 500 attendees to arrive. Please RSVP and invite friends here!
To make the event even more special, Madtown 360 is coordinating with Nossi College to provide a unique experience for families to find a safe community close to home during this extraordinary event.
"We are thrilled with the opportunity to partner with Nossi College of Art," said David McMurry of NorthshoreMMG and Madtown 360. "As a local digital marketing company, we have long had a deep respect for the creative language and team at Nossi. As the local Madison small business merchants association, we look forward to joining with the community for this once in a lifetime event."
In addition to providing lunch and glasses (thanks, Chad and Waddell and Reed!), locals will get to enjoy access to Nossi's expansive photo studio for a photo-booth style commemorative picture with friends and family. An adjunct photography instructor will be capturing the entire eclipse in video and stills with special filters made to photograph the intense light of the sun. This eclipse image will be super imposed on the commemorative photos.
Waddell and Reed's Chad Richards will be presenting a short demonstration about the eclipse including interesting facts at 12:30; Just before the moon blocks the sun completely, Aaron Lee Tasjan will take the stage with his band to perform several songs including his new single, Till the Town Goes Dark.
For Nashvillians still looking for that perfect spot to watch this once in a lifetime event, consider staying close to home and enjoying an afternoon of completely free entertainment.
Special Thanks to all our Sponsors for helping with event setup! Aaron Lee Tajan and New West Records, Lightning 100, Waddell and Reed, The Konnector Hot Chicken, Big Belly's Food Truck, Madtown 360 and Nossi College of Art.
Schedule for the day:
11:30 AM – Gate opens and attendees can begin arriving
11:30 – 1:30 PM – Sign up to get a free lunch and solar eclipse glasses (This free opportunity is available to the first 500 people. There is a limit of two children per adult. Signing up includes providing a name and email address in exchange for the voucher and solar eclipse glasses).
12:30 PM – Solar Eclipse Presentation by Chad Richards of Waddell and Reed
1:00 PM – Aaron Less Tasjan takes the stage
1:28 PM – Total Solar Eclipse takes place
2:30 PM – Party ends
Campus MAP for Solar Eclipse Viewing Party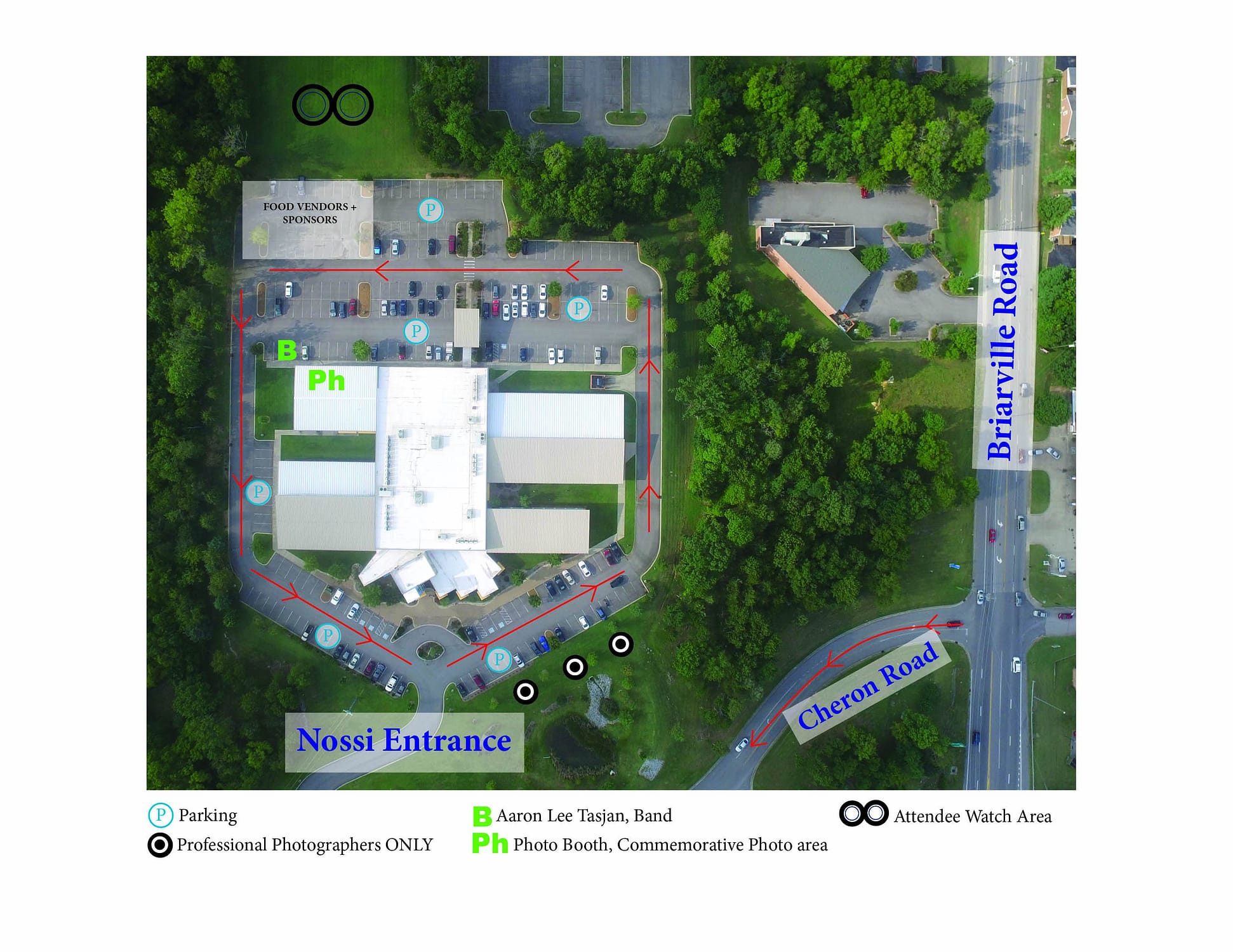 In other Solar Eclipse news, two Nossi College of Art alumni created Solar Eclipse art for the big day. If you plan on making it to Hopkinsville, Ky. for the eclipse, be sure to stop by the booth of Richard "Little Hawk" Norris, as he will be selling a UV sensitive shirt that changes the design in sunlight. Check out more about Richard and his Solar Eclipse booth in Hopkinsville here.
If you call Hendersonville, Tenn., home, then you will see Michael Gribble's work. He developed the poster for Hendersonville's Mayor's Office, encouraging people to stay home because they are expecting a high volume of traffic.