Ad Tuesday is a monthly event run by the American Advertising Federation Nashville Chapter. It is designed to get young professionals in the advertising world out networking with other great ad people. Not only can you generate some great discussion,  you could also meet a future employer. Two Kappa Pi students from Nossi College of Art attended the October Ad Tuesday, and this is what they have to say about it: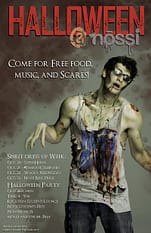 American Advertising Federation Nashville hosts a monthly event called Ad Tuesday at various business locations in the heart of Nashville, Tenn. This is an event where students, instructors and even big names in the creative world of Advertising come to mingle. For a student, this is a spectacular networking opportunity that boasts a large pool of talent.
Ad Tuesday's theme for October was a "Jimmy Fallon-Style" Face Off. All attendees gathered as a group and viewed nine segments of video composed of current content that we have seen on commercials at home or even between YouTube videos.
Two individuals went head to head; one being a designated "pro" and the other a "con" as they tried to deliberate why the material was or was not effective and what marks were hit or missed. It was a treat when they had to work in words that were written on a large sheet of paper only shown to the audience and the person using the word, in their review. The opposite panel member had to guess the word that was on their opponents sheet of paper afterwards.
The witty humor combined with the breakdown of how important it is to build creative material that leaves an impression, giving attendees a longing to come back for more.
– Nicole Drake, Nossi College of Art Alumni, Photographer | Click here to see Nicole's Work
Ad Tuesday was in fact one of the best networking events I've been too in a long time. Bottles of wine lining the wall, free to pop a cork and pour. Catered food and beer on tap, can't beat that. There were all kinds of interesting people there to network with, from students to Art Directors to Small Business owners and Entrepreneurs.
Nicole (Drake) and I made it a point to meet at least eight new faces. I'm pretty sure we tied at the end. Do the two office dogs running around count? They were so sweet!
After an hour of networking we all were able to participate in a good vs. bad critique. I laughed so hard at these critiques on these commercials. Ad2 threw in props that had to be used in their critique, in addition to random words like twerk and giggle. It was so entertaining, and a great opportunity to listen in on how professionals, who have been in the business for 16 years, would critique a piece of creative. I can't wait to attend the next Ad Tuesday event!
– Brandi Leath, Vice President of Kappa Pi, Interactive Graphic Designer | Click here to see Brandi's Work
To connect with Ad2 and to learn more about their events including Ad Tuesday, visit their Facebook page here.