This is a big year for Nossi Vatandoost. The college she founded is celebrating 45 years of graduating creative professionals in the Nashville area. Her team is launching certificate programs to help grow skills for creative and tech industries in the region this fall. They are also planning a Spring 2019 Master's Program launch with the guidance of nine area business professionals. And now the City of Nashville has officially recognized Ms. Nossi and Nossi College of Art in a 2018 Public Resolution. 
This city has blessed our family more than I can ever have dreamed of – Nossi Vatandoost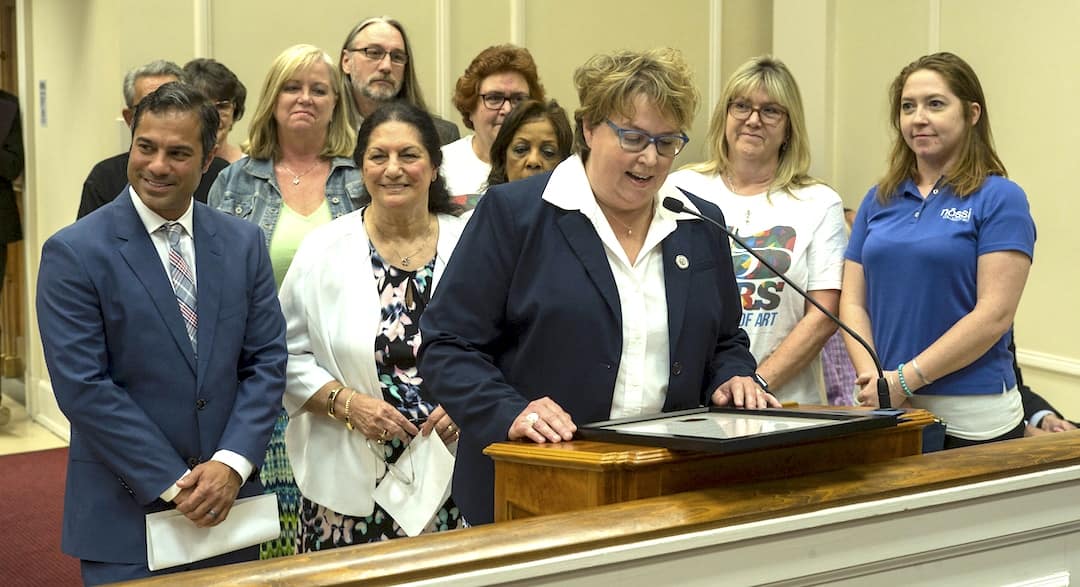 Each council member is only allowed to present two resolutions each year. Nossi Vatandoost was nominated by Nossi College of Art's Metro Councilmember, Nancy VanReece. VanReece worked behind the scenes so everything could be unveiled in May, a week before Ms. Nossi's birthday.
"As soon as I learned of the 45th Anniversary of Nossi's amazing journey, I knew it was time to be sure she was acknowledged by the city she has invested her life toward making a better place to live," said VanReece. "I am committed to seeing artists continue to come to Madison to live, learn and thrive.  Nossi has always known that our future's success must support the creative class in as many ways as possible."
Once the Resolution was read by VanReece, Ms. Nossi and Cyrus were given a few moments to say a few words.
Cyrus Vatandoost, Executive VP of the College and Ms. Nossi's son said, "The people of this city embraced my immigrant parents, the businesses they started and the dreams they had of educating the young folks of this city. Inclusion, opportunity, goodwill – that's the city I grew up in and the city that allowed our college to grow. We all need to work together to continue these attributes and Nossi College is prepared to do so for many years to come,"
Before deciding to open the college with her husband, Ira, Ms. Nossi moved to the area after graduating from college. She taught at Metro Nashville Public Schools.
"I want to thank, from the bottom of my heart, the City of Nashville, the Metro Council and especially our councilwoman, Mrs. Nancy VanReece," said Ms. Nossi. "[My husband and I] fell in love with Nashville and decided to make Nashville our home. This city has blessed our family more than I can ever have dreamed of."
The celebration continued after the Metro Council Presentation when Nossi College of Art staff and faculty walked to 21C Museum and Hotel, a unique boutique hotel in downtown Nashville housing Gray and Dudley, a reimagined restaurant with small bites and entrees accompanied with a diverse cocktail and local beer list. The proximity of the exhibiting galleries fosters an interactive relationship between the museum, hotel and restaurant as well as between the art, the patron and their dining experience because exploration is highly encouraged. Learn more about 21C here and be sure to put Gray and Dudley on your to-visit list.
View the Resolution below: