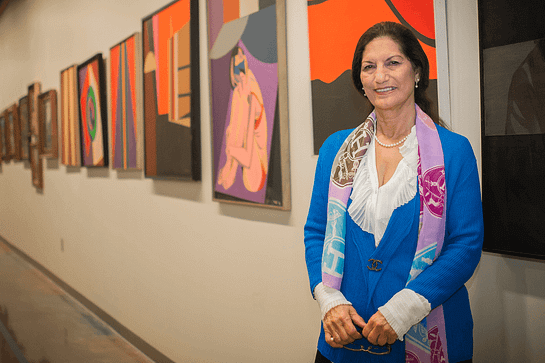 Story by Les Kerr | NASHVILLE – The theme of the 2017 International Women's Day, celebrated today, March 8, is "Be Bold for Change." No one personifies this motto more than Ms. Nossi Vatandoost, founder of Nossi College of Art. After growing up in Persia (modern-day Iran), then, studying at Heidelberg University in Germany, she moved to the United States with her husband, Ira. She began as a fine artist and then became a public school art teacher. Desiring to expand possibilities for her students, she moved into a borrowed kitchen to teach students fine art at three dollars per lesson. She kept dreaming and achieving and eventually founded Nossi College of Art in 1991.
With the encouragement of first, her mother and then, her husband, Ms. Nossi has always had a bold vision and the strength to follow her passion and share it with others who wanted to learn. That vision has resulted in the successful and well-respected institution that bears her name and serves its students well.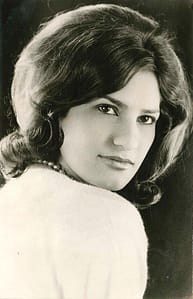 Among the concepts being celebrated under the Be Bold for Change mantra of International Women's Day are forging women's advancement, celebrating women's achievements and championing women's education. Nossi College of Art has grown because its leader knows each student needs to learn practical skills for the job market, as well as artistic technique. To this end, Ms. Nossi encourages them to achieve and learn.
Ms. Nossi is an incredible example of not making excuses, never giving up, and having a vision. She often received negative reactions to expanding her teaching endeavors and starting Nossi College of Art. But her drive and determination allowed her to brush that aside and not let such feedback discourage her. Rather than focus on those who didn't share her confidence, she sought and believed in the people who said, "Yes," or "I'll do it with you."
A single word for "forging women's advancement" might be leadership. Ms. Nossi has shown plenty of it in attracting people who share the vision she has to serve others. According to Cyrus Vatandoost, Ms. Nossi's son and the college's executive vice president, "The people she attracts buy into her vision and they work toward the goals she sets and that they set, collectively. She has an incredible leadership quality, there's no doubt. You won't find anyone that would say a bad word about Ms. Nossi."
Ms. Nossi not only had the challenge of creating a business, but she was an immigrant who had to learn several cultures and languages along the way.
"If you think about what she had to overcome as far as culture, moving here from another country and learning three languages," Cyrus said, "she had the ability to handle all of those things that other people might use as excuses. It's inspirational to both men and women, but especially for women who may feel that they have a higher mountain to climb. They can look at her and say, 'If she did it, then I can do it, too.'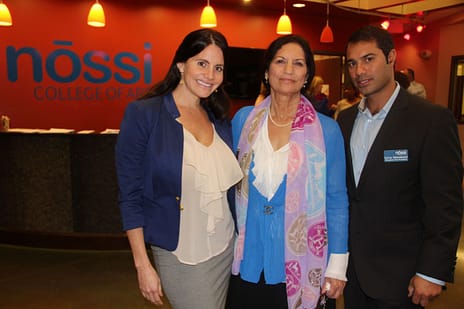 "When people said, 'no,' and, you can't do that, because they've been saying that to her for forty-five years now, or longer, she really had to believe in herself and the people that surrounded her to get through that."
"Be bold for change" is how Ms. Nossi Vatandoost has lived her own life while serving as an inspiration to the many men and women whose lives she has touched. She is still active in the day to day operations of the college and has an open door policy for all her students.
Learn more about earning your creative career
with Ms. Nossi at Nossi College of Art.
View Les Kerr's Website
Follow Les on Twitter
or Facebook