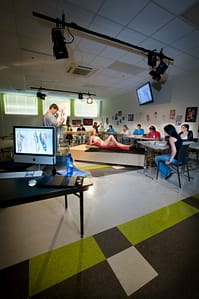 "I wanted to paint for a living and be in a band for the rest of my life," said Mark Fleming, illustration adjunct faculty member at Nossi College of Art. Now, almost thirty years later, Mark is realizing his dream every day – painting, teaching and rocking out with three different bands in Nashville.
After graduating Art College in Fort Lauderdale with "Best Portfolio," Mark traveled to pursue several careers that would help him become a better illustrator and designer. From designing the new Opryland theme park in Fiesta, Texas, to working with one of the top, private investment firms in America, Mark has experienced a variety of projects, jobs and clients, and this valuable information is shared in class with his creative students. He is currently working on corporate branding for a high-end gun manufacturer in Texas and he is helping to launch a new business magazine for women.
Mark teaches several courses at Nossi including programs like Photoshop, Illustrator and InDesign for design and illustration. His techniques cross between illustrating with traditional and digital mediums. While teaching Photoshop for Art, Photoshop for Illustrators and Online Marketing, Mark focuses on photo manipulation in Photoshop for Art while Photoshop for Illustrators gets into digital painting, creature creation and techniques, which can lead to a career in matte painting. "Movies like Elysium has all these great effects, objects in the sky and ships flying around," said Mark. "When you have these things moving and the background doesn't move, the chances are it is a matte painting."
Even Hollywood needs illustrators.
Keep in mind, when you are looking for a career in illustration, expect to be placed in graphic design courses as well. At Nossi, illustrators learn the same techniques as designers – composition, negative space and balance – so several design courses will be taught through the program. One of the most important reasons for learning design skills in an illustration degree? Diversifying your talents enables you to become more marketable in any economy.