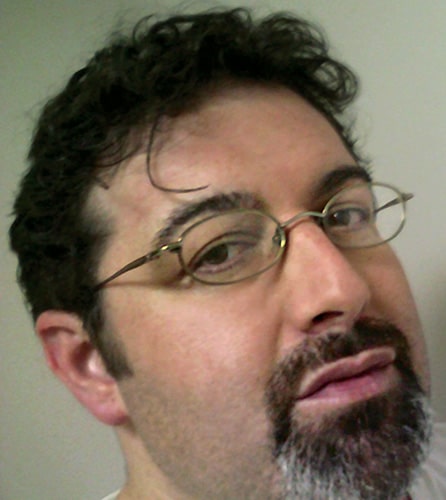 Hugh Shelton walks into my office carrying a big grin and an arm load of sketch pads — an unusual tool for a professor teaching computer graphics and web design. For 14 years, Shelton has taught behind a computer at Nossi, but he recently began teaching a new illustration course.  With this class, Shelton was reintroduced to an art form he let slip away years earlier.
Starting back in high school, Shelton always wanted to teach. He was part of Future Teachers of America in high school, he studied education in college and if it wasn't for a car accident, Shelton could be a history professor discussing the ancient world with college students.
Rehabilitation from the car accident was a long, difficult process where Shelton had to decide between attending graduate school or learning to walk again. He chose to walk, and it was his artistic skills that helped him progress and build a career he absolutely loves.
"Art is my vocation, it has always been my skill," recalls Shelton. "And teaching is the best thing ever."
What Brought Hugh Shelton to Nossi College of Art?
Shelton has had multiple creative jobs, from layout design to public relations to art director at several companies. He currently works as an art director for Power Source, a Christian music magazine in Nashville.
It was at PhotoArt, his first job after his accident, when teaching came back into his life. Sam Paine, art director at PhotoArt, talked about the college he graduated from in 1985; Paine was part of Nossi's first official graduating class.
"It's a small world how it comes in circles like it does," says Shelton. Before PhotoArt and Paine, Shelton was unaware of the opportunities available at the college. Nossi only utilizes adjunct professors, people who have creative careers outside the school but are interested in teaching part time. Especially in the creative career path, teaching relevant courses to students is a difficult because the technology constantly changes.
"I think there are way too many art schools where you get instructors and all they do is teach. They are 20 years out of the business and their skills aren't relevant," said Shelton. "I think the students suffer because of this."
When Shelton applied, Nossi Vatandoost, the college's founder and president, was in need of a new computer graphics professor. He easily earned the position because of his intelligence and experience combined with his skills in QuarkXPress, Adobe Photoshop, and Illustrator.
Shelton taught in web and graphic design for about a dozen years. It was when Arden Von Haeger, Nossi's Illustration Coordinator, attended his web class that began a conversation about illustration. Although it took two years to finalize, Sequential Illustration was created.
Shelton was able to get out from behind the computer and start drawing again. To get current in sketching, Shelton draws live models every Thursday night at Nossi. He also completes five sketches every week, an assignment he gave his class at the beginning of the semester.
Shelton smiles and says if he can complete five sketches and I work 60 hour weeks, students won't have an excuse for not doing them!
So, every week, Shelton takes a couple hours and finishes five sketches. Once completed, he uploads his work to Facebook and shares his talents with fellow instructors, students, friends and family.
"I am influenced by everything around me." Shelton said. He also remarks, it doesn't always come easy. "You have to force yourself to do it no matter what."
Since posting to Facebook, Shelton has reconnected with high school and college friends. They are always waiting to see what he is up to next. Shelton's creativity never seems to slow down. Just because this semester has concluded, doesn't mean the he will stop drawing anytime soon.
Visit hughs-sketchbook.com.