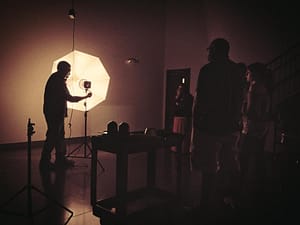 Photo by Heather Scott, taken in Donnie's Intro to Photography class – learning the ropes of lighting
Disappearing from family photos around the age of nine, Donnie discovered his love for photography as a young boy and became his family's resident photographer.  He always loved photography, but kept it as a hobby. He enrolled as an agriculture major in college. After meeting the newspaper crew and taking several photo classes, Donnie realized he could make a living as a photographer, and he quickly changed his degree to photojournalism. After graduation, Donnie worked across the country for various newspapers in Kentucky, Tennessee and Florida.
Through his photojournalism career, Donnie worked with the Washington DC press corps when Ronald Reagan spoke in Tennessee, he wrestled an angry lama that didn't like his picture taken and he saw despair up close and personal when documenting the crash site where the entire University of Evansville basketball team died. Photojournalism is a career that will always keep you on your toes because you never know what your next assignment may bring.
In class, Donnie's goal is to motivate students and transform them into resourceful storytellers. By introducing them to organizations like VolunteerMatch.org, where people interested in the arts can be matched with non-profits in the area. This website encourages students to become part of the community with their photography, and it gives them experience to become better storytellers when they realize they can make a difference.  "It's not just all about making money," said Donnie.
Whether it's a field trip to Fall Creek Falls, nature parks, the Opry or sporting events, Donnie is sure to involve his students in Nashville's community.  Not only do his students get excited and determined, but that feeling is infectious and keeps Donnie passionate about his storytelling.
Advice from Donnie: For photographers torn between a more and less expensive piece of equipment, invest in the more expensive piece. Rarely will you lose on that deal because good equipment will last a long time while the cheaper equipment will continually have to be replaced.