Our awesome Illustration Professor, Randy McQuien, Jr., has an official art show this Saturday, June 23 from 6 – 8 p.m. at Tailgate Beer and you want to be there!  We're so grateful for all Randy does here at our school and what better way to celebrate him than at a family-friendly event at a Nashville brewery?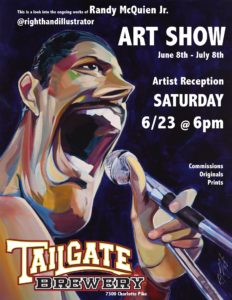 His art is featured all month at the West Nashville Tailgate Beer location at 7300 Charlotte Pike until July 7, which is something Randy is excited about,
"It's great that West Nashville is gaining more exposure and shedding light on local West Nashville artists."
Randy's art pieces are an addition to his Musician Series featuring over 15 original works and prints available for sale.
"Going to school in Memphis, living in Nashville and visiting places like Chicago – music has always been a part of what I do."
His Musician Series depicts iconic musicians and the character they create on stage, whether it is a look, outfit or energy – Randy captures it.
"My inspiration is not so much the music, but the character the musician creates on stage and the expressions they give to the crowd."
Also, we got the inside scoop! A few of the featured character musicians are B.B. King, Nina Simone and Freddie Mercury. 
For more information and to RSVP check out the Nossi FB Event Page. If you can't make it Saturday, don't forget Randy's work will be featured at Tailgate Beer until July 7 and you can always keep up with his art through his Instagram.