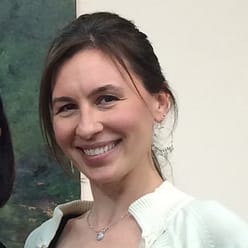 Pushing yourself to be your best can be tough. You know all your own weak spots – procrastination, distraction, rationalization – recognizing them and learning to overcome them is extremely important in the creative profession.
Lisa Taylor, an illustration instructor at Nossi College of Art, took a challenge to push herself by creating one new painting each day for 30 days. Many artists know this as a 30-Day Challenge, and in addition to finding inspiration for herself; Lisa is giving inspiration to other artists as well.
"I am not a morning person at all," said Lisa when discussing finding the time to paint each day. "I tend to be more active in the afternoon." Lisa limits her painting hours to late evening because "It is one of the little flaws I have found (about myself)," she said. "If I have too much time, I get too meticulous and too much into detail."
She took that into consideration when starting her 30-Day Challenge in September. When painting every day, an artist learns about her approach, mixing colors and variations on brush strokes. She also discovered her drawing skills improved and decisions could be made at a much quicker pace. "It helps you in determining what kind of stuff you like painting and the colors you lean towards, and you may not realize it until you are done," she said.
Lisa's focus as an artist changes and morphs because she doesn't want to get burned out by staying on the same subject. For her Challenge, she used photo references from Tennessee and California, focusing on landscapes and still life. "I don't stick to one specific genre although landscape is my primary. I like the approach I have to painting – painting a subject that speaks to me as opposed to limiting myself to one genre."
The six-by-six-inch paintings that emerged each day are now on display and available for sale at Harpeth Art Center and Gallery, in Pegram. Although she wasn't quite able to finish all 30 paintings, she did complete 22. "I am a little disappointed in myself that I wasn't able to do 30 days, but at the same time, I know I got 22 this time. Next time I do it, the goal is to get more than that."
Once she committed to the 30 days, she discovered how many artists wanted to know about her Challenge as well as starting their own challenges, including some Nossi students. Some joined in late this time and others vowed to get involved next time. With the holidays coming up, she is finding her time diminishing so she is likely to start a new challenge at the beginning of the year.
"Keep pushing yourself – that is the Challenge part of it."
In addition to this 30-Day Challenge Exhibit, Lisa Taylor is also showcasing nine of her paintings at Bennett Art Gallery. Some of the paintings are from her "One with Nature" Series in which Lisa says, "I paint more than just landscapes; I paint the experience of nature. My landscapes are an invitation to experience the deeper understanding and peaceful state of mind that is induced when we are immersed in the natural world. My aim is to recreate that environment that is devoid of the many dispensable hindrances of modernity, enabling elevation of the mind and restoration of an inner peace so elusive in today's modern society." The paintings depict a landscape encompassing various creeks from the Kingston Springs area, where Lisa grew up.
Lisa Taylor showcases her work on her website and announces special events, discounts and giveaways if you sign up to follow her on Instagram, FB and subscribe to her newsletter. Lisa started teaching at Nossi College this fall and is an instructor for Basic Drawing, an intro class for illustrators and graphic designers. Discover more about Nossi's Illustration program here.