Leadership Awards Reception
April 10, 2014 @ 5:30 pm

-

7:30 pm
New Leaders Council (NLC) is a 501(c)(3) that works to recruit, train and promote the progressive political entrepreneurs of tomorrow — trendsetters, elected officials and civically-engaged leaders in business and industry who will shape the future landscape.
The Nashville Chapter is creating an exciting network of individuals, highly-skilled in working together across sectors to improve the progressive infrastructure and ensure strong democracy, social justice, and equal opportunity.
Nossi's own graphic designer – Greg Ellis, created the Cover Image (below) used to promote the event. it is important that our students work with real clients to not only gain experience in the "Real World" but to also build their network of connections.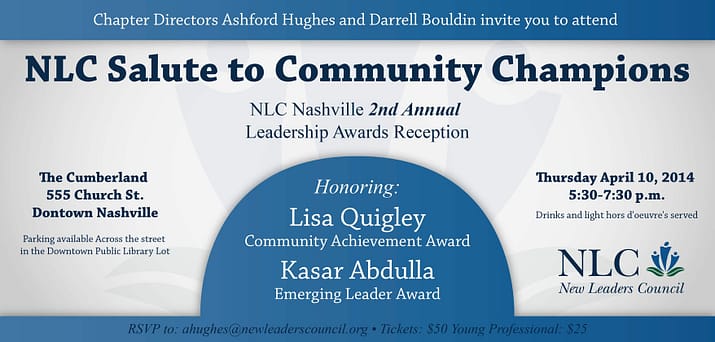 Related Events