Written by : Sara Lamb
For our second feature in the

Nossi Alumni Series

we're highlighting an Illustration professional.
Meet Vickie Lee, a 2015 Illustration graduate. She's the creator of a successful webcomic called

DnDoggos

. It's about her 4 real life dogs playing Dungeons and Dragons!
So, here's an inside look on what it's like to be your own boss in a creative field!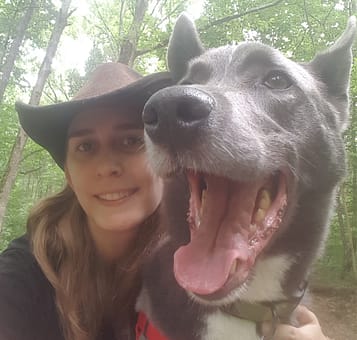 What are the first tasks of your work day?
The first task of the day is feeding the dogs so that they let me actually start work! I usually check emails and social media and try to keep up with comments and engagement with my fans, then it's off to the drawing board!
Well, it's really just my laptop. Fridays are different, as that is the day I post my weekly comic. I start out the day by posting on several social media sites, and spend time replying to comments. Later I do a live art stream for my patrons on Patreon.
What are the last tasks of your workday?
 Final tasks for the work day are usually setting up documents so I have a good place to start the following day. Since I post a weekly comic, I try to maintain a buffer of a few finished comic pages so that if something comes up, like a sudden illness, I won't have to be too stressed about finishing a page by Friday.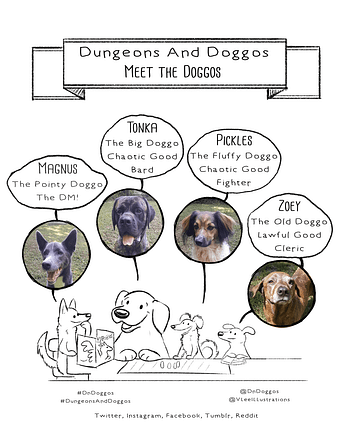 How did Nossi College prepare you for your career?
Nossi really stresses meeting deadlines. While in school it may seem a little annoying to keep hearing the deadlines thing over and over, but it really is so important. From meeting personal commission deadlines for pet portraits, meeting the weekly Friday deadline, or meeting bigger deadlines for bigger projects, it's all very important.
What is your favorite equipment for your illustration?
After my Mac died last year I made the switch to Windows. I have an HP Spectre with the ability to draw directly on the screen, though I most often use my Huion 580 tablet and Photoshop CC.
"Do what you love."
"Do what you love and your work will find a home," is something a wonderful illustrator friend of mine told me.
And it's so true. I never expected DnDoggos to become anything. I made the first comic as a piece to share between friends and family who knew my dogs, but at the advice of another friend I shared it on Reddit.
It kind of blew up! People loved it. And now I've been making this comic for over a year. I have a Patreon with absolutely wonderful patrons.
I'm also TeePublic affiliate, and have a shop on Threadless as well. Recently I collaborated with a professional DnD miniature sculptor who created a Dungeons and Doggies
kickstarter
that funded over
$400,000
. (And he sculpted my boy, Tonka the Bard!) I am currently working with an art director at a gaming company for another kickstarter, too. And it's only been just over a year at this point.
It can seem bleak some days when you're making art and not getting any likes or follows or retweets. But you just keep going, and keep trying, and keep doing the things that make you happy, and one day your work will find a home.
Vickie's Work Day – Mon, Aug 13, 2018
Working as a freelance illustrator who creates a weekly webcomic means that my schedule is never exactly the same.
It can change from week to week or day to day, but it's always fun.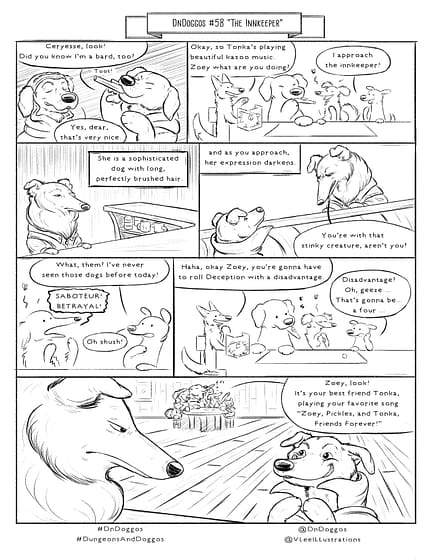 9 – 10 a.m.
Check emails
Reply to comments on social media, especially Patreon
Pet dogs
On Fridays, the comic is posted typically around 

10am
10 – 11 a.m.
Work, work, work!
Scripting, drafting, sketching, or finishing of comic pages takes priority
Pet more dogs
11 a.m. – 12 p.m.
Most likely still working on comic pages! It can take awhile to create the pages, especially when they are in the beginning scripting stages. In addition to the weekly DnDoggos comic, I am also creating a "one-shot" special comic exclusively for Patrons.
On Fridays at 

12pm

 I stream for my Patrons!
1 p.m.
Lunch!
Or at least I say I'm going to lunch, but I often get sucked back into checking social media for a while, especially on Fridays after the stream!
Pet more dogs, draw more comics!
1 – 4 p.m.
If I want a break from the comic pages, there's still a lot of work to be done! Coming up with new ideas and designs for merchandise is very important. Not only do my fans want new and exciting tshirts, but the sales are a large portion of my income.
Sketch new ideas for merch, or finalize existing ideas.
4 p.m. – 

ish
Around this time Tonka usually comes in and makes it difficult to work. Literally. He puts his giant English Mastiff head on my arm so I cannot move. If the weather is nice this means we take a short break to play in the sprinkler.
5 p.m.
I like to end the day by setting up my next day. I have my files open and ready to go, notes written down about where I was going with the project, or other ideas and things that need to get done.
Some days I may stop work around 4 or 5 pm or I may take a dinner break and get back to work until 8pm or later.
The fluidity is extremely helpful, especially when drawing so much. It's important to rest your hand!
Social Life?
Once a month on Tuesday I meet with a local group of SCBWI illustrators. Their insights and friendships are so helpful! Even though most of them don't do comics, I can often come to them for their thoughts on composition, whether it's for the comic or not. And since working from home can keep you pretty isolated from the outside world, it's important to have a group of creative friends that you can spend time with and bounce ideas around!
Huge thanks to Vickie for being such an incredible alum! All illustrations were created by Vickie herself, to check out more visit Vickie's personal Illustration page, DnDoggos website. You can follow DnDoggos on Instagram, Twitter and Facebook and Tumblr.
Don't forget, make sure to tune into her Patreon live stream Fridays at 12 p.m.!
Nossi College of art offers a Bachelors in Commercial Illustration, for more information click here.