Have you ever let fear get in the way of your creativity?
If so, this blog post written by Bruce Stanley, Graphic Design Coordinator at Nossi College of Art, has a remedy for both students and professionals at all stages of the creative process.
Guest blog appearance by Bruce Stanley, Graphic Design Coordinator at Nossi College of Art.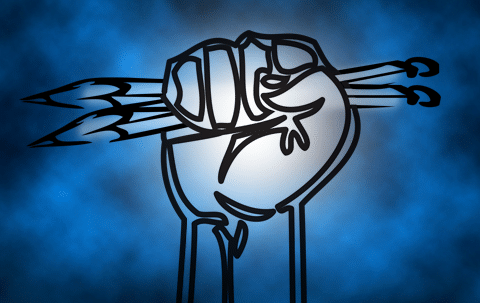 So if fear kills creativity, then what must we possess to get past it? As a teacher of creativity, I see everyday this dilemma with students. Building confidence takes time, however we can have courage to move forward, taking risks even in the face of possible failure. The benefits are: we continue to grow our creative abilities; gain experiences through these awkward circumstances; develop processes that we can trust. That said it's always healthy to be a little afraid or intimidated with every creative endeavor.
Being humble is the first step. In fact understanding this leads to parallels with other self help programs. Having a willingness to learn, asking for help or to seek outside influence can be the difference between being left behind or evolving with the flow of the creative world. These compared with the three benefits outlined above will be the path to success in overcoming fear and finding courage to be at our creative best.
As with any challenge that we strive to pursue, there is an opportunity for growth. Early in the learning process we face hurdles in process, technique and the mechanics of software education in today's digital creative world. These fundamentals will be a huge asset to anyone that continues to take risks and tries to achieve new skills and abilities.
The cliché' "once bit twice shy" comes to mind when referring to the second benefit of taking risks and just taking action in the midst of fear. If we are to move past fearful execution, then we need to achieve familiar experiences that provide more comfortable situations. Each experience will help us the next time we approach either the same circumstance or a new one. Building confidence to overcome our fear by past successes in the same situation.
Lastly, the place we want to end up after taking risks and dealing with fear is a new confidence and trust in our capabilities. Newly learned skills and experiences will have an impact on how we feel about our ability to succeed in the face of fear. The knowledge that a familiar process, many times proving successful, can safely guide us through unfamiliar territory. What was once frightening is now just part of the cultivation of new ideas and creative opportunities.
Once we are comfortable to collaborate, share strengths with other creatives, not to mention being influenced by others that we can learn from in our industry, our humility transforms into an attitude of gratitude and appreciation for scary challenges that we have learned are actually an opportunity for beneficial growth. If we can embrace that fear, combined with confidence in sound practices, is just part of something better to come. We can then be more comfortable with our own creative talents, strengths and passion and be of great value to others earlier on in the courageously creative learning process.
Here is an interesting infographic that showcases the "10 doubting thoughts that can cripple creativity"