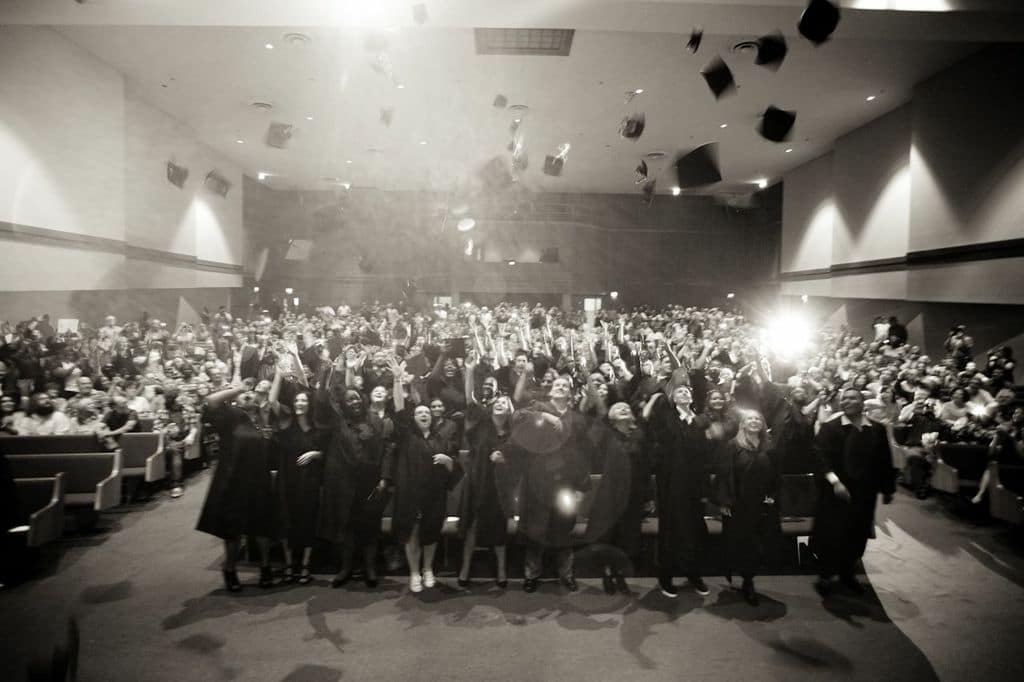 Congratulations to all of our 2013 graduates! It was a joy to see all of our graduates walk across the Goodpasture stage on Saturday, completing the journey they started years ago. We had 88 excited student graduates earning an associate or bachelor's degree in photography, ​Video and Film, graphic design or illustration.
The commencement ceremony took place on June 1 at Goodpasture Christian School, and our commencement speaker, Guy Gilchrist, gave graduates some great advice and delivered it on a personal level. During his commencement speech, Gilchrist advised students to use and share their gifts. The more they share it, the bigger it can grow.
"Your gift could go anywhere! Mine started at a diner, and I ended up at the White House," Gilchrist said. When he was younger, Gilchrist would draw Sunday comic strips
You may know Gilchrist through his multitude of accomplishments including designing the comic characters Nancy and Sluggo for the past 16 years as well as creating the popular Muppet Babies. In addition to being a famous illustrator, Gilchrist is also an author and songwriter. We were excited to have him speak at graduation and after his speech, we presented a gift to him. One of our illustration students, Matt Harris, created a version of Nancy and framed it for our speaker. You can view the illustration here.
We wish the best for all of our recent graduates, and we can't wait to see where all of your gifts take you. Please remember our career services office is here to help you in your job hunt, your resume preparation and your cover letter copy. Don't forget about us here at Nossi! Call or email Dax in the career development office so you can discover all the services Nossi provides!
Alpha Beta Kappa Honors Society Graduates 
Alissa A. Czibrik, Isaac D. Callaway, Patrick D. McKee, Shannon D. Myers, Cynthia R. Haggard, Amber L. Holt, Ian R. Maravilli, and Jessica D. Williams
Summa Cum Laude Graduates
Jessica D. Williams, Ian R. Maravalli, Shannon D. Myers, and Patrick D. McKee
Magna Cum Laude Graduates
Amber L. Holt
Cum Laude Graduates
Alissa A. Czibrik, Isaac D. Callaway, Cynthia R. Haggard, Kayla D. Stewart, and Christopher J. Owsley
______________________
For graduation photos, check out our Facebook page. 
Photos can be purchased from Kristy Blair Photography (use the password 'Nossi') through her website. 
Career Services information: Dax Gomez – jobplacement@nossi.edu | 615.514.2787 | @jobnewsflash on Twitter