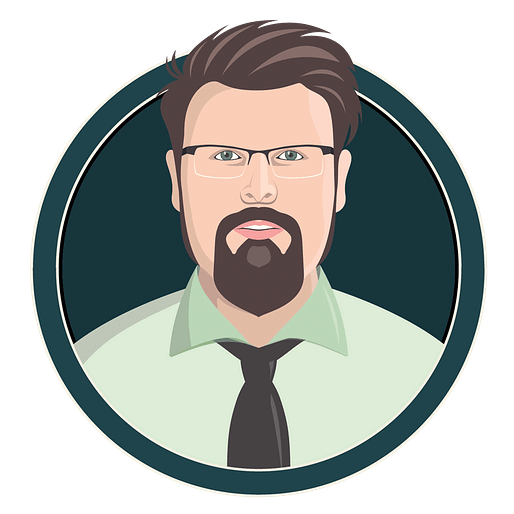 Mike Gribble is a creator. He has always been and noticed it especially when he looked back on his experiences and realized he's been artistic since high school. Each job he landed, he found himself working creatively to complete each task. Even working for Southern Trophy House, he was tasked with designing Advertising Awards for local and national ad agencies. He decided to take control of his life by going back to school and earning his Associate Degree in Interactive Graphic Design. He graduated in the Spring of 2017 and now has other goals to accomplish.
How did you get into Graphic Design? Have you always been creative?
I got into graphic design working for Southern Trophy House without even knowing I was doing graphic design. I was engraving and doing sublimation for customers like The Tennessee Titans. Sublimation works by creating a layout then printing it, reversed, on a special heat-resistant paper. The heat-resistant paper is taped to the surface of the item you're wanting to have sublimated – usually brass or aluminum. It's then placed under a heat press for 30+ seconds at around 380 degrees when the printed ink turns from liquid to a gas and is transferred onto the material.
I would also work on awards, such as the Titans Hall Of Fame, which aired on News Channel 2 and think to myself, "Hey! I did that earlier today!" It was exciting to see something I created on TV every week. That same company had a contract to do the American Advertising Federations' (AAF) Professional Advertising Awards each year. I would see names on the awards like redpepper, The Buntin Group and DVL Seigenthaler, but I didn't realize those were ad agencies until I started attending Nossi College. I needed a change from my job and remember seeing an ad on TV for Nossi. A month later, I registered, and there I was.
I've always been a creative person. Every job I worked after high school involved me being creative in some way. Even before that, I always looked forward to art class at school. I was always sketching, creating things by hand, or drawing house schematics. I was always busy creating something.
What are you doing right now?
I recently joined the Brand Journalists team in downtown Nashville, a Tennessee-based consulting and marketing firm. It is currently the leading provider of Franchise Lead Generation Services; Basically, creating marketing content for franchise development. I help with WordPress blog entry, digital ads and YouTube needs, to name a few things. Before that, I freelanced for The Smith Group, an ad agency in Goodlettsville that works mostly with furniture companies throughout the South. However, they also have clientele outside the furniture realm including Wilson County Motors. I created pieces for Adcock Furniture, ISaveMore, B.F. Meyers, Brown Squirrel and Wilson County Motors.
I'm also in talks with the Hendersonville Area Chamber of Commerce, about possibly doing some design and rebranding work with them in the future. It would be amazing if that could lead to some possible business rebranding the City of Hendersonville. This is especially nice because I grew up in Hendersonville and lived in different parts of the city. I believe it is one of the most beautiful cities in Tennessee because it is right on the lake, has multiple parks, as well as new shops and dining options.
When I was a kid, I didn't really think much about what I was going to do when I get older. There was always so much going on that I was too busy being a kid and playing sports. To reflect back on those times, and to see where I am now, it is something special to give back to the community where I spent all of my time thus far. Now I can creatively be a part of it.
What does a typical day freelancing like for you? What kind of projects do you work on?
My routine will become a lot more consistent on a week to week basis as I work more with Brand Journalists. However, as a freelancer, my week varies. There could be projects roughly every day, or there could be only one days worth of work each week. Right now the projects I work on are mostly out of town furniture stores and Wilson County Motors. I rarely, if ever, work directly with clients. My job is to connect with the Director of Digital and occasionally the Senior Account Executive. When a client wants to run an ad campaign, they send me an email with their idea of what their needs are for the ad. I can best describe it as a hybrid creative brief – clients send me copy and images for me to develop the campaign and I turn around these ads typically in a day so we can make it to press on time.
View images of Michael's work in below's gallery:

What is your favorite thing to work on? What do you excel in?
My favorite things to work on are double page magazine spreads, especially in music. Those are so much fun because I am able to really get into the art when I create them. Typically, I will listen to music of the band I am creating for so my art looks like the artist's style and sound. I want you to actually see what their music looks like. That kind of reaction is awesome.
I think I excel at focusing on the details. The small things people may not think to add to a project they are doing for class because all they want to do is what the teacher asked them to do – or even outside of school. When I start, I don't just stop at what someone wants you to create. I try to take it further, as far as I can. I step back for a time, then come back and see what else I can add.
My first class at Nossi College was Illustrator with Keith Wood. Our final project was to create a cereal box. The style, name, everything was up to us. However, we had to make sure and add elements we learned throughout our semester. I could have done that. I could have designed a cereal box, added the elements to that cereal box, created a name, made it colorful, and be done with it. Probably still would have got an 'A.'I didn't do just that. I did all of that, plus took a cereal box of Cheerios I had in my kitchen and look at it; studied it. I wanted to see what I could do to my box to make it look as realistic as possible. I looked online, added the General Mills logo and other designs. I added a barcode on the bottom of the box, the school "Box Tops" logo on the top along with adding my cereal logo to the top. I tried to make the cereal box look as if it belongs in the cereal aisle at the grocery store. Did I need to do it? Nope. But I did, and it stood out from the others during the critique. Ever since then, I push my work as far as I can, then push a little more, just to make it stand out from the others.
Is there a class or a teacher that you are really thankful for when looking back on your time at Nossi?
This is the most difficult question to answer as I'm very thankful for all of the teachers at Nossi College. For me, I'm most thankful for the teaching styles of Keith Wood, Paul Edoho-Eket and Steve LaSuer. The way they taught was always entertaining and it made you really soak up everything they said. I hate to quote here, but Harold Eugene Edgerton once said, "The trick to education is to teach people in such a way that they don't realize they're learning until it's too late". That's exactly what they did. I remember personally staying after class with Keith or Paul, sometimes; just because there was always so much to talk about or I needed to talk one on one. In the end, it was those extra little efforts, for me, that I believe helped to make me a better designer.
Do you plan on staying in the creative realm, or are you migrating more into advertising and marketing? What does your 5-year plan look like?
I can't imagine a time that I would not be on the creative side of things. I love to create artwork too much. As for marketing, I wouldn't mind working alongside a marketing team as long as I'm still able to create. Advertising, however, is different. I wouldn't mind being part of an advertising team, as I have experience with an ad agency already. My five-year plan would be to land a graphic design position, in traditional, web, UX/UI, or similar. I could even land out of state. My goal is to work my way up to a creative director position at my five-year mark.
Follow Michael on Facebook, LinkedIn and Twitter. See more of his work here!
Learn more about Nossi College of Art's Web Design or Graphic Design degree options and discover how you can earn a living in the creative industry.