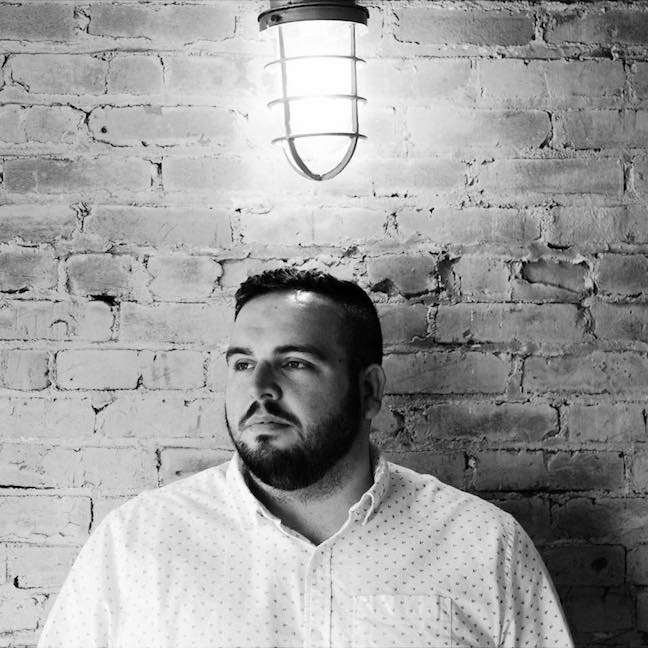 Meet Tyson Davis – a Graphic Design Media graduate of Nossi College of Art. Tyson, excelling in all things print and design, masters the process of taking an idea from concept to finished print on paper; an undeniable talent that he's been professionally honing for over 5 years.
Why did you decide to become a graphic designer? 
Becoming a graphic designer was something that I had no clue people actually did when I was a kid. I, like most people, see ads of all types every day and never thought that someone had to build and create them. I grew up in AZ right outside of Phoenix. Growing up in that area I was heavily inspired by graffiti and street art, so I was always messing around with (don't hate on me) MS Paint and other things that may not be of the most legit expressions of one's creativeness…
Fast forward a couple of years and you find me sitting at a desk – bored, uninspired and truly unhappy thinking I was going to become a Pharmacist. I ended up taking a creative writing class that, unknowing to me, would be the first steps toward my career as a professional designer. I had an awesome, eccentric professor who always encouraged us to be different and cared about our thought process during our journey. One day she commented on my doodles appearing on every paper I turned in, and that small, yet huge conversation to me, is what led to me leaving school and pursuing design as a profession – not just a hobby.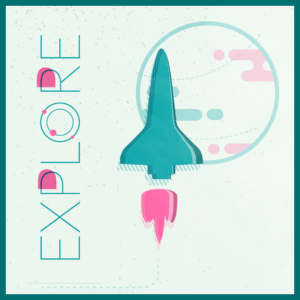 I remembered a while back I had passed this ultra-funky sign driving down the road that said Nossi College of Art, Where are you going? At the time I had no clue what was inside that little strip mall, but it was just such a strange and loud sign that I must have stored it in the back of my brain. It's funny to think about the old sign that I am pretty sure is now on the back of the new campus. It feels like it was so corky and strange, but I somehow feel like it was made exactly for someone like me. It was just different surrounded by a ton of normal things, yet it was loud, stood out, and most of all asked a simple question "Where are you going?" It was the perfect, and it was all attached to a little building that led me to where I am today. To be honest, I will probably try and buy that thing one day! 🙂
What are you currently up to?
I am a fulltime Graphic Designer and Layout Specialist at Simplify Compliance (Big SCARY Name). We work on everything from marketing collateral to UI/UX design. We focus on four different divisions within our company, all of which are in different industries – healthcare, telecom, compliance and legal.
I am also an owner/founder of Robson Creative LLC. We are a small business completely focused on helping other small businesses and startups. Whether it is logo and branding to print/web marketing collateral to social media management, we have our clients covered. We want to show small business owners and startups how cohesive branding and web presence is vital to any company and it should not only be reserved for companies with larger marketing budgets.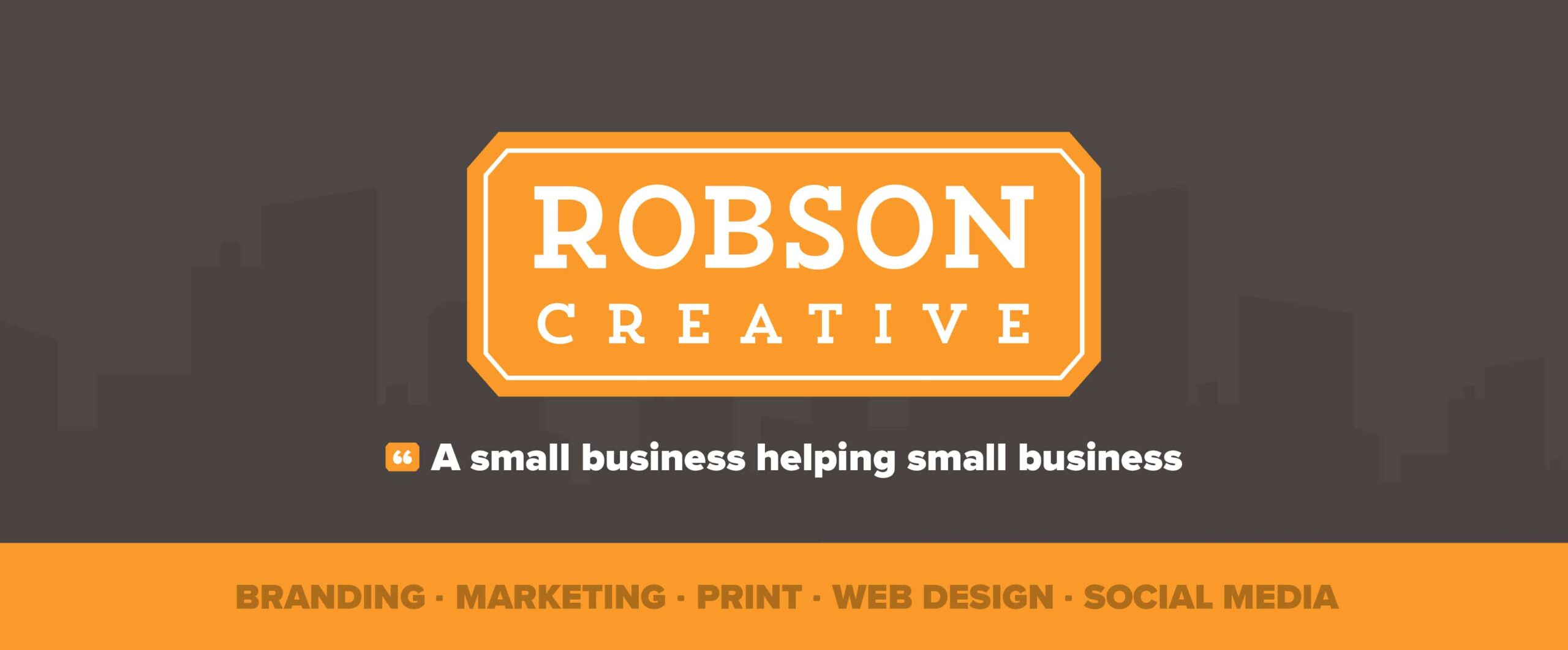 I have found, working in corporate design can be taxing with a heavy workload and daily deadlines. It is nice to get a more intimate approach allowing us a more flexible creative expression for our clients and their personal needs. The corporate art world has taught me so many invaluable lessons about the business side of design and how to always approach people and situations pertaining to design in the most professional of manners. That experience allows Robson Creative to take the purest creative approach, while simultaneously covering every aspect of proper designer and client business relationship. (Plus, Contracts!)
Can you describe your creative process? How do you get started? 
My creative process is always evolving to my experiences and the things I learn. Where I am right now: a bit labyrinth of awesome with a splash of chaos. I am a talker so emails and texts are extremely difficult for me. I will write an email to a client and reword it 10 times before deleting everything and asking if they have a quick moment to take a call. Relationships are key and the more real connections made in my process, the better my end results are. The first thing I do once a client inquires about my services is to schedule a lunch or and a video call if they aren't local. These are great icebreakers and help understand the client, whom you are creating all this awesome stuff for – not just the what.
It all comes down to just being as real as I can and absorbing as much about who I am working with or for and adjusting my process from there. I wish I had some really awesome prolific thing to end this with but it is really to just be personable and the rest is what proofing is for!
What was the biggest surprise about getting into this industry after graduation?
I landed my current corporate design job a few weeks before graduation, so I was thrown to the real world while I was still a student – refocusing my college and design mentality to that of corporate America took some adjusting. Even though it is a creative job, there is still a corporate law of the land and rules to follow. It was all trial and error at first, but after a year it started to get easier and easier. I started to gain confidence in knowing what I was doing. It was a wild ride taking things I had learned at Nossi College and molding them into the real world of corporate design.
Side Note – There are 12 designers here, one art director and our head of creative services. All of us attended different schools ranging from SCADD to UTC and NYU. The survival mentality Nossi College gave me truly is a blessing. After leaving college, it is funny to look back on all the times people complained (myself included) about the printers or various things we did not have but felt entitled to on campus because we were designers. Bruce (Graphic Design Coordinator) being the mastermind that he is would always say "in the real world most places aren't going to have amazing print setups or everything you need on location, so go out and find those places and make those relationships now."
That is a golden piece of advice because that's just what I did, and I am so grateful we weren't handed everything we needed throughout school because it is the things like that that truly helped me thrive and alleviate the surprise of working in the professional design world.
What is your favorite type of project to work on and why?
 love working on branding campaigns most, and screen-printing is a passion. Branding campaigns are always the bee's knees because you get to take someone's idea from concept to completion. It's like taking a piece of gravel and watching it turn to a mountain. You get to see the work you have completed and realized how all that cohesiveness makes you know you're out there crushing it!
Screen-printing is my dirty work. It is the polar opposite of my daily design grind. It is dirty, hands-on and I love every second of it. There is no art form that I have come across yet that will humble you faster than a four-color manual press. There are so many aspects to putting that art on something that it is an art form in itself. At first, I just thought you drag some ink on a screen and voila, you have an amazing shirt to sell. It truly is a whole lot of learning, time, stress and work, but once you get to see your art on a tangible object it instantly becomes a thousand times more awesome. Print will never die so don't listen to the hatters because they are the ones who are just scared to get their hands dirty!
View More of Tyson's work by visiting his website, Robson Creative LLC.  
Ready to get your career started in Graphic Design, click here to check out our Bachelor's degree in Graphic Design Media.
Learn More about Graphic Design