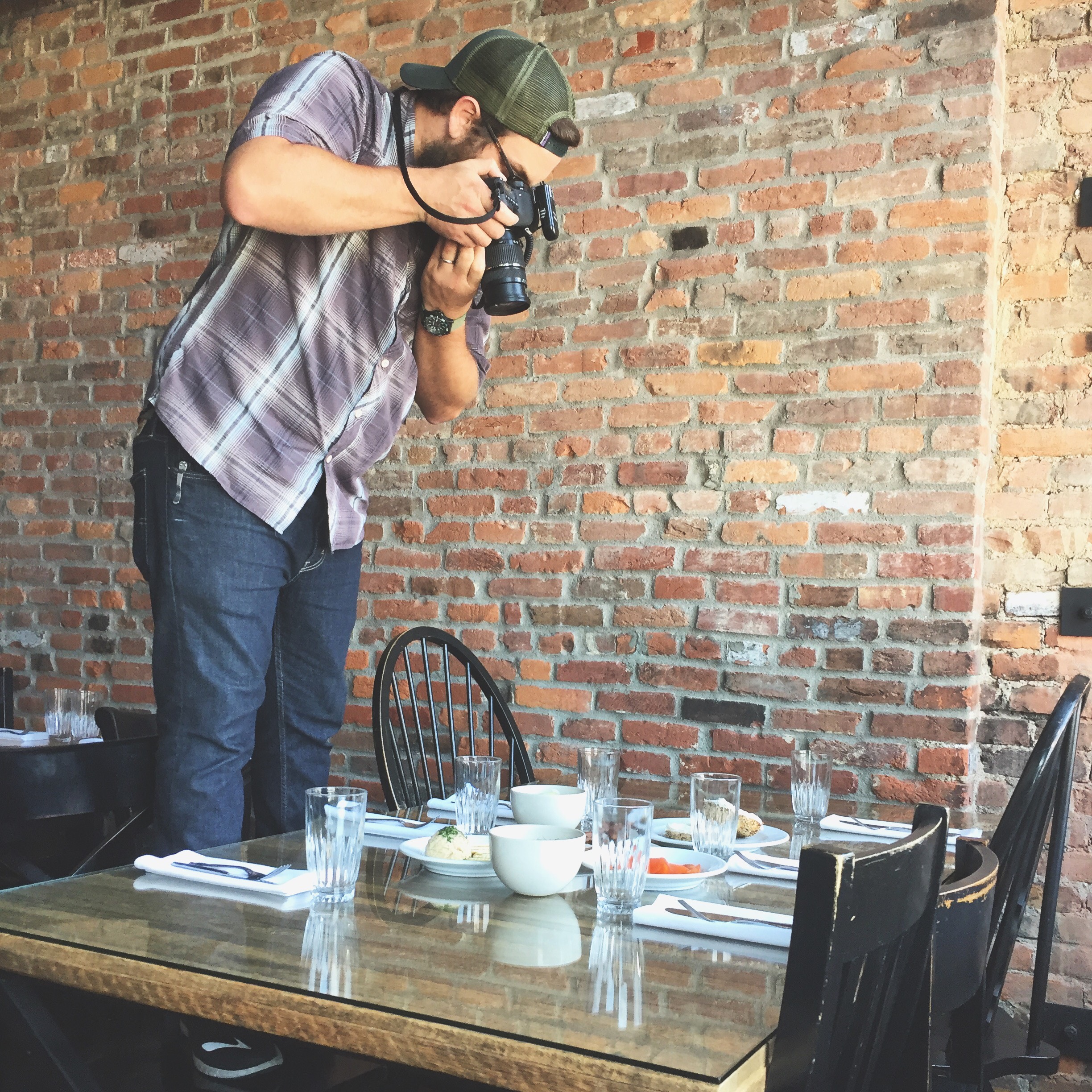 Although he first picked up a pencil, it was his grandfather's old camera and a mistake by his teacher that turned Nathan toward his creative calling in Photography. After earning his degree and learning it doesn't come easy, Nathan now is a professional photographer out of Louisville. Learn about his journey below.
How did you get into photography? Was it something you always did or did something/someone spark your talent?
Funny story. In high school, the area schools would come together for a two-day arts and academic competition. I always competed in pencil drawing and thought I was ok. However, I finished my piece a few days before the competition when my art teacher informs me he had signed me up for photography by mistake. Begrudgingly, I borrowed my grandfather's old camera and took some nature shots, processed them at a WalMart one-hour photo center, and ended up winning Best of Show. From then on I was obsessed with photography.
When did you graduate from Nossi? Where do you currently live?
I graduated Nossi College in 2006 with an associate degree in Commercial Photography. Back then, Nossi College was still in the Rivergate Parkway area, located in the same building as a Subway. 🙂 I moved to Louisville in 2011 for a staff photographer position at a marketing company and I have been in Louisville ever since.
What are you currently up to?
I am a commercial photographer, check out my website, Nathan Pedigo Photography with a focus on food, commercial and portrait photography. I also just started a company called SocialNoms.com. At Social Noms, our team creates beautiful imagery and puts them to work with proven social media strategies specifically for local bars and restaurants.
Do you specialize in a certain type of photography? How did you become interested in this subject matter?
I am a commercial photographer specializing in Product, Food and Beverage photography. Most of the work (70%) is in the Food and Beverage category. The rest (20%) is product and (10%) is corporate or environmental headshots.
I found product photography while attending Nossi College. Food and product are similar in how you shoot it, as they both require a strong understanding of light and how to control and shape it. To me, it is like a good puzzle. Every product, dish, and drink is different. They are different in shape and texture and light reacts differently to each one. When it comes to food and drinks they have their texture qualities but it also rapidly changes while it is front of you on set. Drinks melt and sweat while food wilts and dries out. This constant problem solving I think is the most exciting part.
What does a day in the life of Nathan Pedigo look like?
-6 AM Make coffee.
-6:30 AM See if Trump started a war.
-7 AM Make kids breakfast and take them to school.
-9 AM – 4 PM
20% Responding to emails
40% Marketing
20% Writing Proposals, Sending invoices, reminders for past due invoices
18% Pre and post production
2% Shooting
-5 PM – 6 PM General house work or Overflow work that needs to be done.
-7 PM – 8 PM Dinner and getting the kids in bed.
-9 PM – 11 PM (Unwinding while having a glass of my preferred beverage, whiskey) Finally have an uninterrupted conversation with Margaret (Wife), more overflow work OR binge watch Parks and Rec.
Describe a recent project you worked on that you are really proud of? Can you describe your creative process work for this project/client?
I am currently working on a cocktail book with Angels Envy, and it is the biggest and most exciting thing in my career. It will be successful because I am working with a really talented stylist and art director. It is a humbling moment when you think your work is good, but you work with a talented stylist, art director or another photographer to produce something even better.
View other work from Nathan:
What inspires you?
A lot of things inspire me.
– Light has an amazing ability to evoke a feeling to your viewer. Being able to control it is a powerful thing.
– My kids are an inspiration to be curious always and some of the smallest things in life can bring you the most joy if you take the time to stop and appreciate them.
– My wife is the kindest, most hardworking person on the planet. She has always pushed me to be better than I am and picked up the slack when I have failed. She inspires me to hustle.
Do you want to share a piece of advice you wish you had learned earlier in your career?
Network, collaborate and surround yourself constantly with people better than you. If you want to be successful do these things and the rest will come.
There is one thing that took a while to figure out and I wish someone told me. Your customer does not want to hire the 'jack of all trades" photographer. They want an expert in what they are looking for. Your portfolio needs to reflect your specialty in what you want to do. If I want to be a food photographer my website should not be full of weddings, babies, heavy metal bands, and that time a dog diaper company hired me to shoot some images for their website. This can be summed up with a great quote: Don't half-ass a bunch of things, whole-ass one thing. – Ron Swanson
For more information on our Photography Programs, please dive in here.