This December, The Art Institute of Tennessee Nashville is among 30 colleges, owned by Dream Center Education, closing their doors.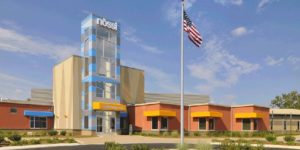 After meeting with AI's Department Chair, Phillip Lacy, Nossi College of Art Vice President, Cyrus Vatandoost, and his team at Nossi agreed to a solution helping displaced students.  Nossi College wants AI students to find the means of continuing their bachelor degree education they already began.
"We are committed to talking with each AI student individually to understand his or her academic and career goals," said Vatandoost.

Cyrus (left) at the Nossi College of Art Open House. Photo by Jason Lyell.

"We want to help students decide the degree program best suited for them with the intent to transfer as many courses as possible. We want these students to have a positive experience here at Nossi College."
Nossi College of Art is a private art and design school in Nashville, celebrating 45 years of teaching creative professionals this fall. Their programs are suited well for AI students because Nossi's degree programs are commercial-based, not fine art-based, engrained with experiential learning for real-world experiences. With an easy transition of degree options, students from AI can transfer their earned credits to a bachelor program at Nossi College.
With Art Institutes closing, O'More College of Art and Design moving limited programming to Belmont and Memphis College of Art closing, Nossi College of Art will fill the creative arts voids left by these colleges. Nossi College of Art's fall semester starts September 10, 2018.
Are you an AI student or do you know one who needs help? View our AI Transfer page for details.
AI Transfer Page