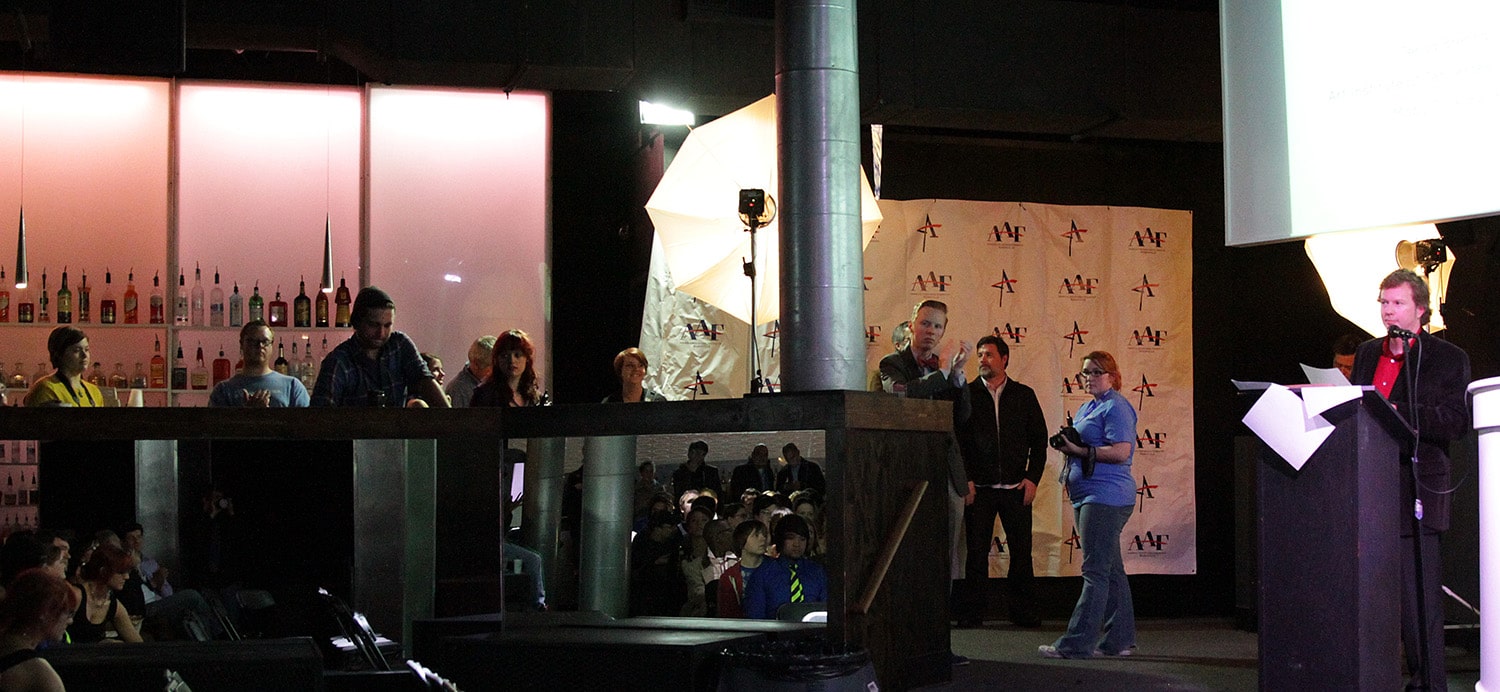 College art students from Middle Tennessee gather at a local club in Nashville called Play. It's the annual Local Student ADDY competition hosted by the American Advertising Federation's Nashville Chapter. Artwork hangs on display throughout the venue as family, friends and peers browse the temporary gallery constructed just for the evening.  There are multiple categories available in photography, graphic design and illustration that students can enter. The event highlights creative work in the art of advertising.
"The event was great," said Leanne Young, a Nossi ADDY winner. "I loved seeing all the work from all the different colleges in Nashville. It was inspiring."
There are three levels of competition, local, district and national. Winning Gold on the local levels advances you to Districts, at no cost. Taking Silver guarantees advancement as well, once you pay a nominal fee. Nossi College of Art had two Gold ADDY winners and two Silver ADDY winners in the competition and will sponsor the Silver ADDY winners so they can advance to Districts. Nossi students have advanced to Districts and Nationals over seven times, winning Gold in several categories.
This year, we had four ADDY winners – two photographers and two designers. In photography, Young took home a Silver ADDY and Antonio Fajardo took home a Gold ADDY award. In design, Jonathan Foster won a Gold and Mike Nordstrom received a Silver.
"People were coming up to me saying they were appreciative of my work, that made me feel incredible," said Fajardo. They are all excited about moving on to the District level.
The Nashville AAF asked Nossi College of Art to assist in all photography needs during the award show. This is the second year Nossi has been asked to cover event photography for the student ADDY event. Photo students worked with Donnie Beauchamp, a professional photojournalist in Nashville and senior faculty member at Nossi. Beauchamp teaches intro students and photojournalism courses, and he is a major force in getting photography students involved on Nossi's campus and in community events.
Nossi students have regular opportunities to partner with local businesses, non-profits and events because they offer students real-world experience during their college career. From covering the red carpet, fashion shows, concerts and award shows, Nossi's photography and video departments are constantly getting involved and making connections in the Nashville community.
See the ADDY photo album online!